Are you preparing for an upcoming trip? I understand that it's hard to decide when to buy special gear or when to make do with what you already have. So here is a round-up of my favorite travel gear and when I think you may want to consider each one.
Many of these would also make a great gift for the traveler in your life!
Great for Any Trip
Bluetooth Keyboard
My Bluetooth keyboard is the newest addition to my travel gear. Many posts on Trip Reporter have been drafted on the go using this keyboard. I absolutely love that it can be used with multiple devices.
When I use it with a tablet it almost feels like a laptop, or I can just as easily use it with my phone if I don't mind the small screen and want to save space. It is very comfortable to type on and can also double as a stand to hold a phone or a tablet for a movie on an airplane.
If you plan to get some work done on your trip but don't want to invest in a laptop, this keyboard is a great solution!
Portable Charger
Since we use our phones for so much when we travel, it's nice to have back up power if a battery runs low. It stinks to get stuck on an airplane with a dead battery for hours or out and about somewhere with no ability to make phone calls or check Google Maps. We use this charger and love that it has two ports so we can charge two devices at the same time.
Cloth Laundry Bag
It's a simple thing, but our cloth laundry bag is a definite must-have travel accessory in my opinion. I love that I can throw it in the laundry with our clothes if we are doing laundry on the go then have a fresh bag for the clean laundry afterward. It makes it really easy to keep our dirty clothes separate from the clean ones without having to stuff dirty clothes in random luggage pockets. I highly recommend this for any trip!
A Functional and Comfortable Messenger Bag
I really like to have a few things with me at all times when I travel: a water bottle, lip balm, my phone, my passport and some cash, maybe a book if we'll be on a train or bus. And a few snacks in case we find ourselves hungry with no place to eat nearby.
For years I just asked my husband to fill his pockets with my stuff. He's a good sport, but to give him a break I've been looking for the perfect messenger bag so I can carry what I want on my own. Not too big, not too small. I really wanted one with a water bottle holder on the side, too.
After lots of searching, I finally found a travel messenger bag that I love.
I love that it easily carries a water bottle, or even two! The main pocket is large enough for a book and some snacks or other necessities, and the zippers and pockets are all very secure for travel. It's so perfect for my needs that I have even started to use it as my main purse at home.
High Quality Camera
Investing in a good digital camera was one of the best purchases we ever made. We love being able to take great pictures on vacation with a camera that can easily fit in my husband's pocket.
We bought the Sony RX100 III about 5 years ago, and it is still a really great camera. The pictures are far superior to any picture we have taken with a cheaper digital camera or a smartphone. We've also heard from professional photographers who use this camera when traveling light. These cameras have a much larger image sensor compared to other pocket-sized cameras and really take amazing pictures and videos. This is the newest model of the same camera.
When You Want to Pack Light
Packable Backpack
A packable backpack is really nice for times when you want a small, almost weightless bag to carry around on the go. It's also great when you want a backpack on the airplane to keep things handy but don't want to carry around a separate backpack for other parts of your trip.
I used my packable backpack on my recent Frontier flight when I was only allowed to bring a handbag without paying extra for a carry-on bag. I packed the backpack into my handbag for the flight then pulled it out and used it to spread out my things for the rest of my trip after I got off the plane.
I wouldn't recommend one of these to hold a lot of heavy objects or anything with sharp edges since the fabric is thin. But it's perfect for a book, a water bottle, some headphones, snacks or other things that you want within reach on a flight or long train ride. It's also a great size to slip under the seat in front of you and still have room for your feet.
Inflatable Booster Seat for Kids
I have lugged one or two car seats through many airports in my day. But once my youngest child was old enough for a booster seat, I got a BubbleBum and it made traveling with a young child so much easier! Now we pack the booster into our luggage and have it whenever we need it on the road for rental cars, taxis, and more. It's great for any trip with young kids!
Our BubbleBum does lose air pretty quickly so we need to stay on top of keeping it blown up, but it inflates really easily so I have still loved it despite that inconvenience.
I haven't tried it yet, but this booster also looks like a great inflatable option.
Especially for International Travel
Backpack with Wheels
I did a lot of research to find an affordable backpack with wheels that I could pull behind me most of the time but also wear as a backpack when needed. This luggage is perfect for travel in Europe or other destinations where you may be walking on cobblestone streets. It's also helpful for trips that includes using a lot of public transportation since you can wear it as a backpack to make it easier to carry getting on and off buses, trains, etc.
I love how it acts like a backpack when I need it to but is also a great piece of luggage for any time. It zips open like a luggage so I can easily organize the items inside rather than stuffing them in through the top like a regular backpack. I also like how it's flexible and can be cinched up to be smaller or expand if I need more room.
If you want something to wear as a backpack most of the time, I don't recommend this since the frame is more sturdy and heavy than a regular backpack. But if you want a great luggage that can work as a backpack once in a while, then this is a great option!
I used my wheeled backpack on our Europe trip to Norway, Poland, and Ireland and it fit everything I needed, was easy to bring around, and was small enough to fit as a carry-on on Ryanair, a low cost airline with restrictive guidelines for luggage size.
SteriPen Water Purifier
Our SteriPen was an essential on our Costa Rica trip. We switched hotels every few days and got everywhere by walking or riding with our private driver, so it didn't make sense to buy bottled water and carry it with us. We needed another solution since we had read that it was not recommended for tourists to drink the water there.
With our SteriPen we could get water wherever we were and sterilize it in just a couple minutes. A SteriPen is such a great thing to have with you if you are traveling anywhere where drinking the water isn't recommended for tourists. And it's also great to have around in case of emergency situations at home.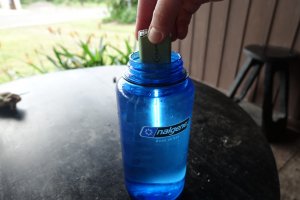 Great for Flights
Compression Socks
I remember getting off the plane after my flight to Japan and feeling like my feet had grown a whole size because they were so swollen. It was very uncomfortable to put on my shoes and walk around the airport until they got back to normal.
Since then I always make sure to stand up and move around every 2-3 hours when I fly, and I also wear compression socks on long flights. They really help to keep my feet and legs comfortable and also reduce the risk of health complications by encouraging circulation.
Foot Hammock
My foot hammock has its own post on Trip Reporter because I love it that much. Here I'll just say that putting my feet up with my hammock has done more than anything else to help me travel comfortably on an airplane.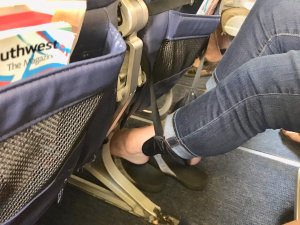 Trtl Travel Pillow
I talk about the difference between the Trtl pillow and the Trtl pillow plus and what I like about each in this post. Unlike other travel pillows I've tried, I love how the extra support in the Trtl pillow frame and the wrap around cloth keep my head in place so I can truly relax my neck and fall asleep on long flights. If you will be on an overnight flight, I highly recommend bringing a Trtl pillow.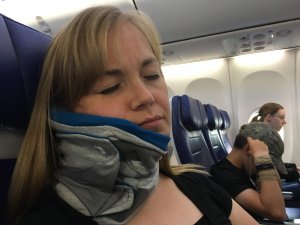 Noise-Cancelling Headphones
These headphones are a bit of an investment, but they make a huge difference in the noise level on an airplane. If you want to have some peace on quiet on your flight, these will create that for you. If you are a frequent flyer, want to sleep on a flight, or even just want to listen to music or a movie with high-quality sound and no background noise, I can't recommend these headphones enough!
Gear I'm Interested in Trying
Running/Travel Belt
I've been thinking about buying a belt like a Stashbandz or a PakRat to keep my phone, credit card, cash, hotel key, and more in when I travel. I usually have all of these in my back pocket but I know that isn't the safest place for them and I'm often worried that they will fall out. I like the idea of having everything in secure pockets next to my body where they can't fall out or be easily stolen. Do any of you use something like this and love it?
---
What other travel accessories do you recommend? I'd love to hear in the comments what else you think should be on my list and why you love it!
If you have kids, check out my top picks for travel gear that will give them something to do on long flights or car rides!
Note: This post contains Amazon.com affiliate links. This means that if you buy a product using a link on this page I earn a small commission on your purchase, at no additional cost to you. To give you the best information possible, I will only link to products that I personally use and love.