We got away from the snow and cold in New York for a few days with a quick trip to sunny Florida at the end of 2020. We absolutely loved our stay at the Hyatt Regency Grand Cypress that we booked with Hyatt points.
(See below to find out how we got enough points for this 4-night stay with one credit card!)
This is a resort hotel with tons of activities and great amenities. We were there for 4 days, and we spent three of those days at the hotel with no need to leave for entertainment.
The staff was helpful and kind and the decorations at Christmas were festive and welcoming. We loved the view from our 12th floor hotel room and the beds were very comfortable.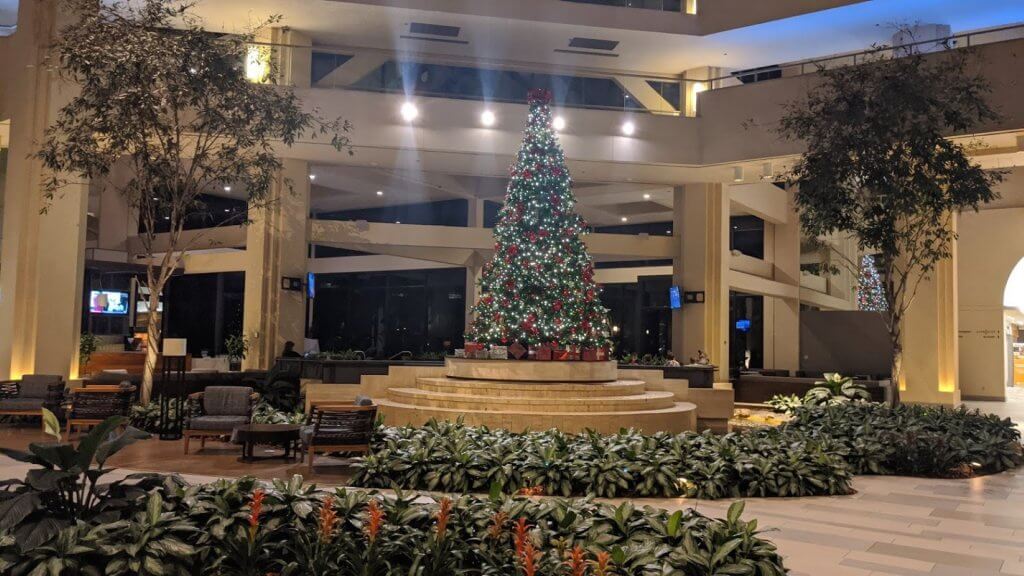 On-Site Activities
Swimming Pool with Waterfalls and Caves
The swimming pool was definitely a highlight for us. The waterfalls, caves, hot tubs, water slide, and poolside movies made it easy to spend lots of time there and keep everyone entertained and happy.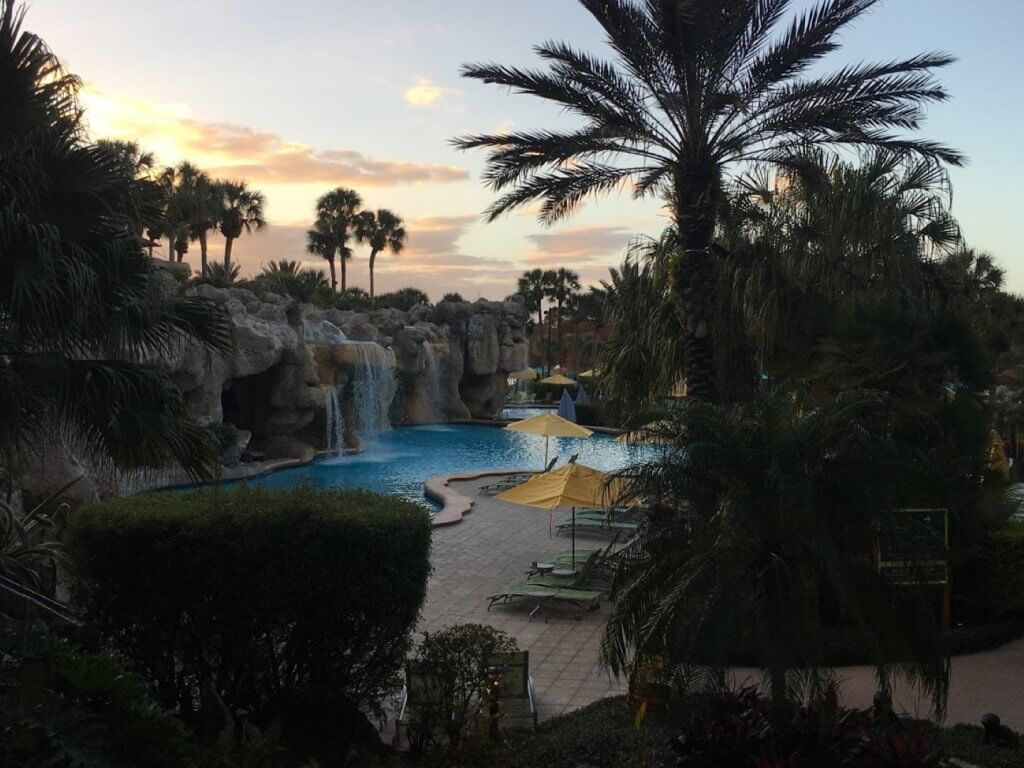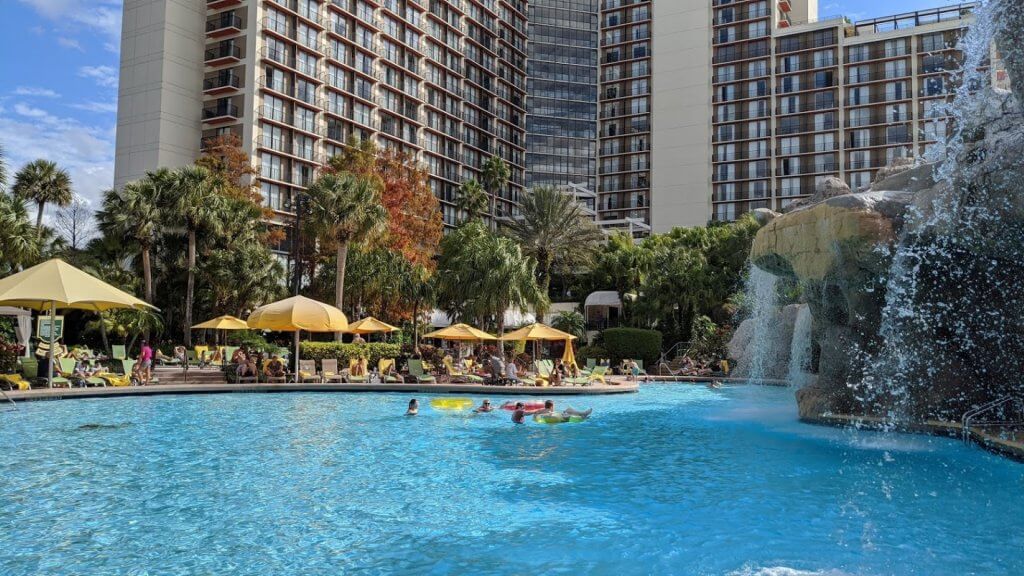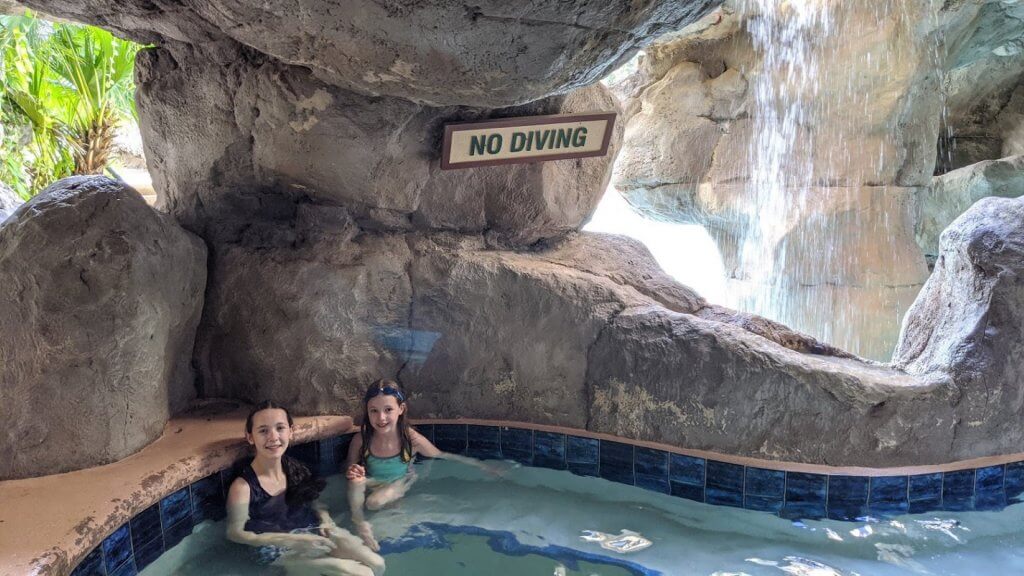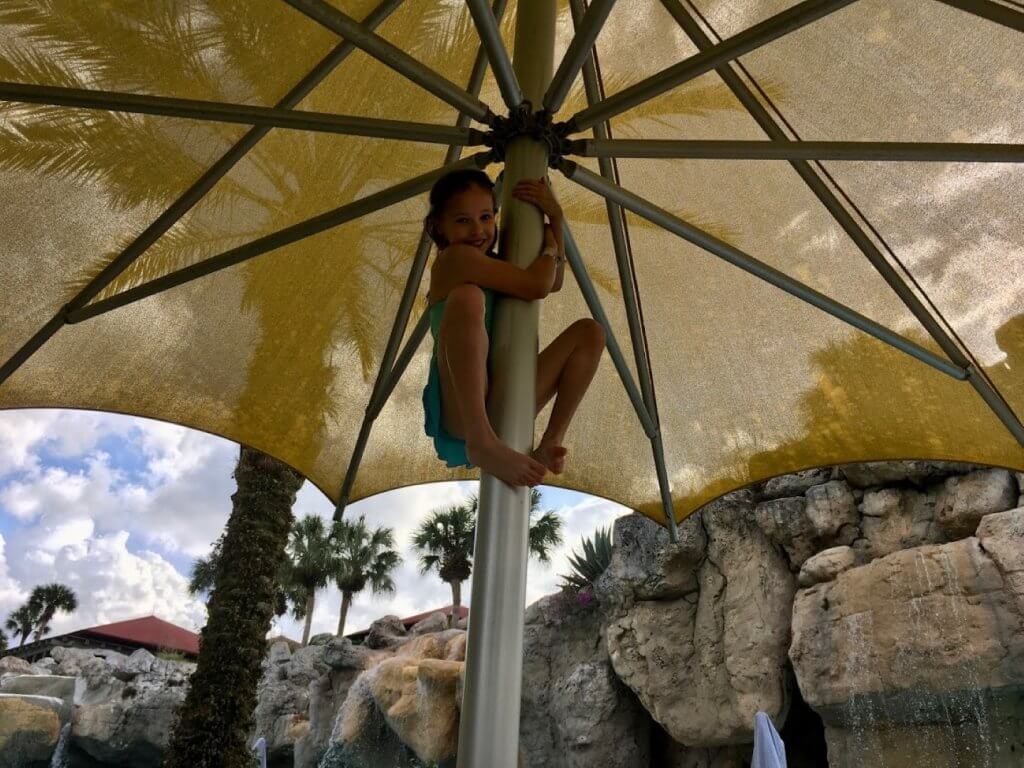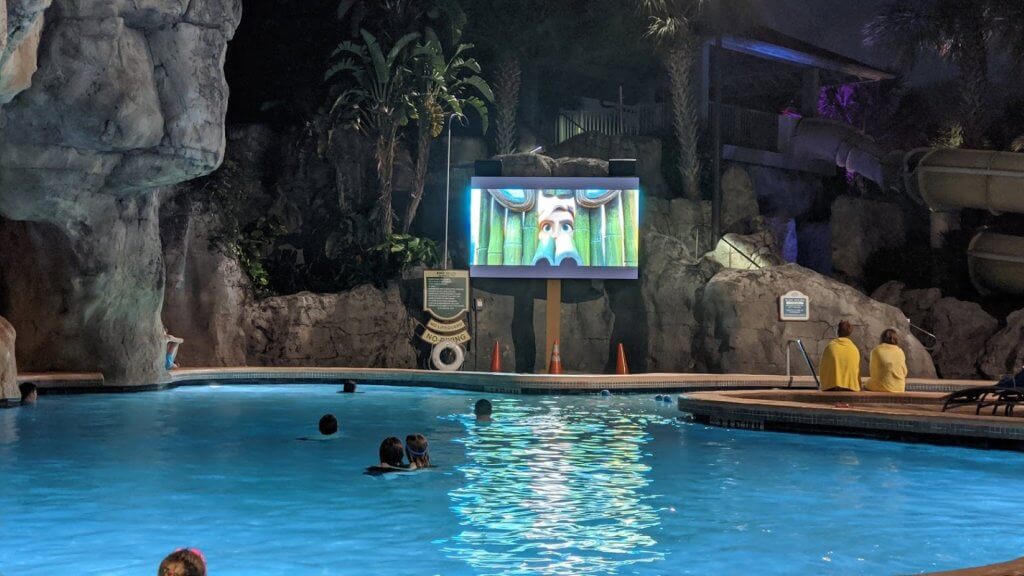 Pitch and Putt Golf Course
We have done a lot of mini golf but most of us haven't actually golfed on a real course, and this was a great way to get a taste of that. We loved learning to hit with an assortment of golf clubs as well as with the putters. The 8-hole course was beautiful and rarely busy when we were there.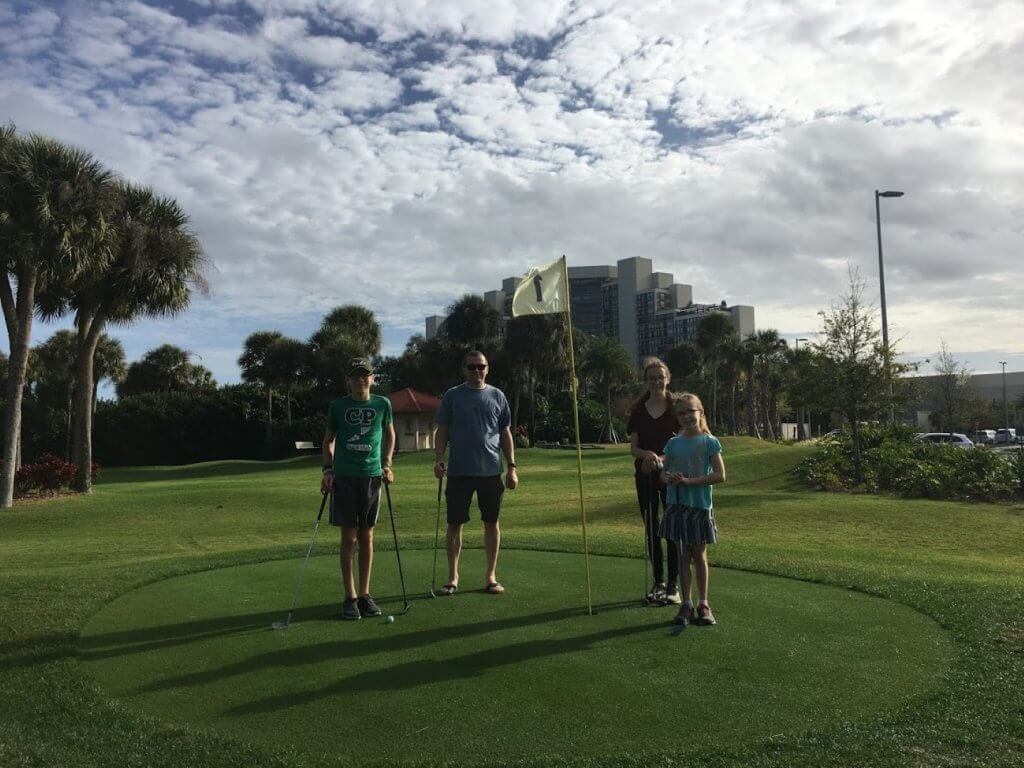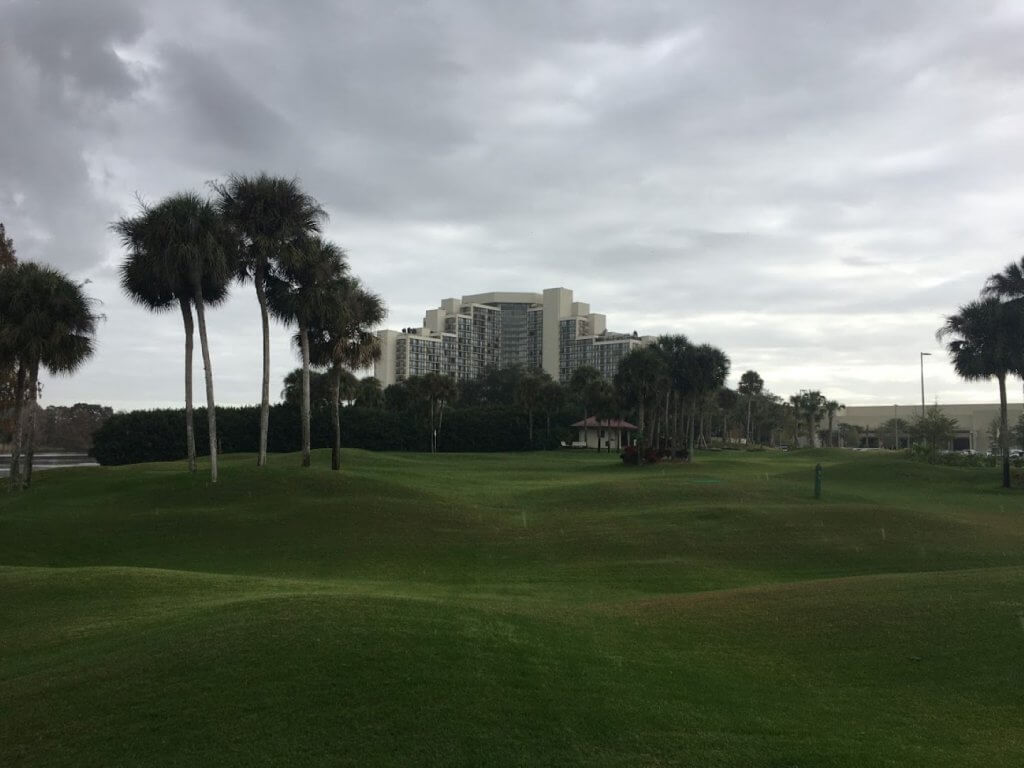 Walking and Biking
Since it sits on quite a bit of land, the resort feels isolated even though it is really in the thick of things near the Disney Parks. There is a nice path around the resort for walking and biking, and they have plenty of bikes, including kids bikes and bikes with infant seats attached, so family bike rides are a cinch. They even provide helmets for the kids.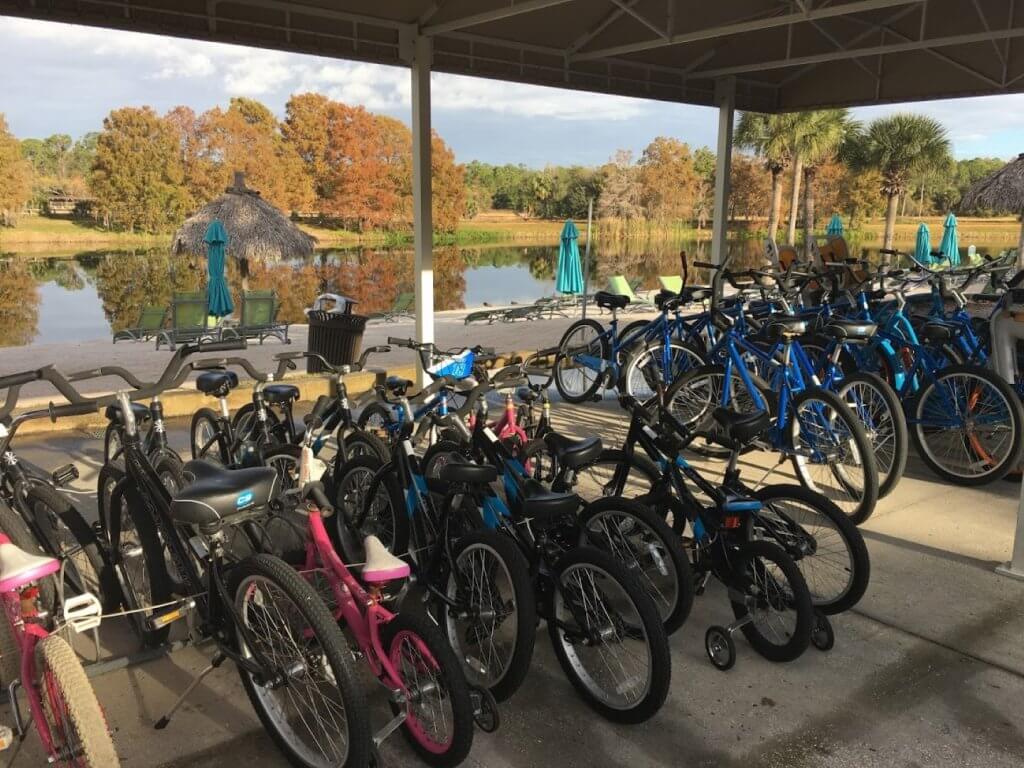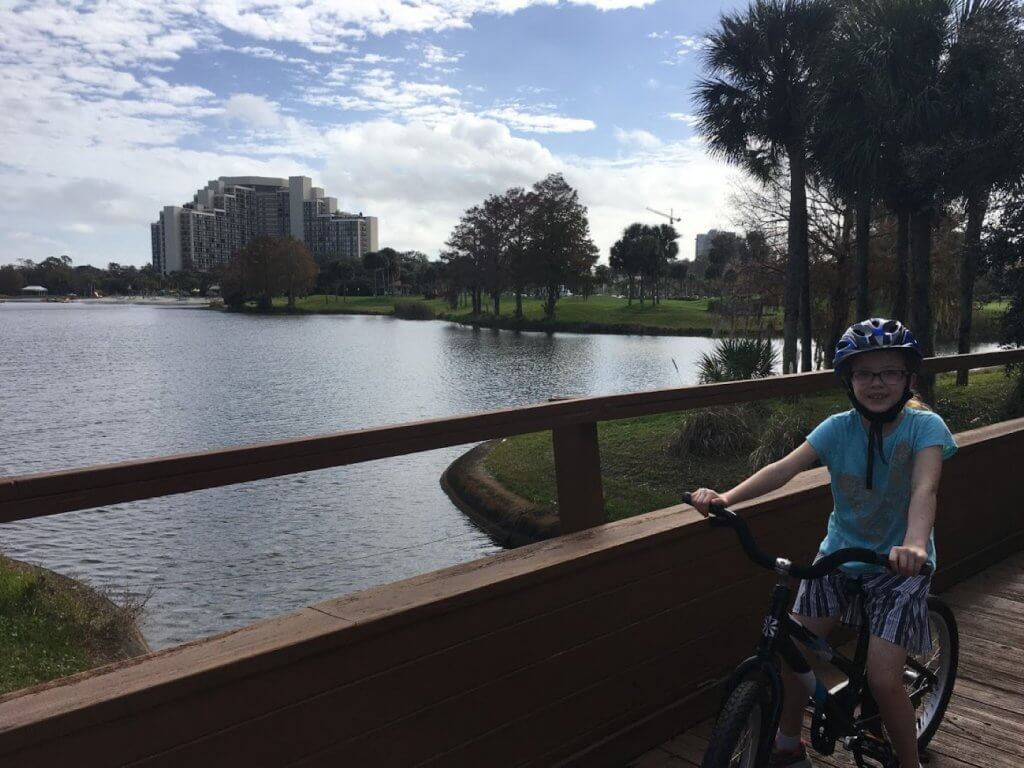 Private Lake
We enjoyed paddle boarding, kayaking, pedal boats, hydro bikes, and more! The private lake even had a sandy shore so we could walk in the sand and almost feel like we were at the beach.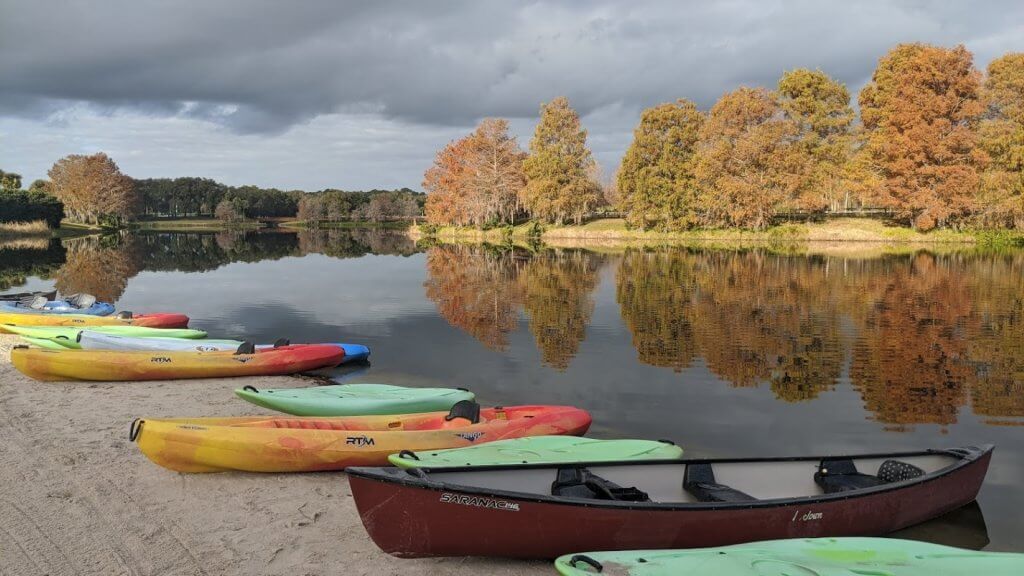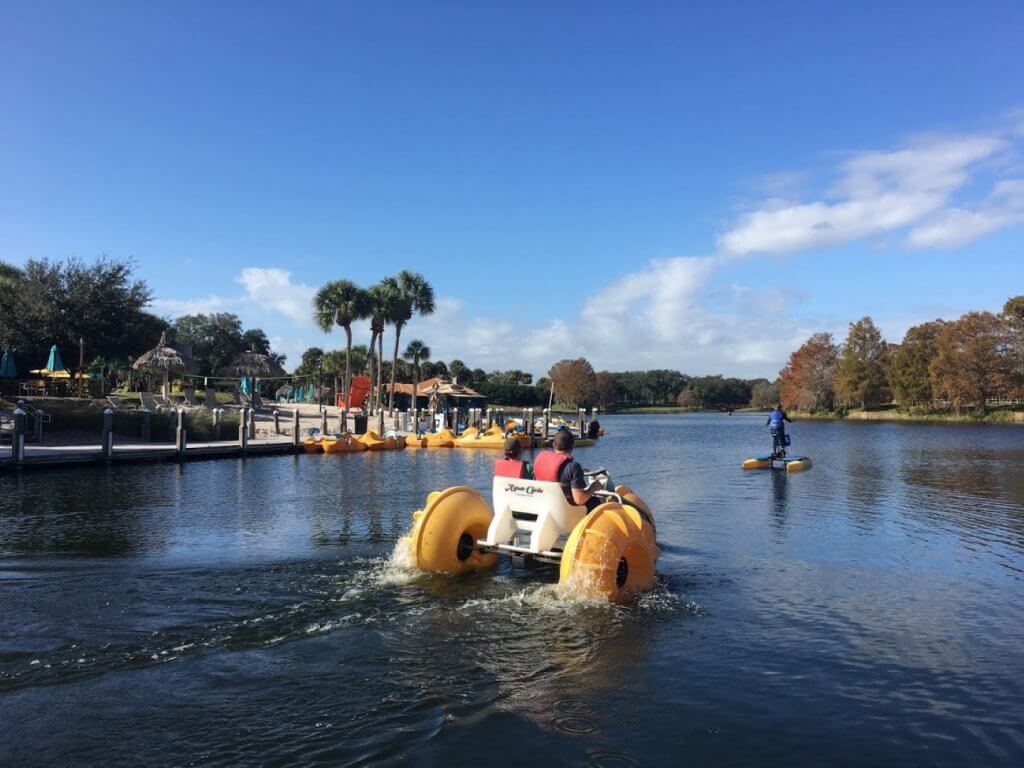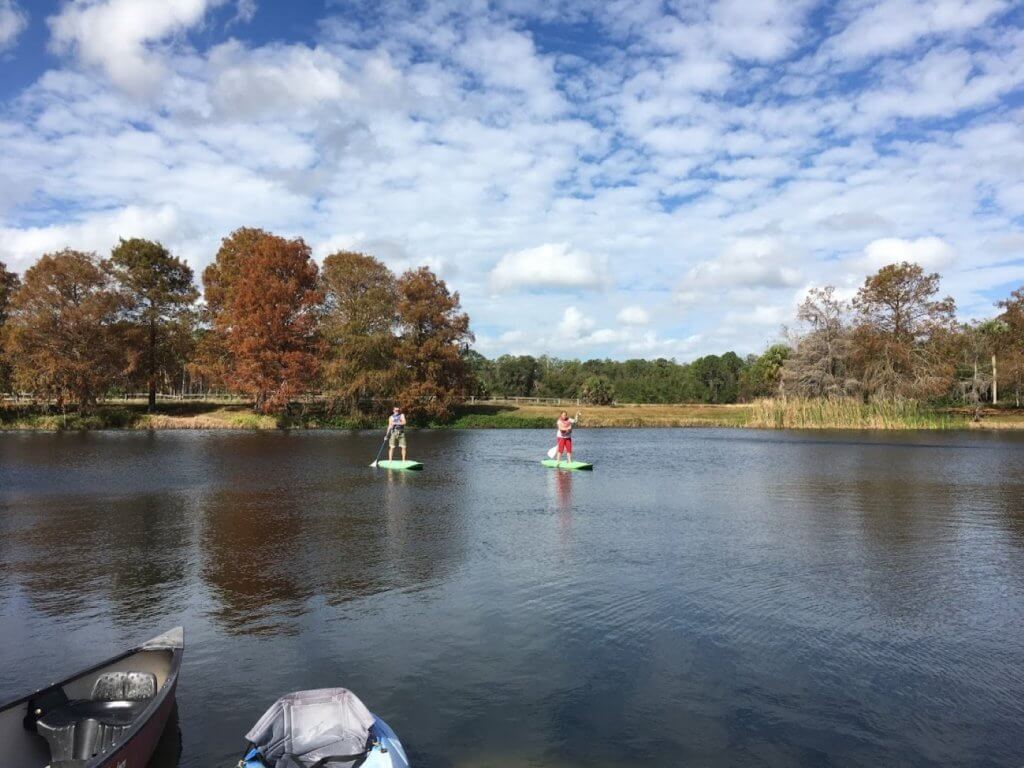 Other Activities
We never tried out the tennis courts, and the rock climbing wall was closed during our trip due to COVID. But there was always plenty to do so we didn't mind.
We did take advantage of the Fitness Center, which was well stocked and always very clean.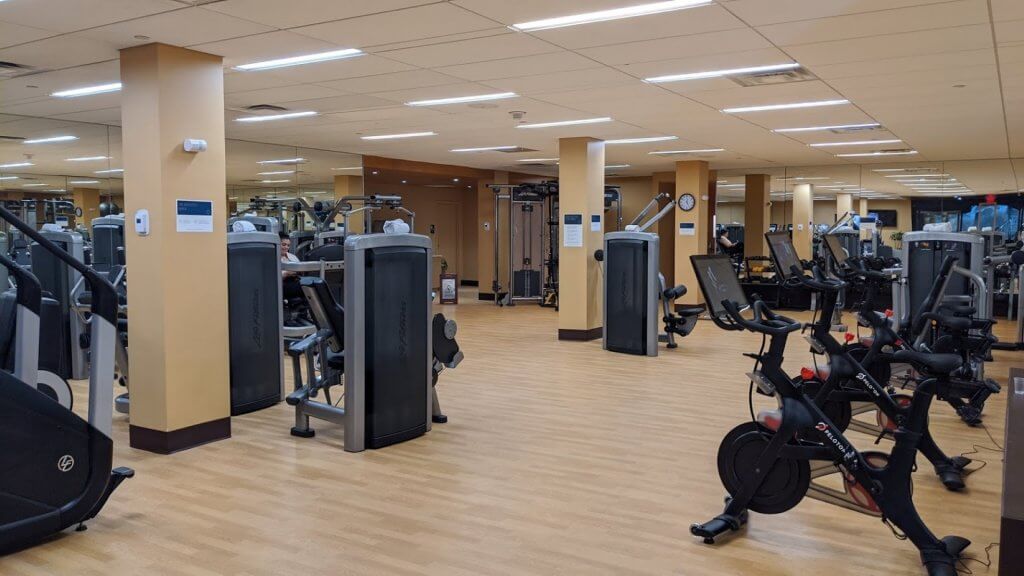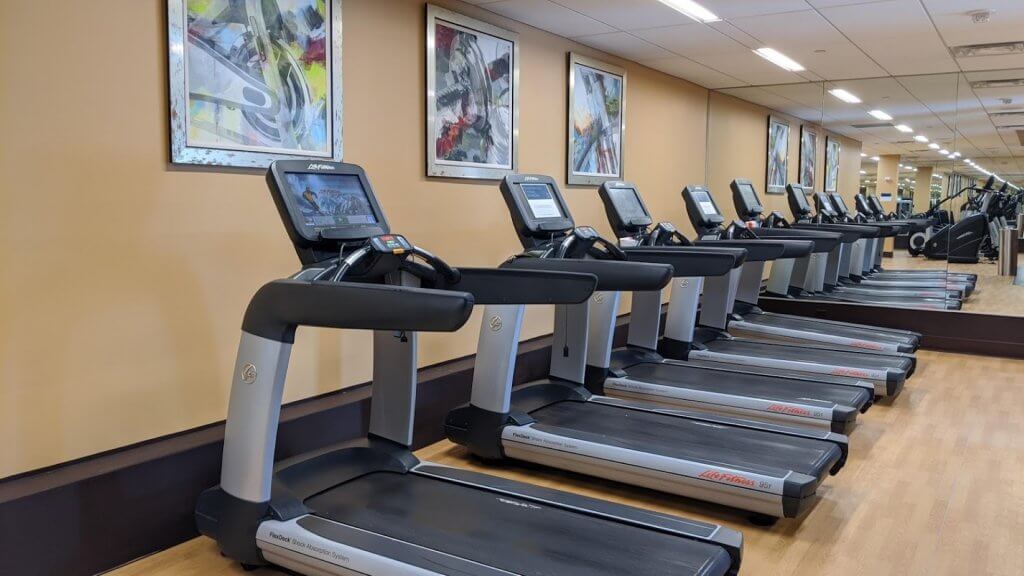 Food
If you know us, you can bet that we didn't spend a fortune on food even though we spent 4 days at a hotel with no kitchen. We ate out twice, but the rest of the time we ate from the grocery store where we stocked up on foods we could eat without cooking. There was a mini fridge in the room, which helped a lot.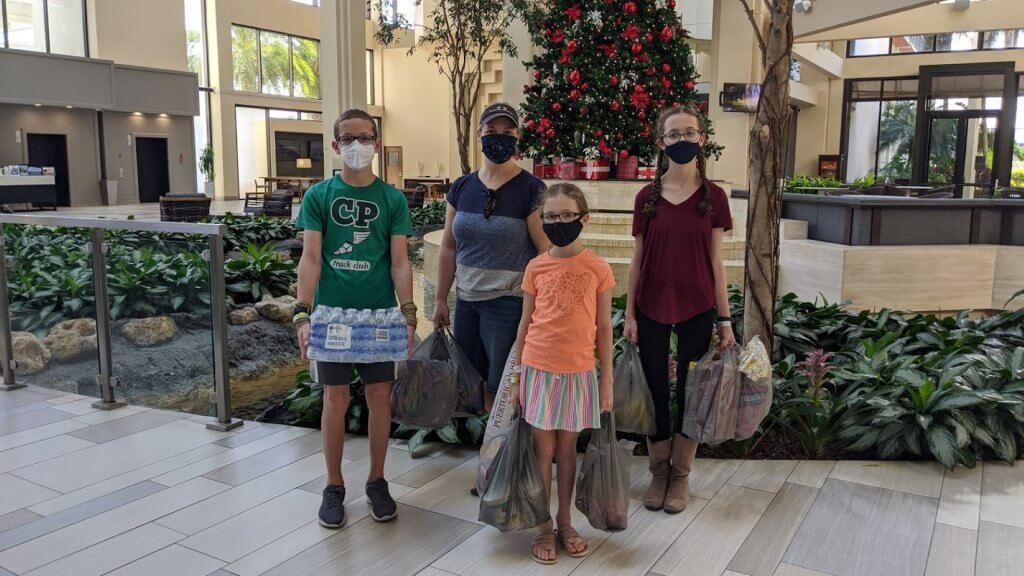 We picked up pizza at Pizza Hut for lunch on our first day, and my husband and I took our son out for hot pot one night. We ate hot pot first in Chengdu, China so it was really fun for us to try it again.
U & Me Revolving Hot Pot is within easy walking distance from the hotel and is such a fun place for a nice meal! We loved the two robots: one showed us to our table and the other brought our menus and dessert.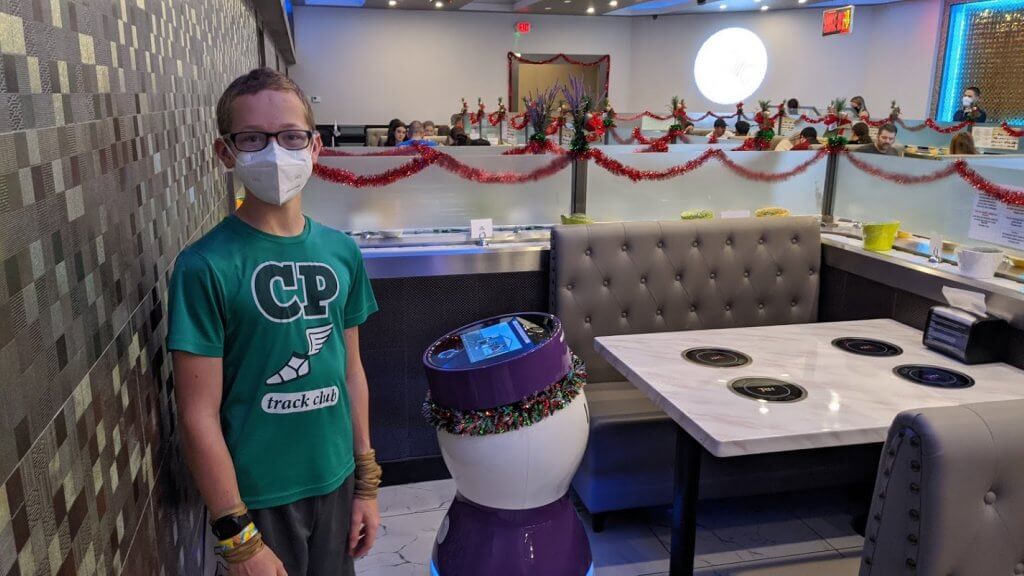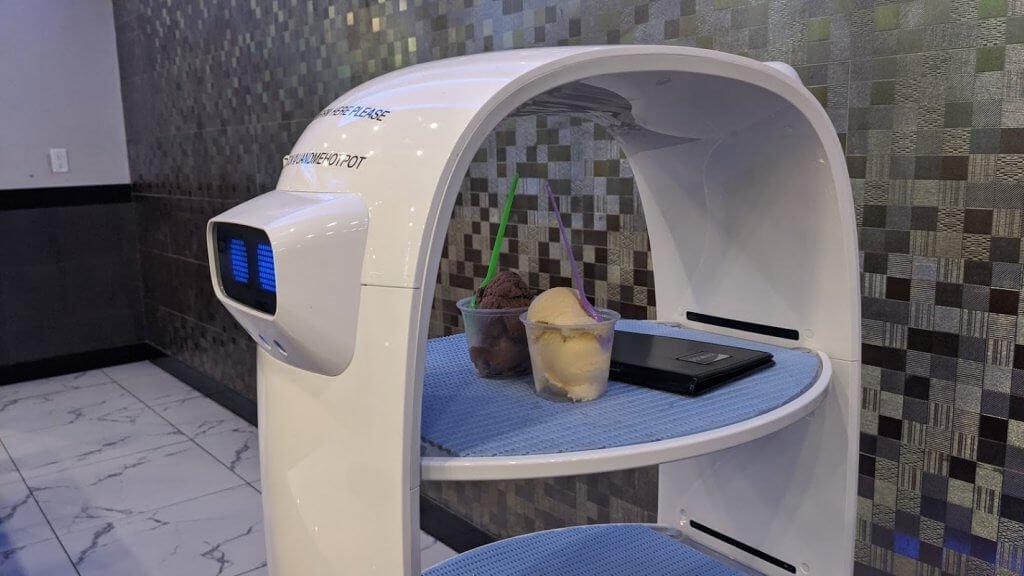 We each got to choose our own hot broth in which to cook our food. There was a large buffet area with a wide variety of meat and seafood to choose from and another station completely dedicated to sauces.
All other food items (noodles, vegetables, etc.) were in individual serving containers on a moving conveyer belt circulating around the restaurant. It was so much fun to pick out what we wanted to try from the belt and try lots of different things.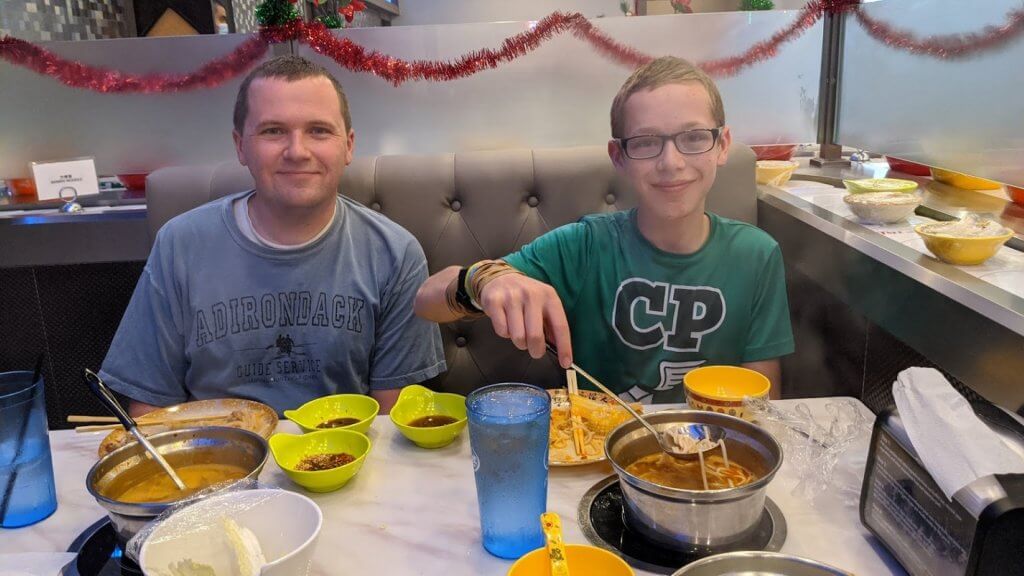 It was a great night out, and a restaurant we highly recommend if you want something unique and delicious that it also a fun cultural experience.
Staying with Hotel Points
We paid for this 4-night stay using the points we received from one credit card signup bonus. As a "category 3" Hyatt, the cost for us was 12,000 Hyatt points per night. Using points to book it also meant that we did not pay the resort fee. (Parking fees still apply, but we took Ubers around so we didn't have to pay for parking).
With an advertised rate of ~$259 per night when we were there, along with the waived resort fee, this credit card saved us more than $1000! If you are interested, you can check it out using our referral link.
Although this card has a $95 annual fee, it comes with an annual free night certificate that can be used at any category 1-4 Hyatt (including this resort!), so we think it is well worth holding onto.
---
If you are looking for a place to stay in Orlando that provides tons of on-site activities, check out the Hyatt Regency Grand Cypress. You may decide that you don't even need those theme park tickets after all.
And if you want to save some money and get closer to nature, check out Disney's Fort Wilderness Campground, another of our favorite places to stay in Orlando!
Grab a printable activity book for your upcoming trip at our new store!