During our trip to Costa Rica I decided that it was the best vacation we'd ever had as a family, and it is still at the top of our list even though we have now traveled to many other countries. There was something magical about the wild monkeys and other creatures, jungle surroundings, and laid-back feel. We just loved our time in Costa Rica!
Why We Chose Costa Rica
We were finally ready to venture out of the country with our whole family (Ok, I was finally ready, my husband was ready long before this!) and really wanted to go somewhere that our kids would enjoy. I don't think we could have picked a better place to introduce our kids to a new language and culture. Costa Rica was everything that we hoped it would be and more.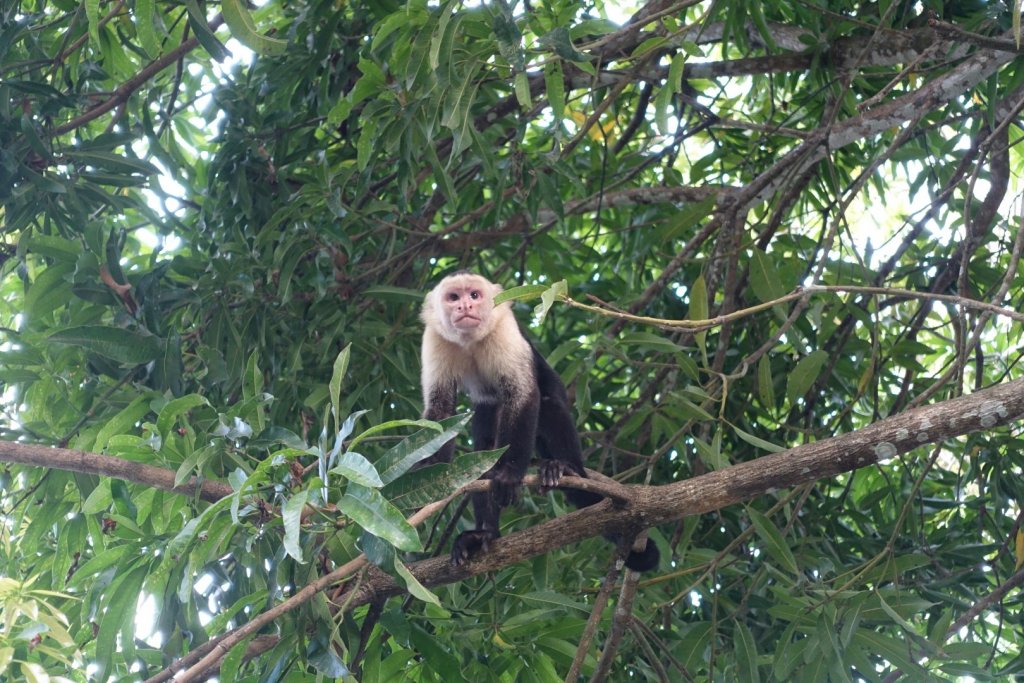 My kids especially enjoyed all the wildlife. On the trip we saw wild monkeys, a deer, iguanas, lizards, leaf-cutter ant colonies, a sloth, a red macaw in its nest, a poison dart frog, toucans, crocodiles, blue morpho butterflies, basilisks, a turtle, and more. It was heaven for my son who loves everything that breathes or crawls!
Activities
Our kids honestly enjoyed pretty much everything we did in Costa Rica. We never had to coax them to hike a little longer or beg them to get ready for the day. They were so excited to see new animals and places and experience all the things that we had planned.
Manuel Antonio
Manuel Antonio National Park
We absolutely loved Manuel Antonio National Park. In my opinion it was the best part of the trip. It was so incredible to see wild monkeys jumping from tree to tree high about the trail. As we hiked along the path, we'd start to hear some rustling, then it would get louder, then we'd start to see monkeys in the trees. They'd leap from tree to tree one by one high above our heads, then disappear as a group into the distance.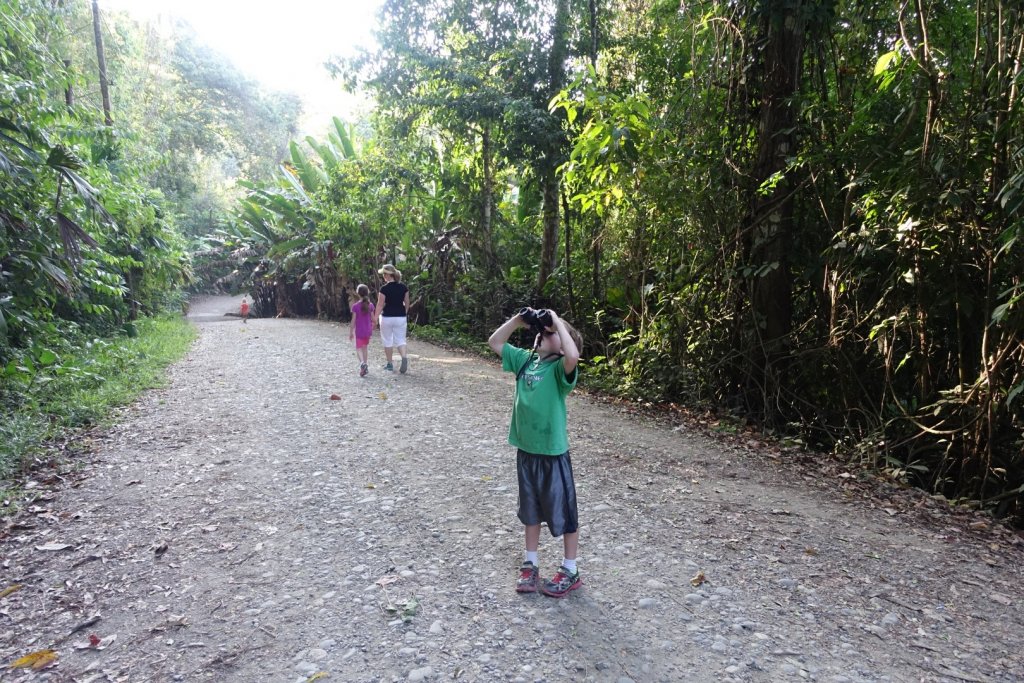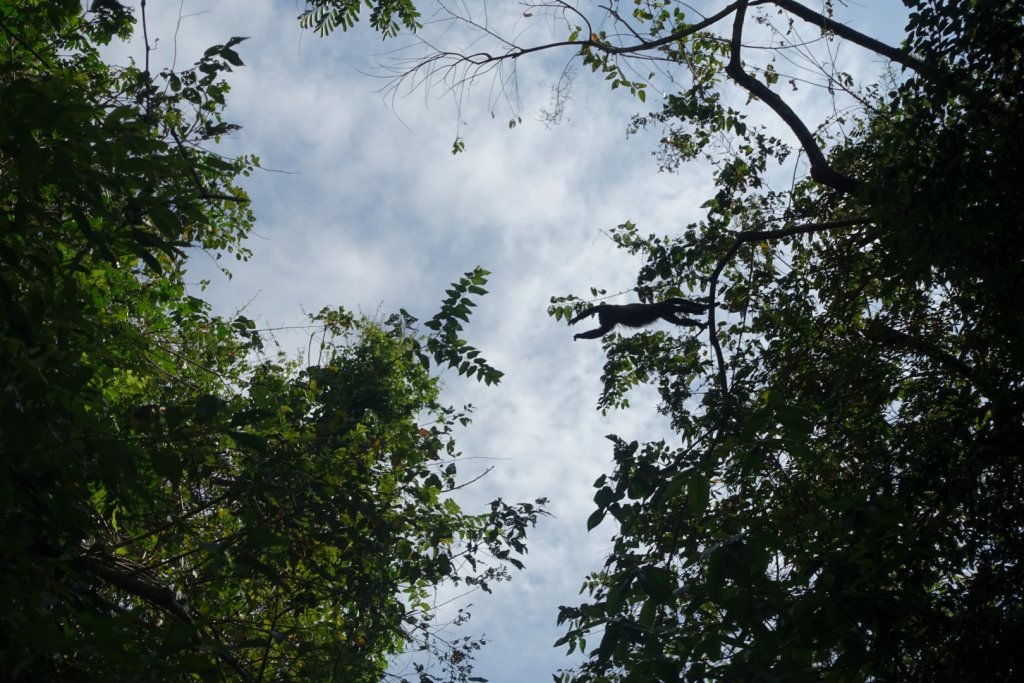 We also spotted some blue morpho butterflies, a turtle, and a sloth hugging a branch. It was the perfect place to hike that held the kids' interest and ours as well!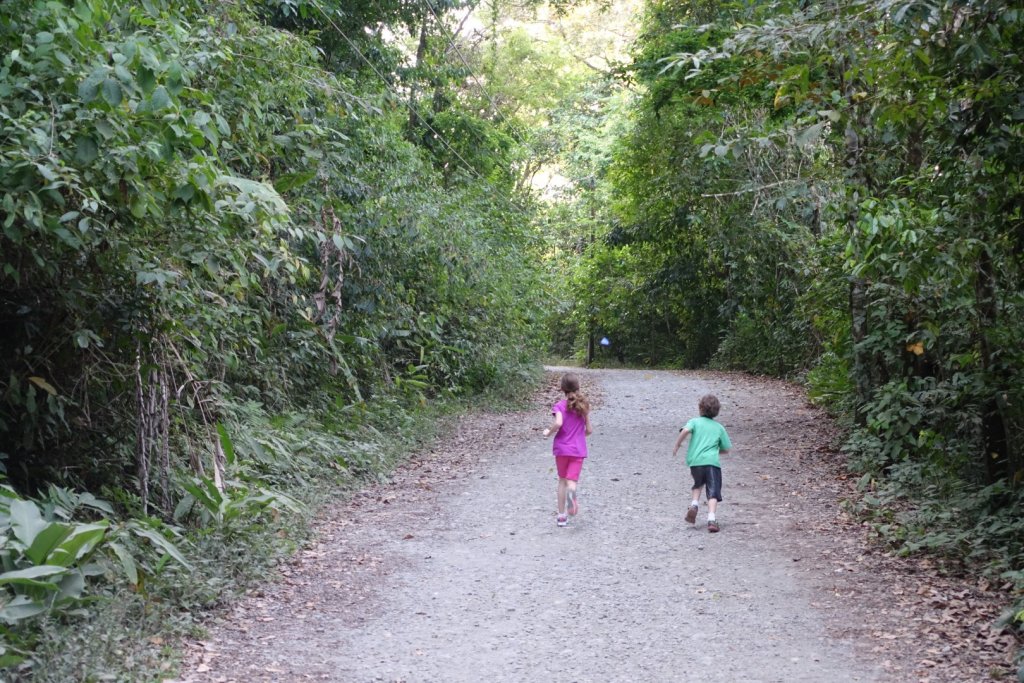 The trail in the park leads right to some beaches and we enjoyed cooling off in the water at Playa Manuel Antonio halfway through our hike. This is where we saw a monkey with a Pringles can high up in a tree, trying to figure out how to get to the chips inside!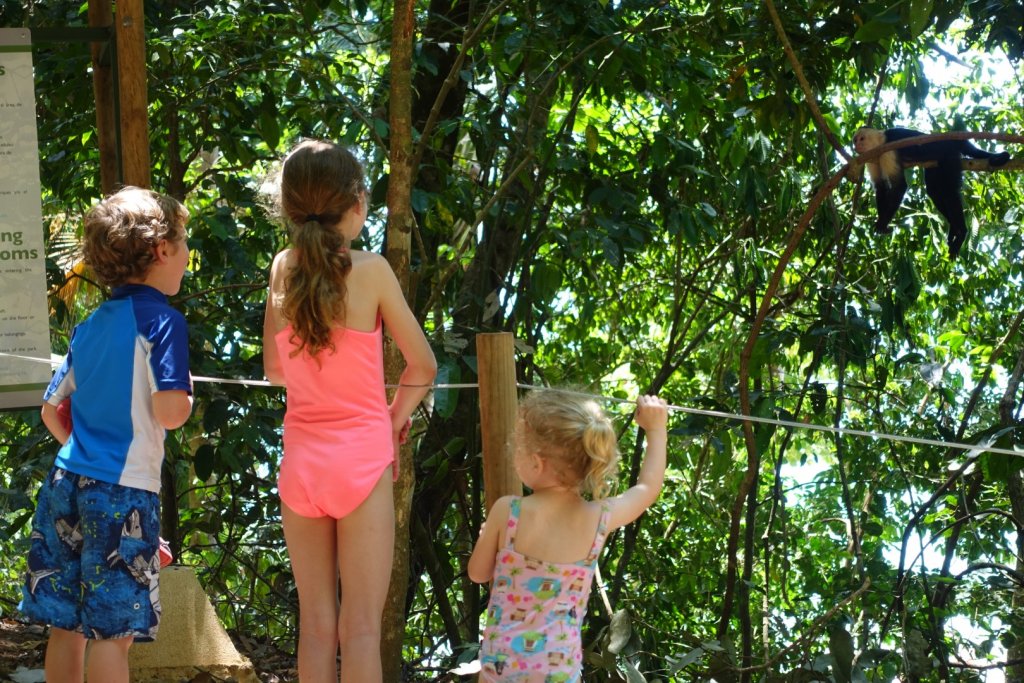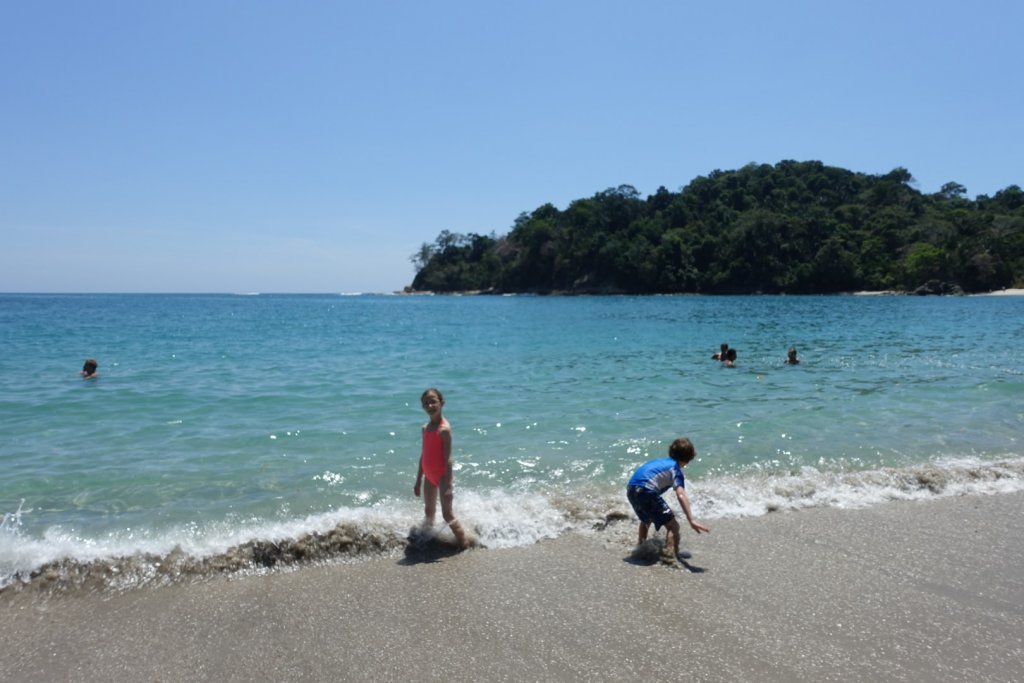 Espadilla Beach
We also enjoyed Espadilla Beach just outside the park.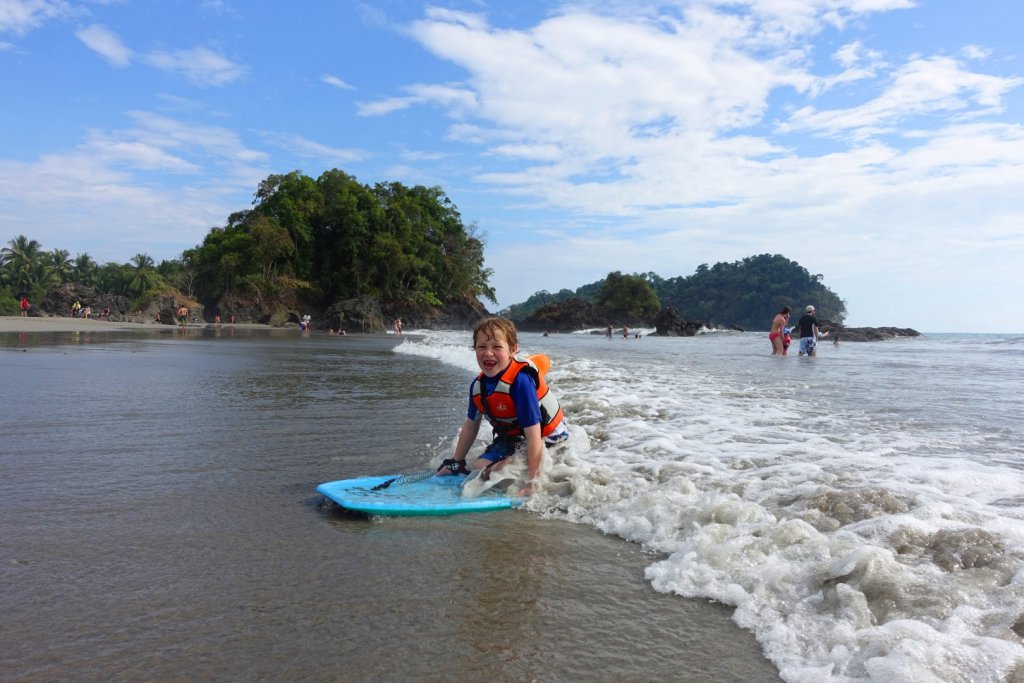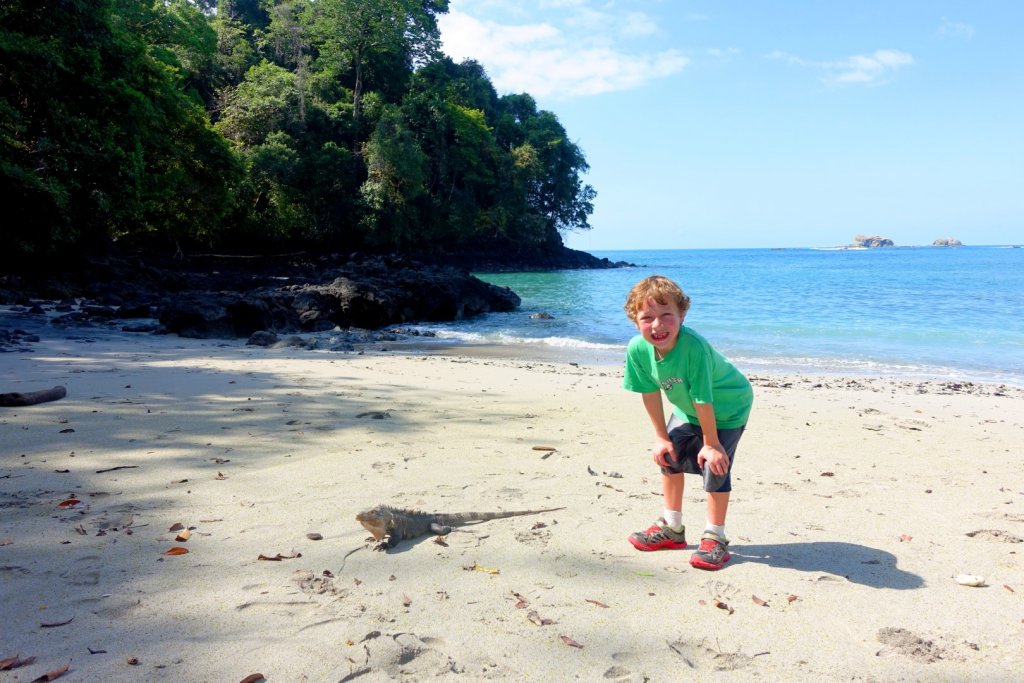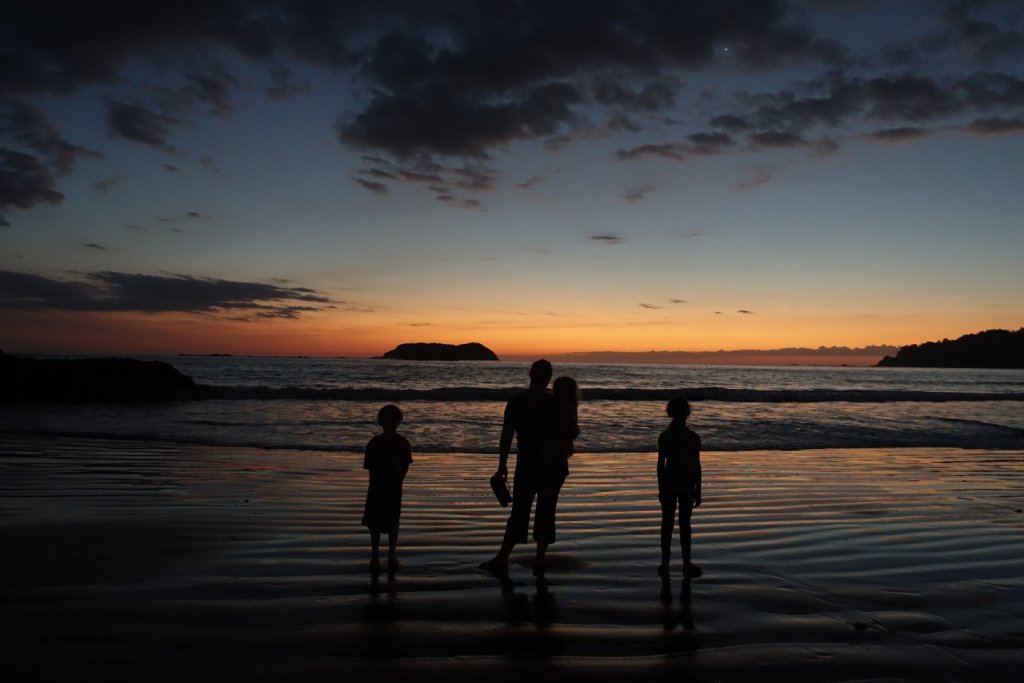 Carara National Park
From Manuel Antonio we went to La Fortuna, with a stop at Carara National Park on the way where we got saw wild scarlet macaws high in their nest in the trees.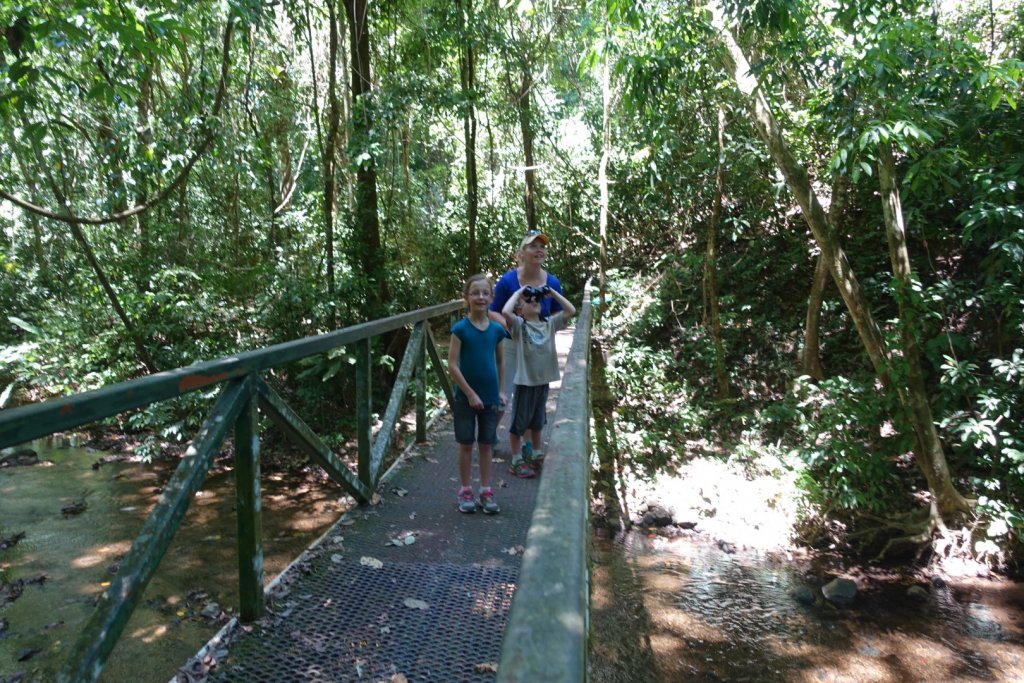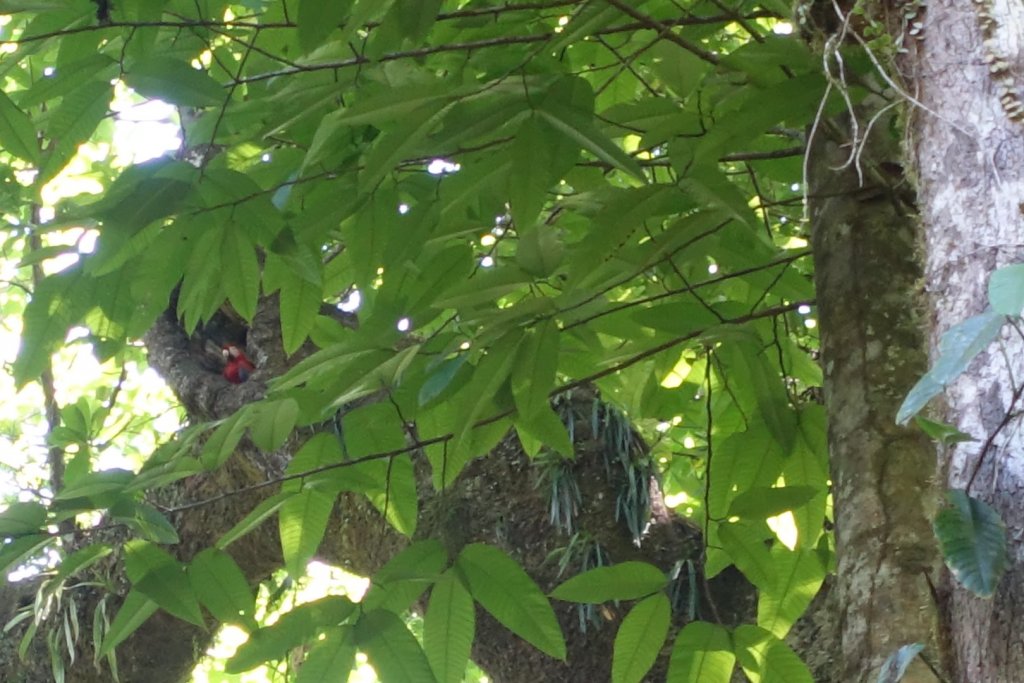 La Fortuna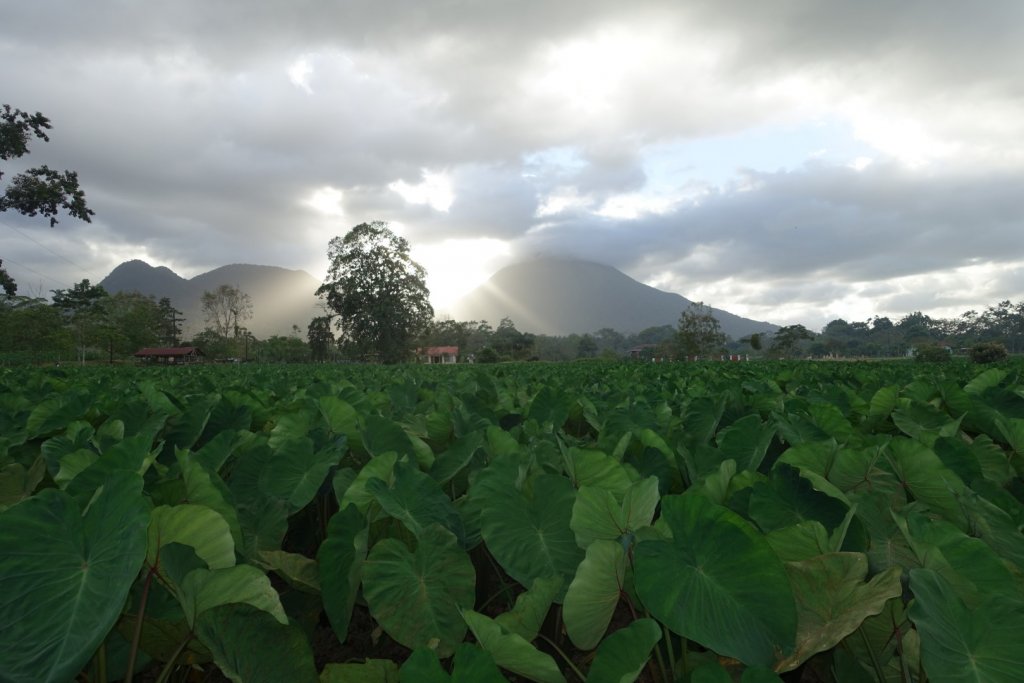 Tabacon Hotsprings
In La Fortuna we spent a luxurious afternoon at Tabacon Hotsprings climbing around in the hot cascading streams, soaking in the shallow pools, and relaxing under the steamy, pounding waterfalls. It was perfect.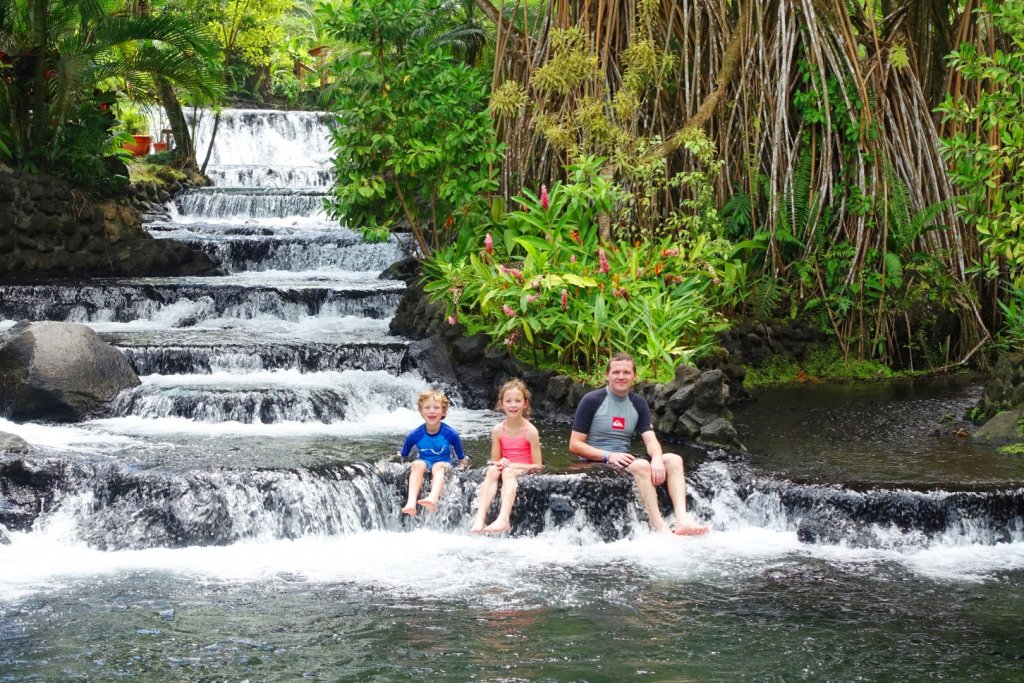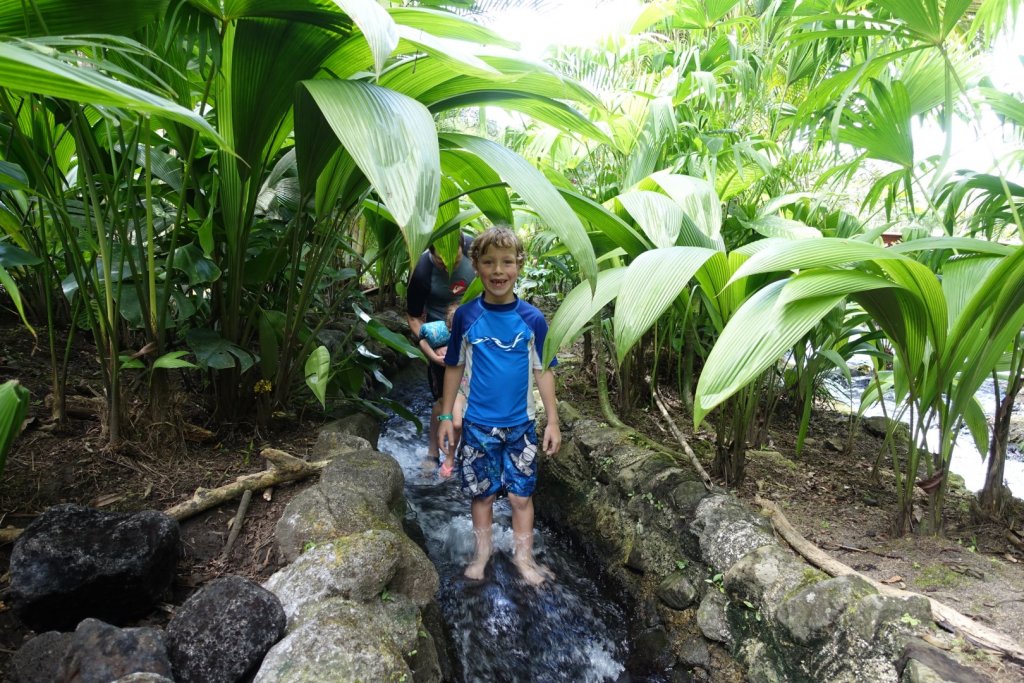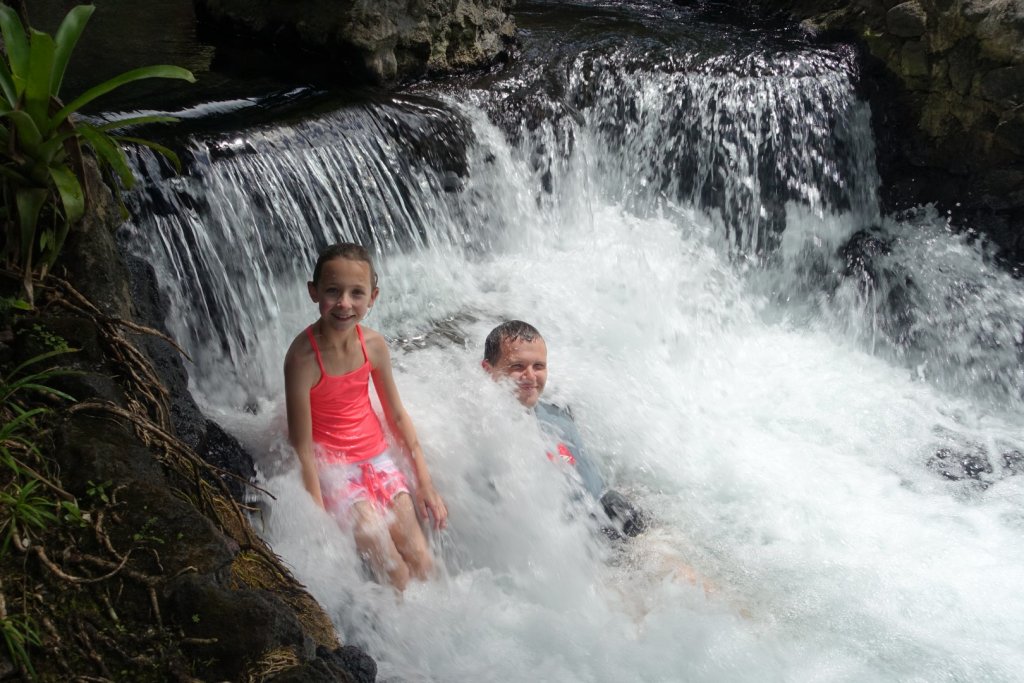 Rainforest Chocolate Tour
We also loved the Rainforest Chocolate Tour right next to our hotel, especially the part at the end where we got to experiment with our own chocolate creations. La Fortuna was a tropical heaven!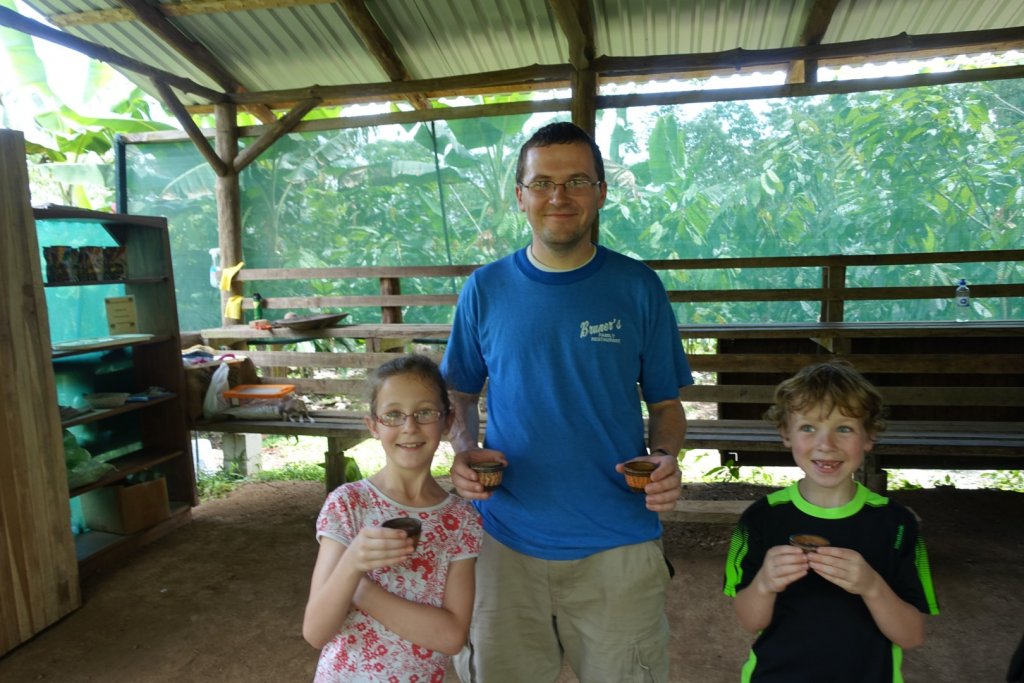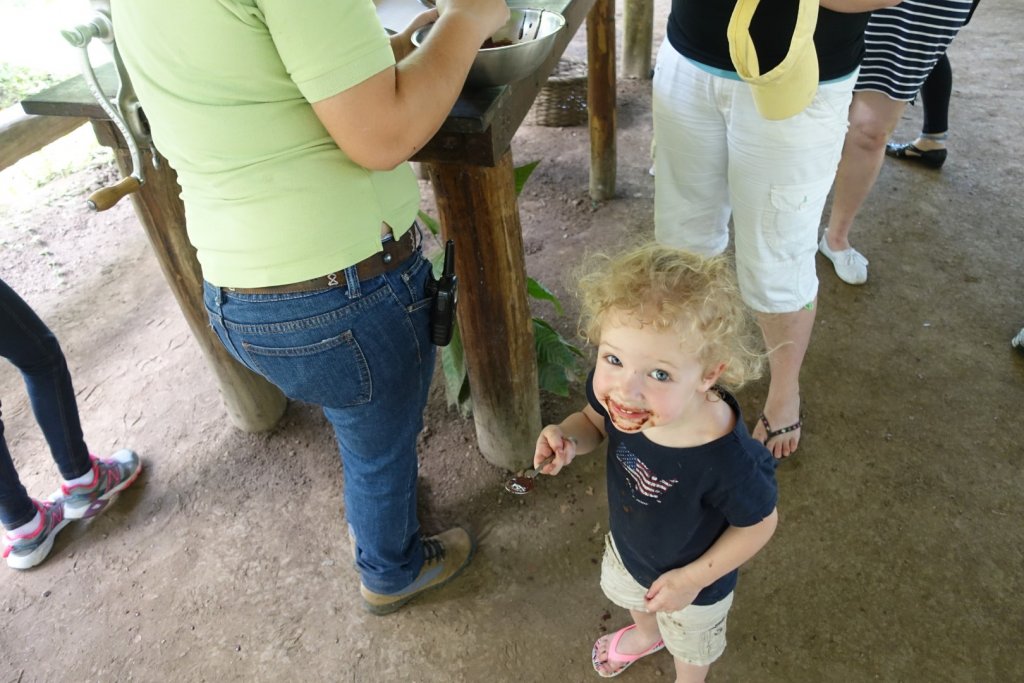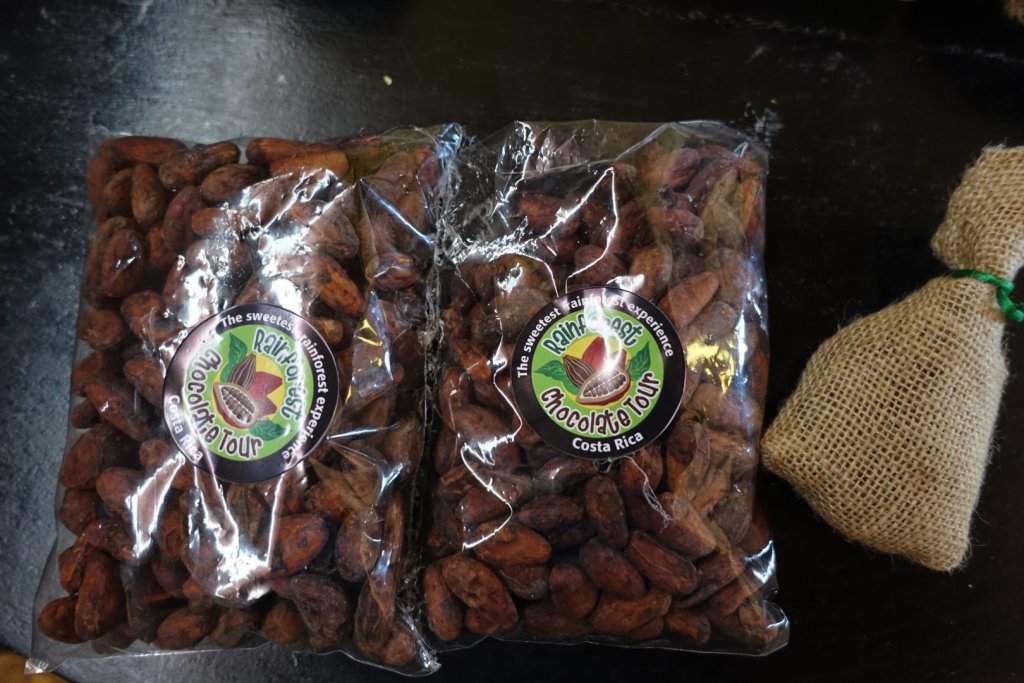 Monteverde
Monteverde Cloud Forest Biological Reserve
Hiking in the cloud forest was beautiful. We loved the bridge high above the trees and all the greenery everywhere we looked.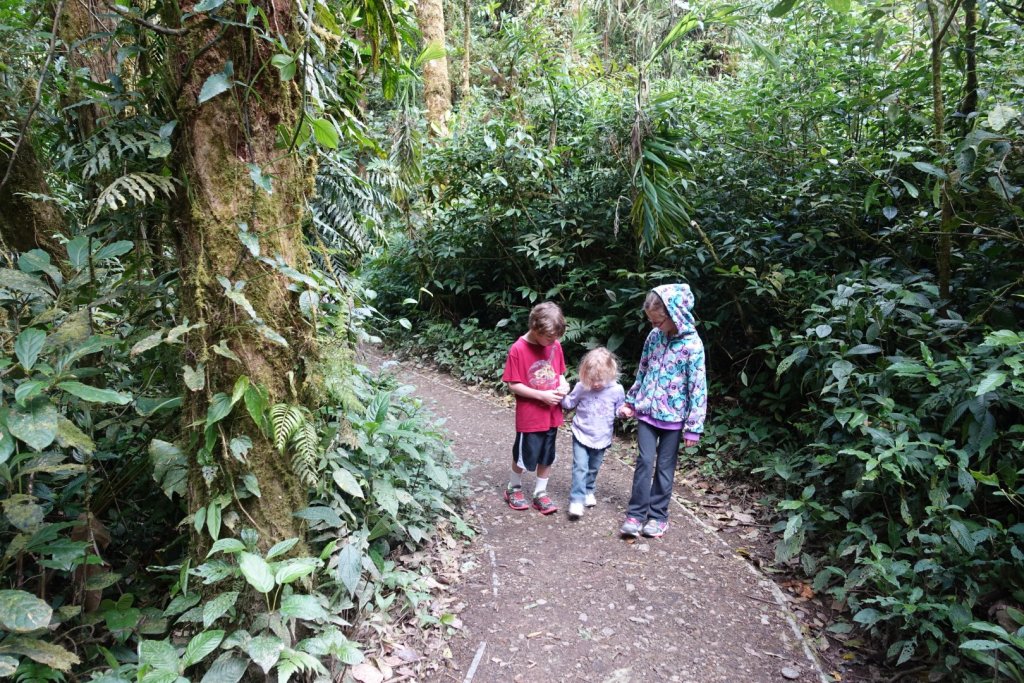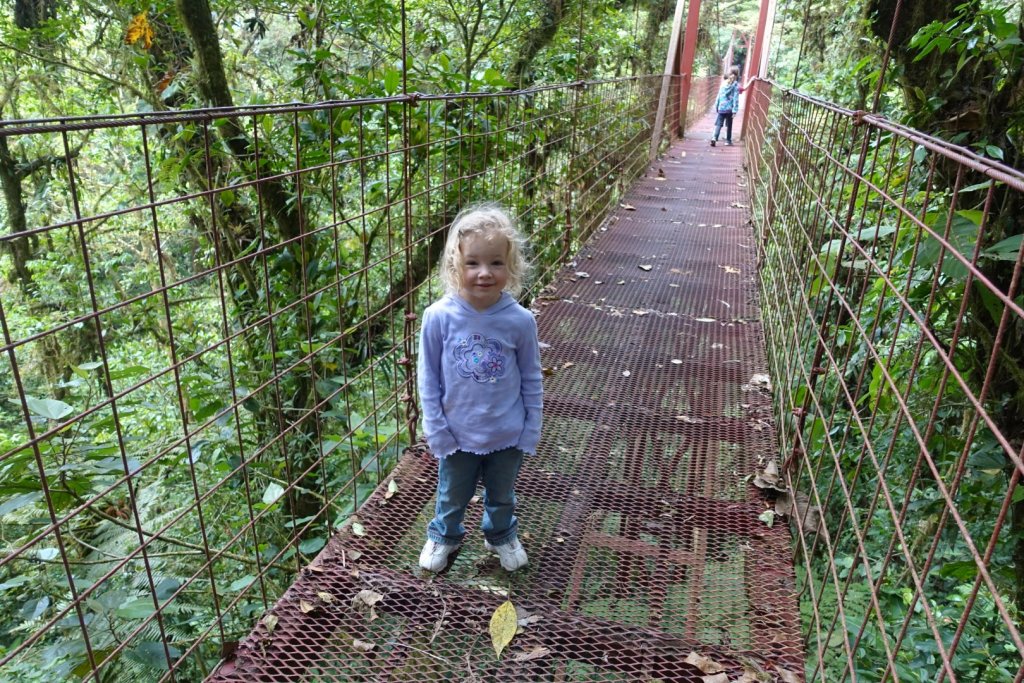 Horseback Riding
The highlight of Monteverde for my eight year old daughter and I was a horseback ride through the backcountry. Neither of us had much experience on horses, but our guides were great teachers and we had so much fun. We even saw the end of a rainbow!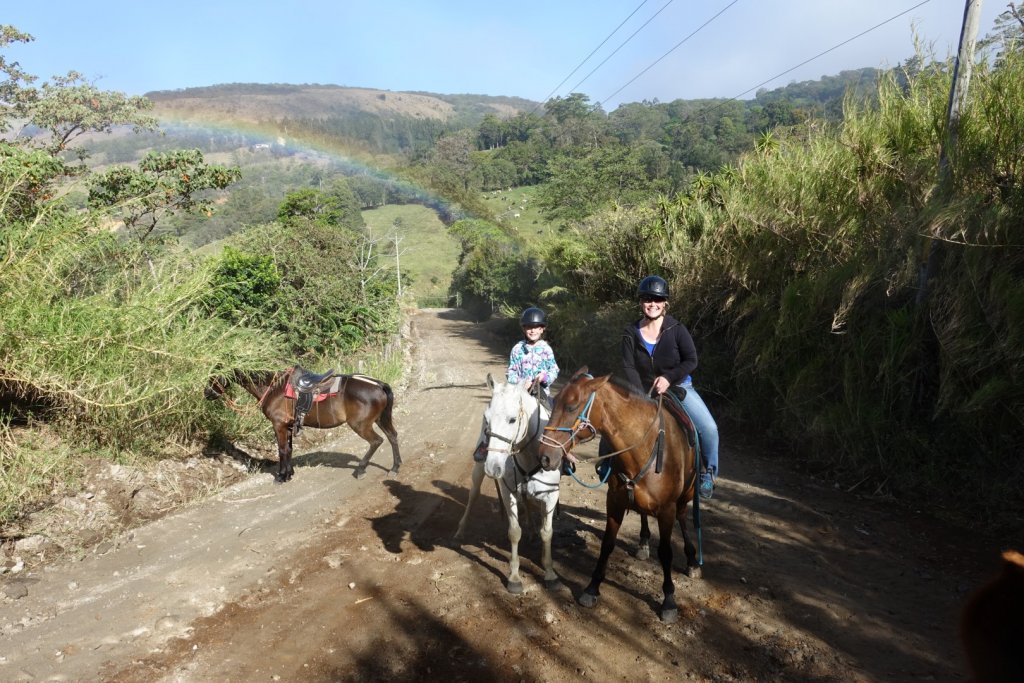 Night Tour
My husband and our son opted for a night tour and my son LOVED seeing all the bugs, a giant tarantula, a sloth, and other wildlife at night.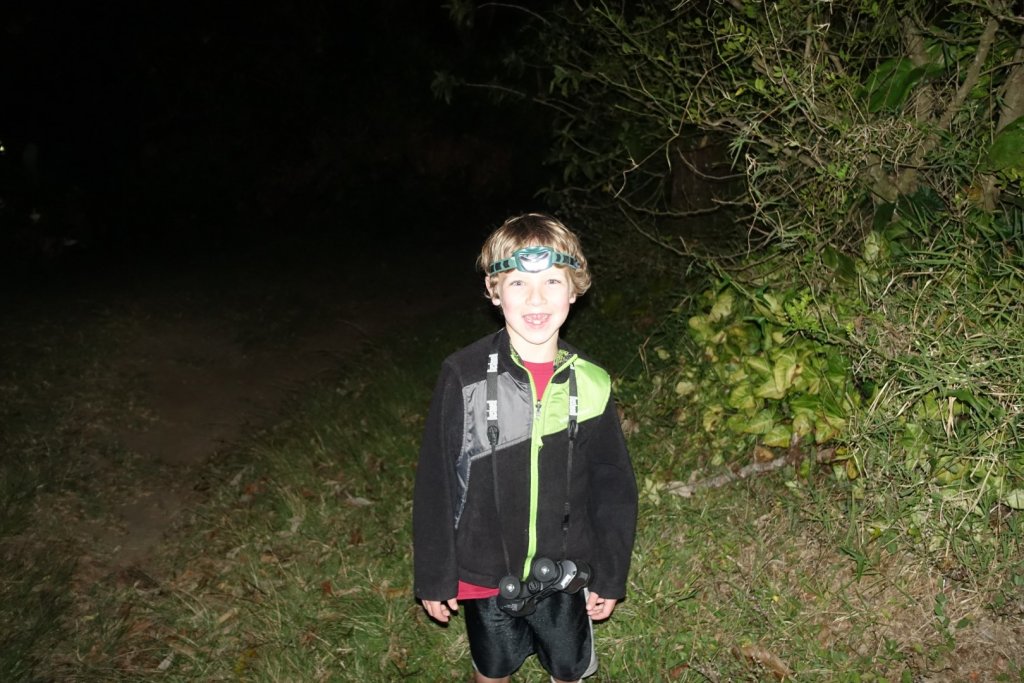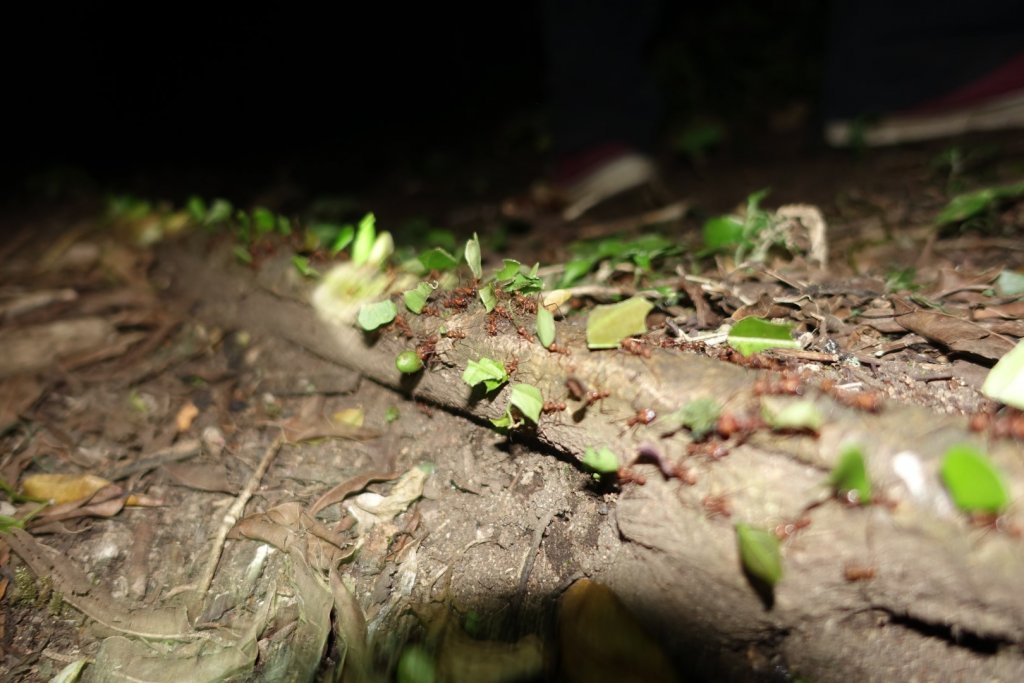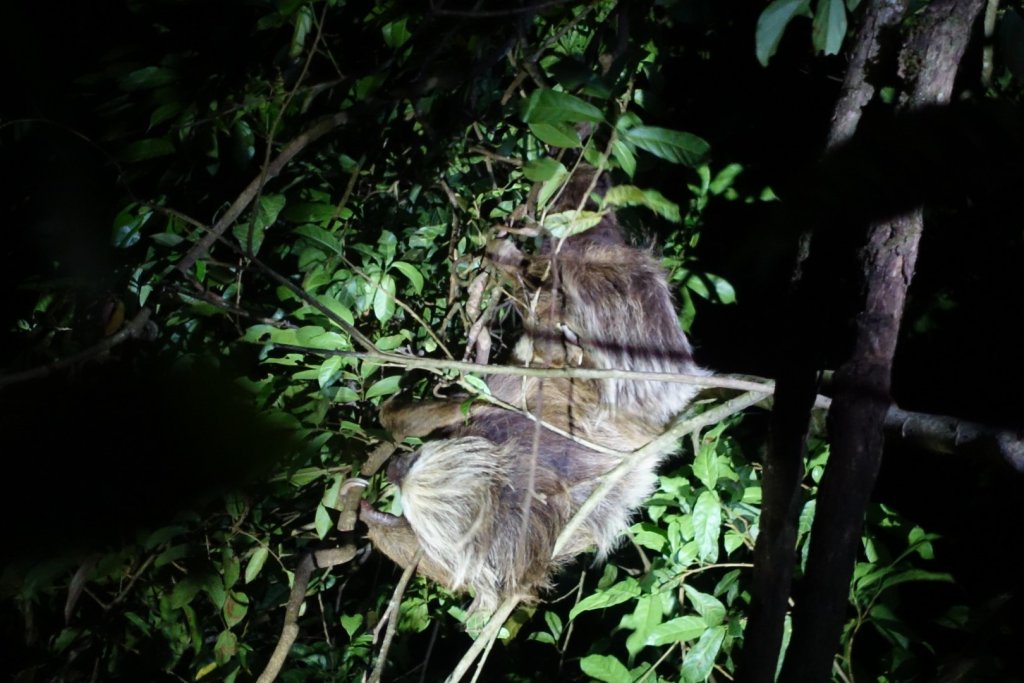 Lodging
La Posada
We spent a lot of time researching to decide where to stay in Costa Rica. I was most excited to see monkeys so our first few nights we stayed at La Posada right outside Manuel Antonio National Park. It was wonderful to be able to explore Manuel Antonio National Park so easily right from our hotel.
And it was so much fun to watch the monkeys swing through the trees right into our hotel grounds. They even ate bananas right out of our hands one morning, but unlike the monkeys in Bali they were not aggressive at all. They were more sneaky. It was really entertaining watching them steal food from the breakfast area. If someone left their table, the monkeys would run over and grab something off their plate then run away as fast as they could.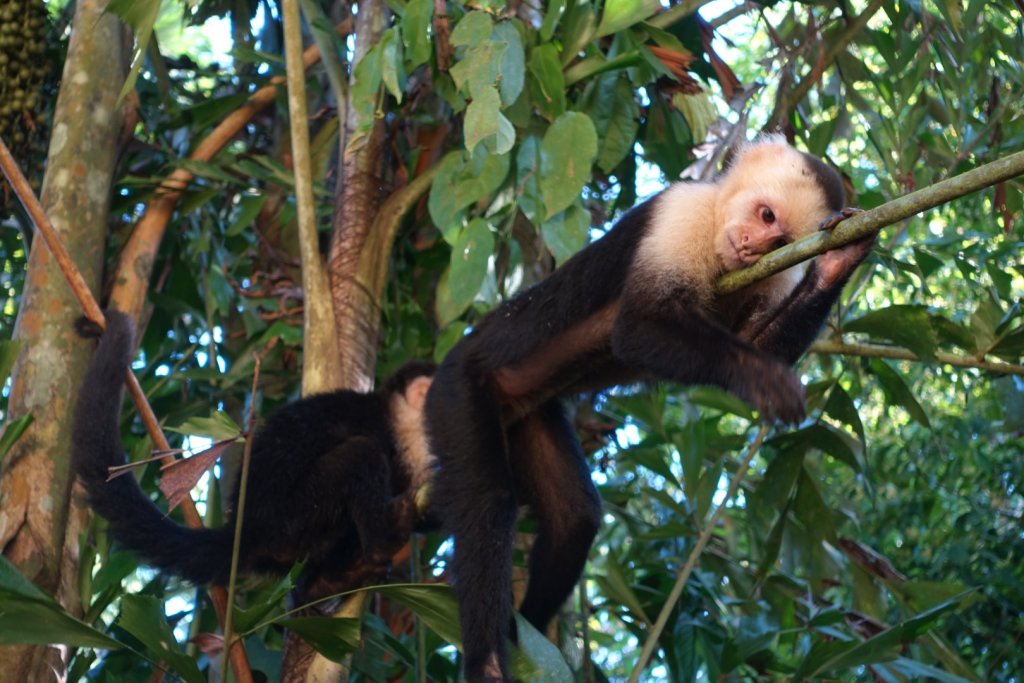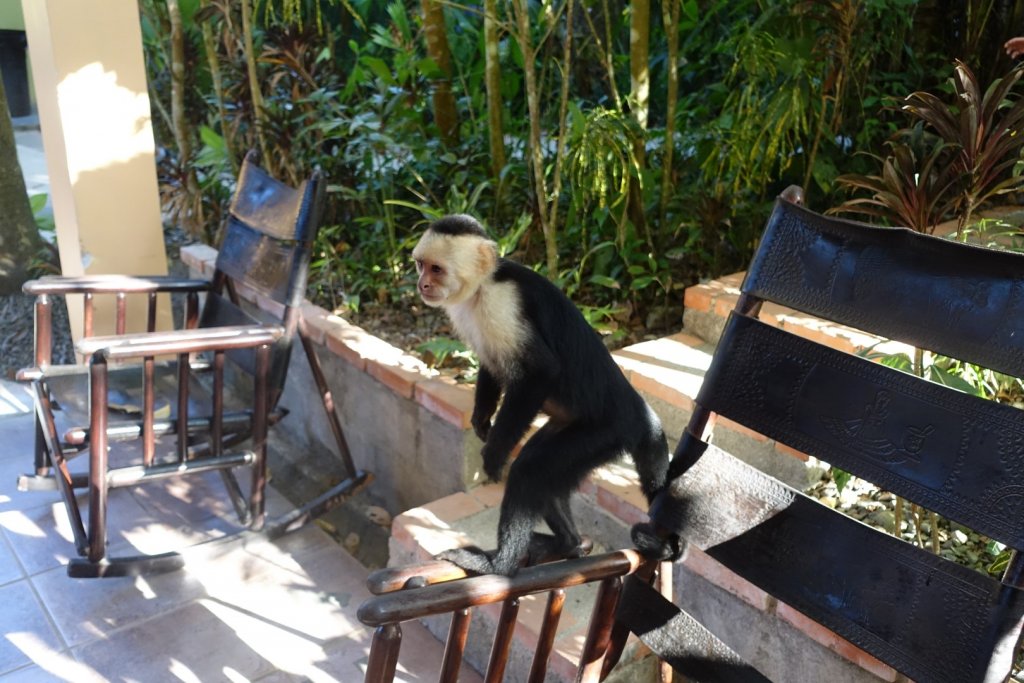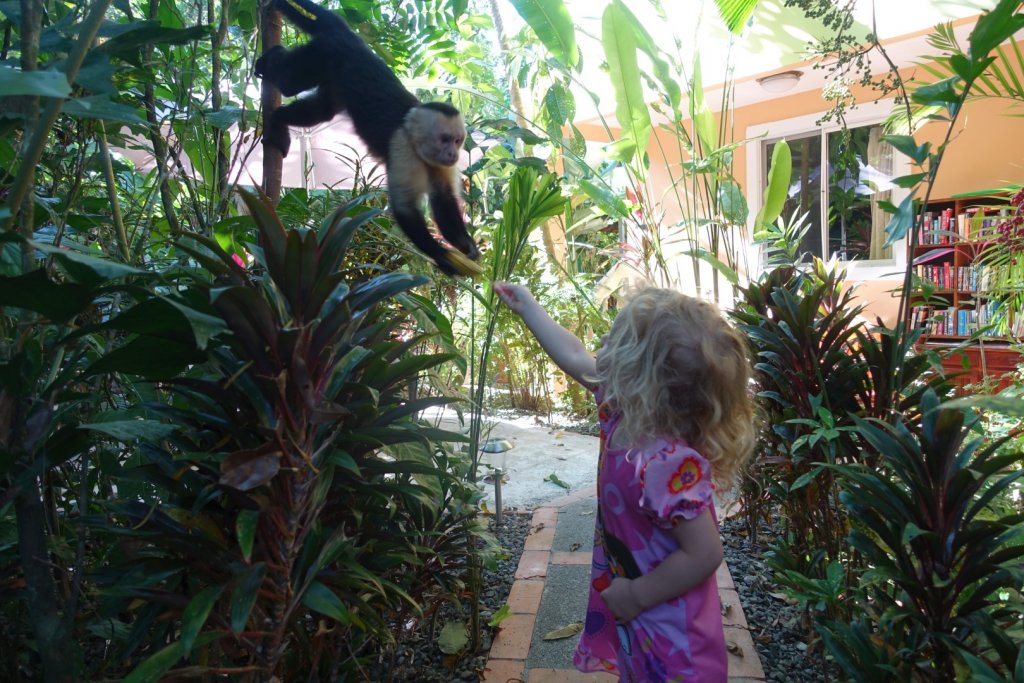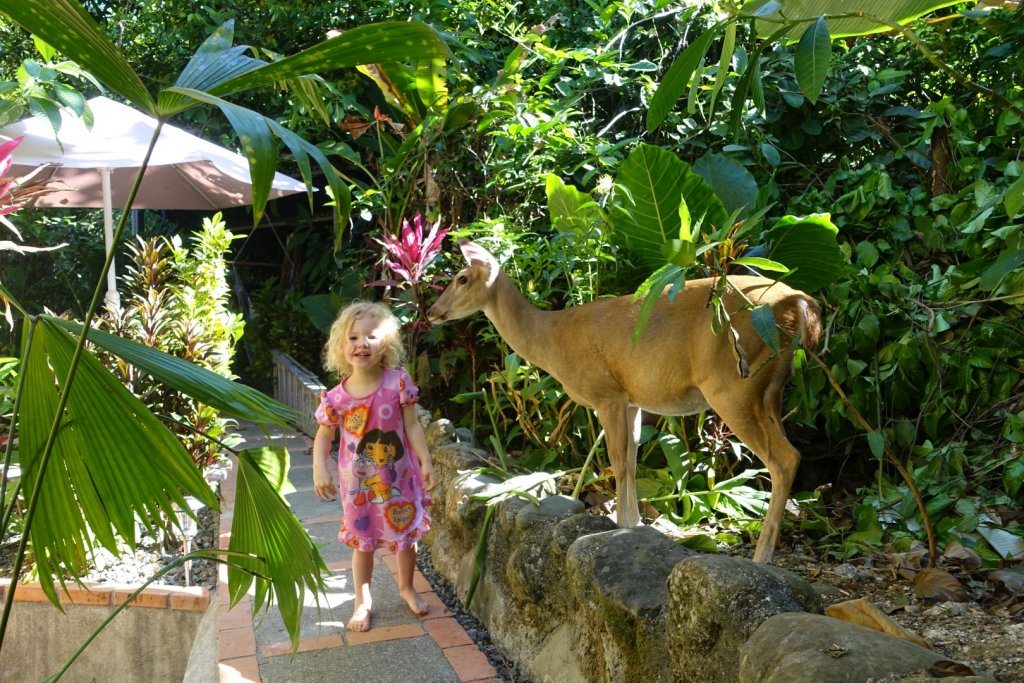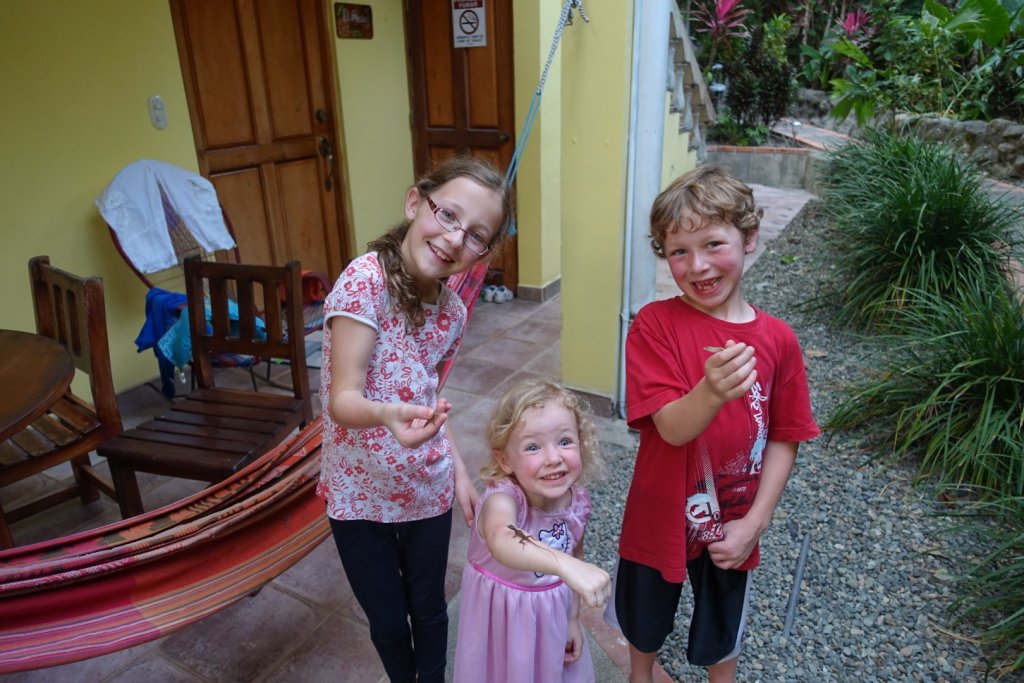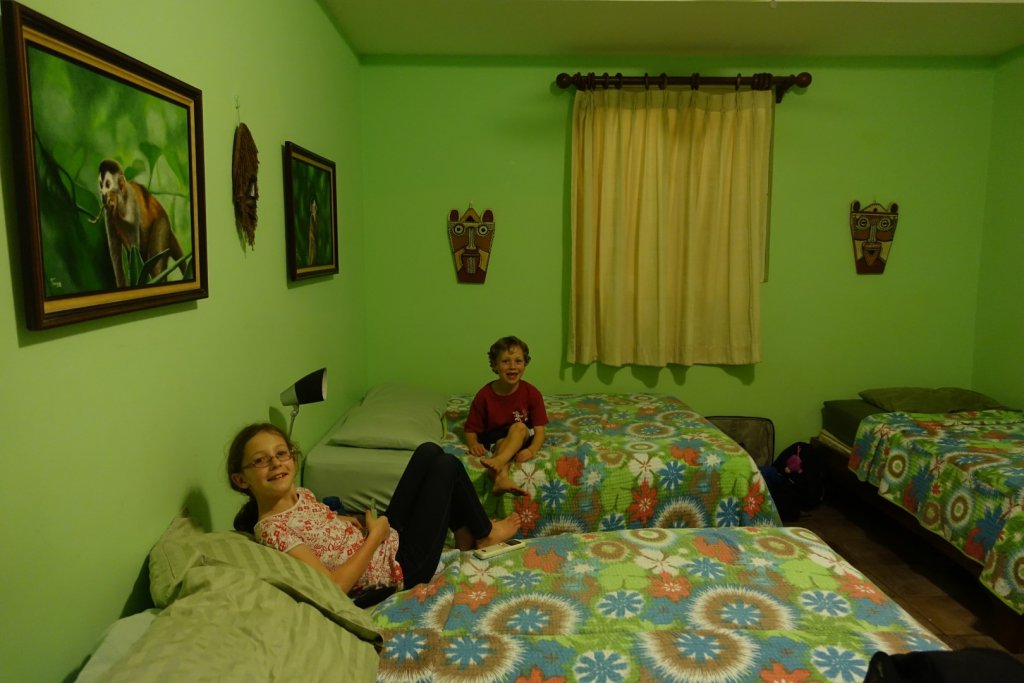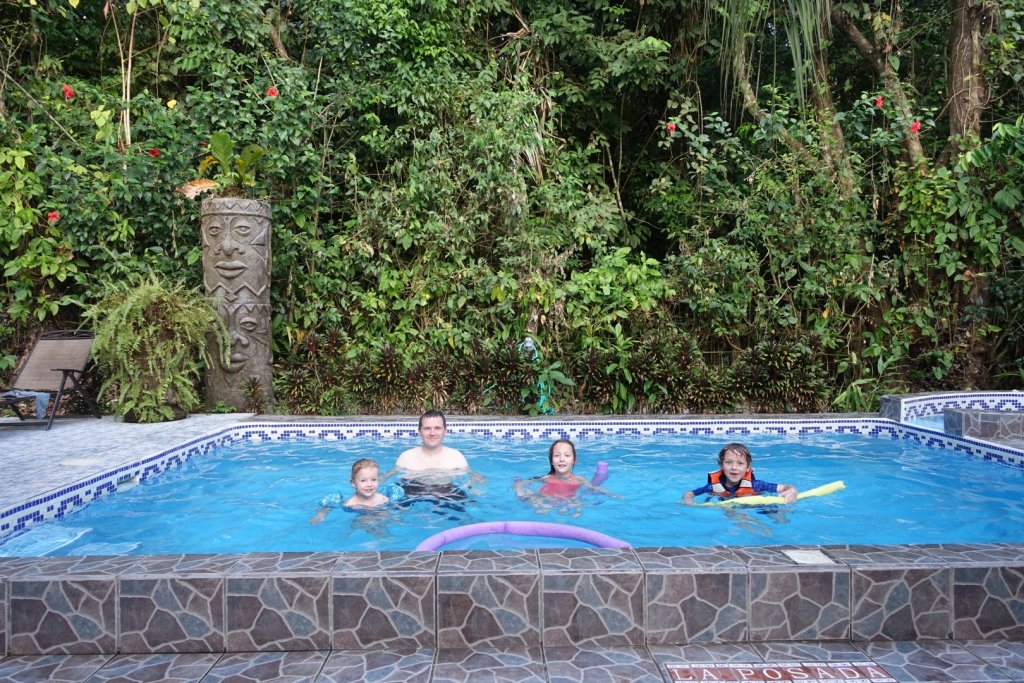 Cabinas La Catarata
In La Fortuna we stayed at Cabinas La Catarata. Our cabin was spacious and airy and wonderful, with great views of the nearby Arenal Volcano. The hotel owner was very friendly and made us feel very welcome. He even came and got us one morning to show us wild toucans in a tree since he knew we were really hoping to see some!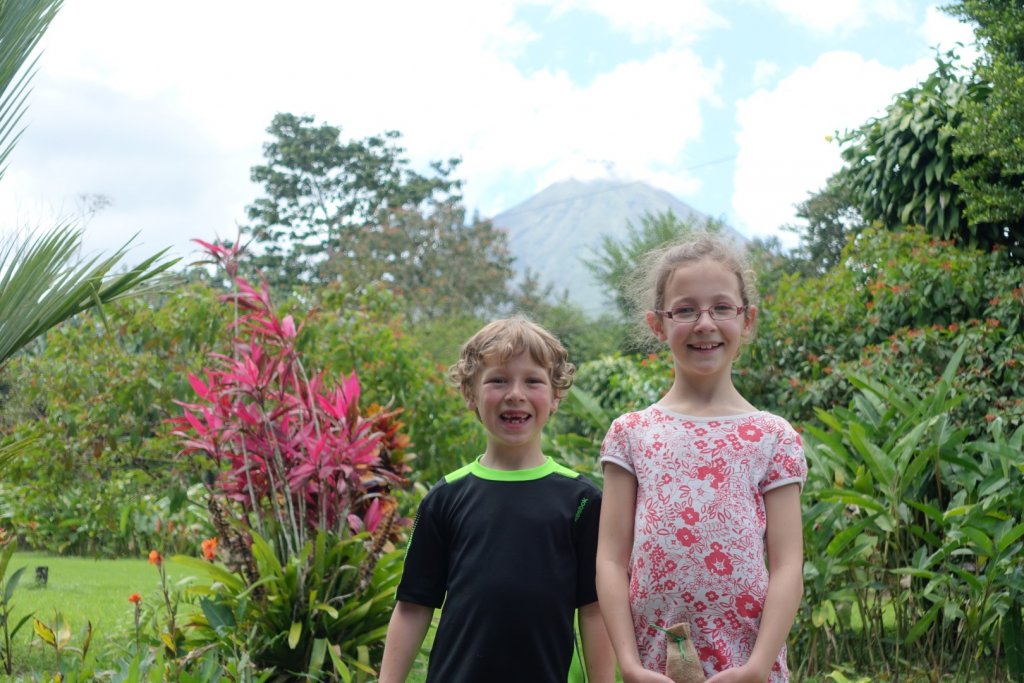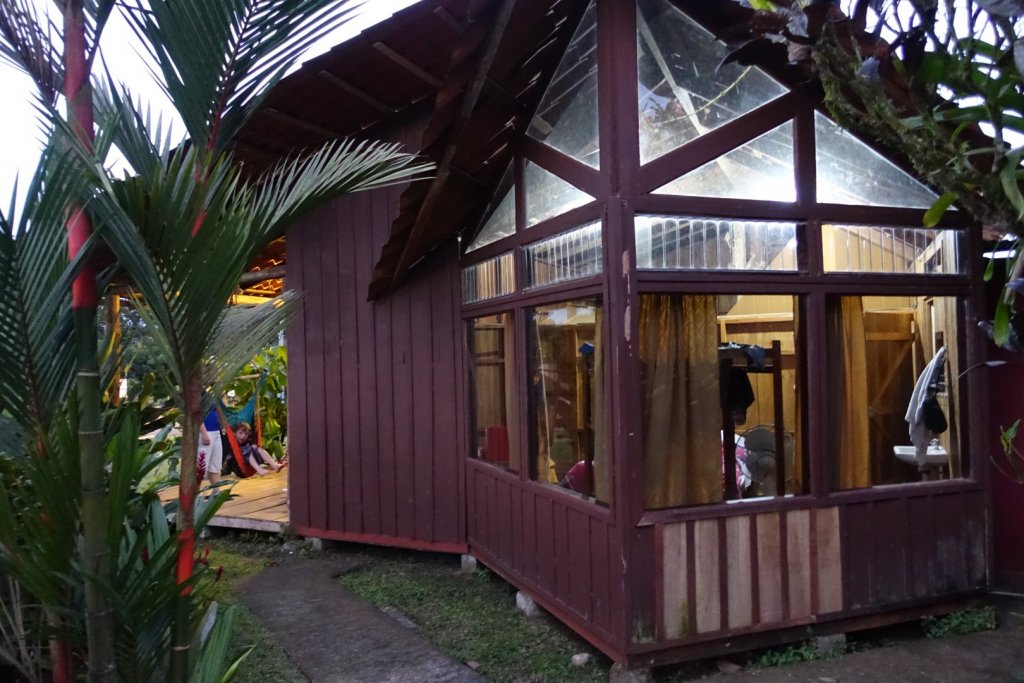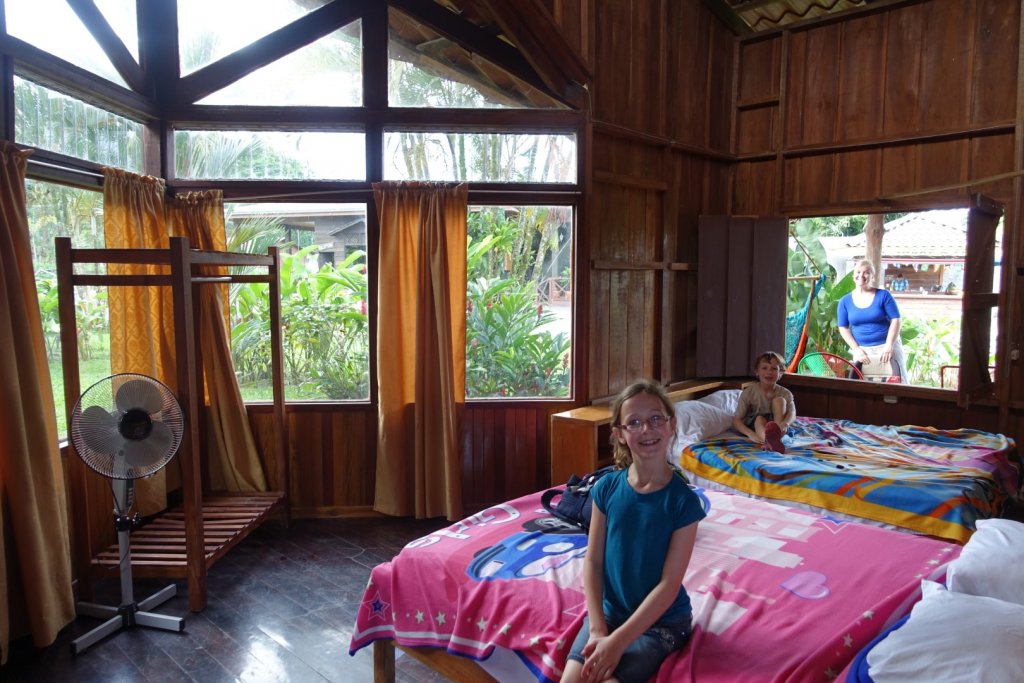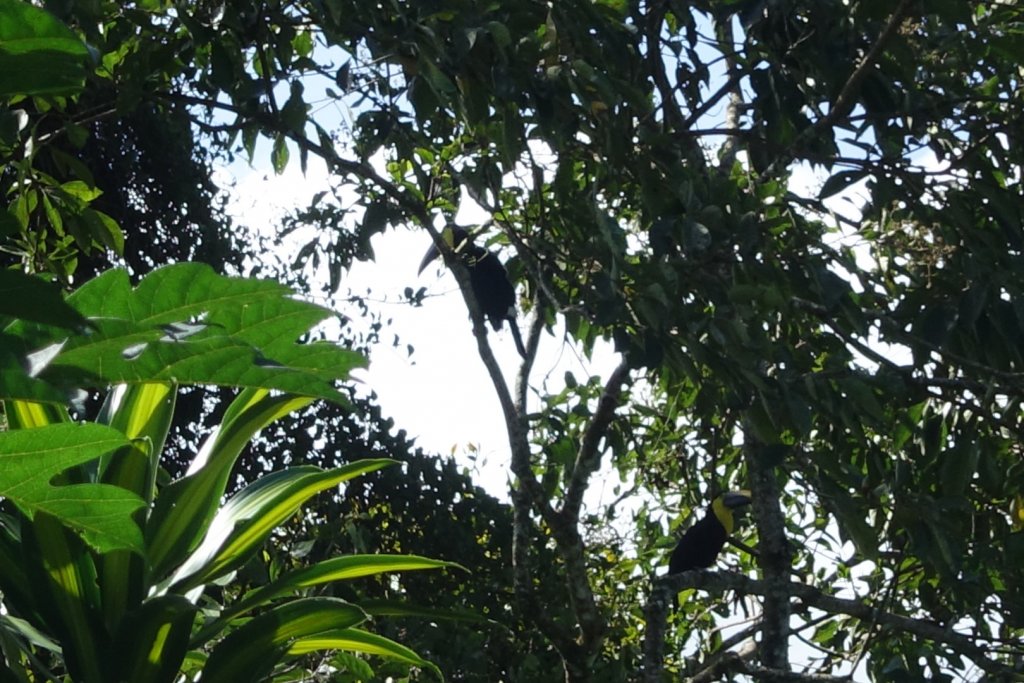 Monteverde Villa Lodge
In Monteverde we stayed at Monteverde Villa Lodge. From there it was an easy taxi ride to the Monteverde Cloud Forest Biological Reserve. While we were in Monteverde the wind was really LOUD, but the hotel was nice and comfortable. I'm not really a light sleeper, but the wind kept me up at night so I recommend bringing ear plugs so you can sleep!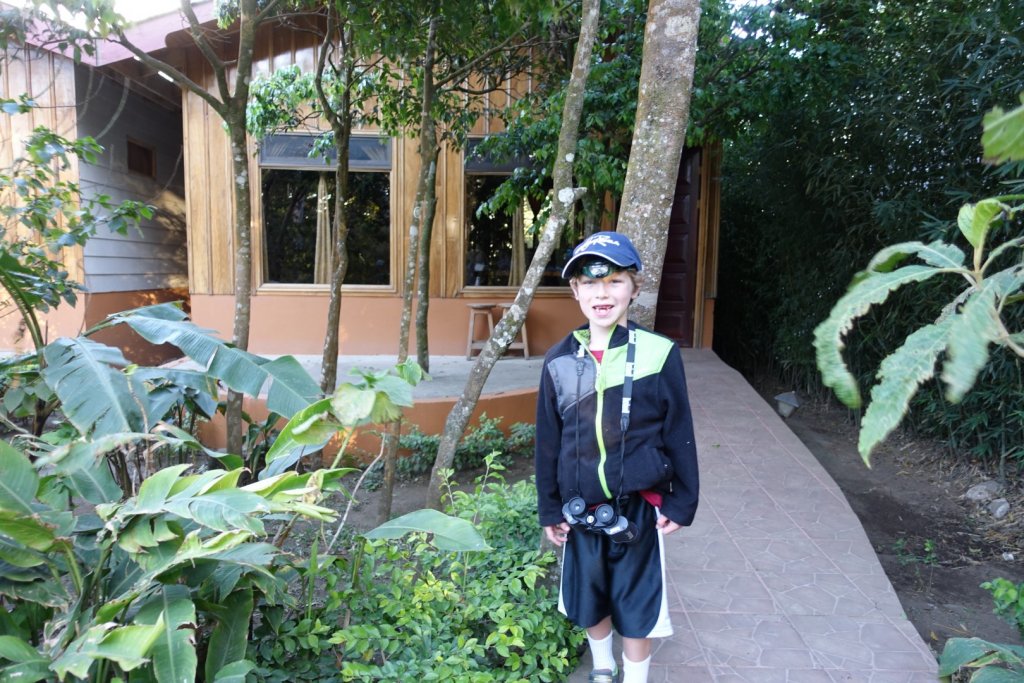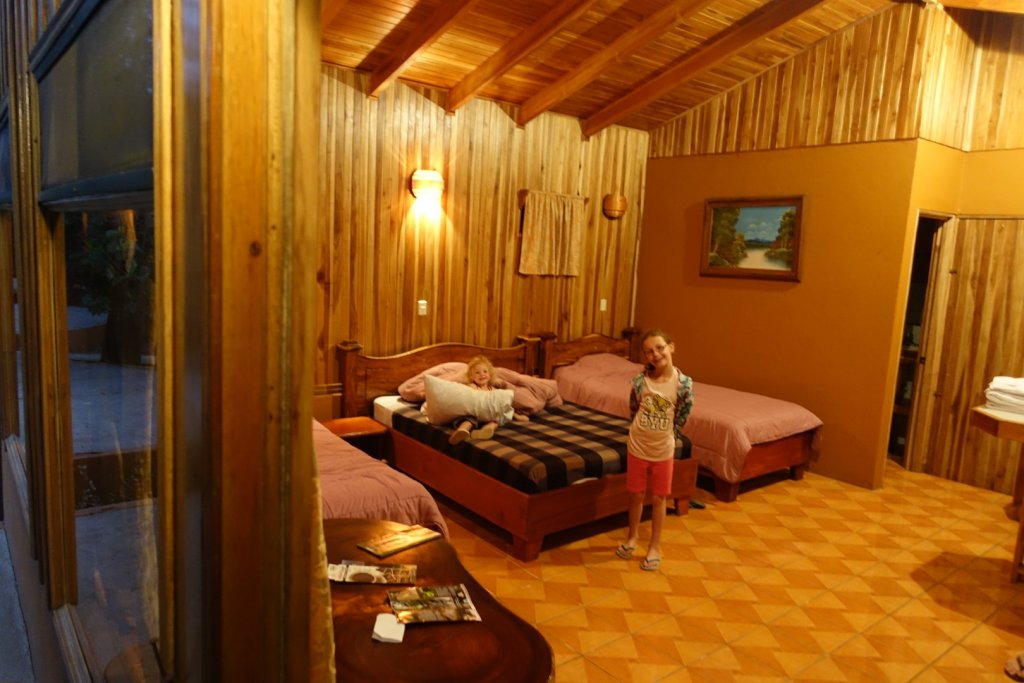 Transportation
One of our best decisions in planning for this trip was to hire a driver to take us around in Costa Rica. We arranged everything online before our trip through Costa Rica Drivers. They were wonderful to work with and we were able to arrange all of our transportation through email.
Rolando picked our family up at the airport in San Jose and brought us to our first hotel in Manuel Antonio. A few days later, he picked us up from Manuel Antionia, stopped at Carara National Park, then brought us to La Fortuna for our next few days.
Between La Fortuna and Monteverde we took a bus, then a boat ride, then a b-u-m-p-y van ride, all of which were prearranged through Anywhere Costa Rica. They picked us up at our hotel and brought us to the door of our new hotel. They were also great to work with, and the trip was an adventure in itself!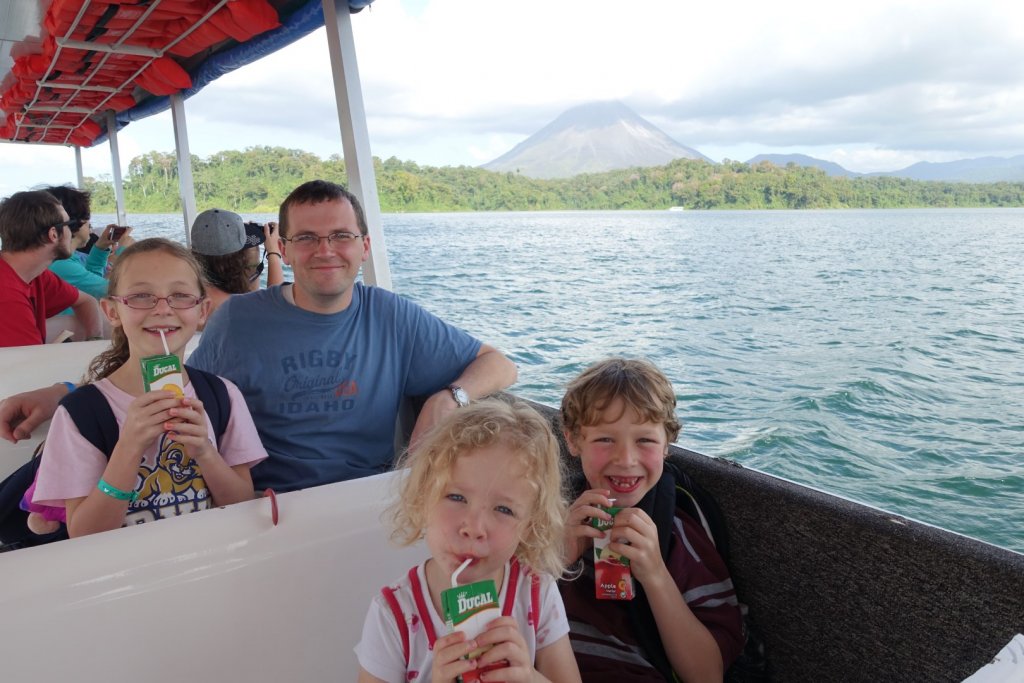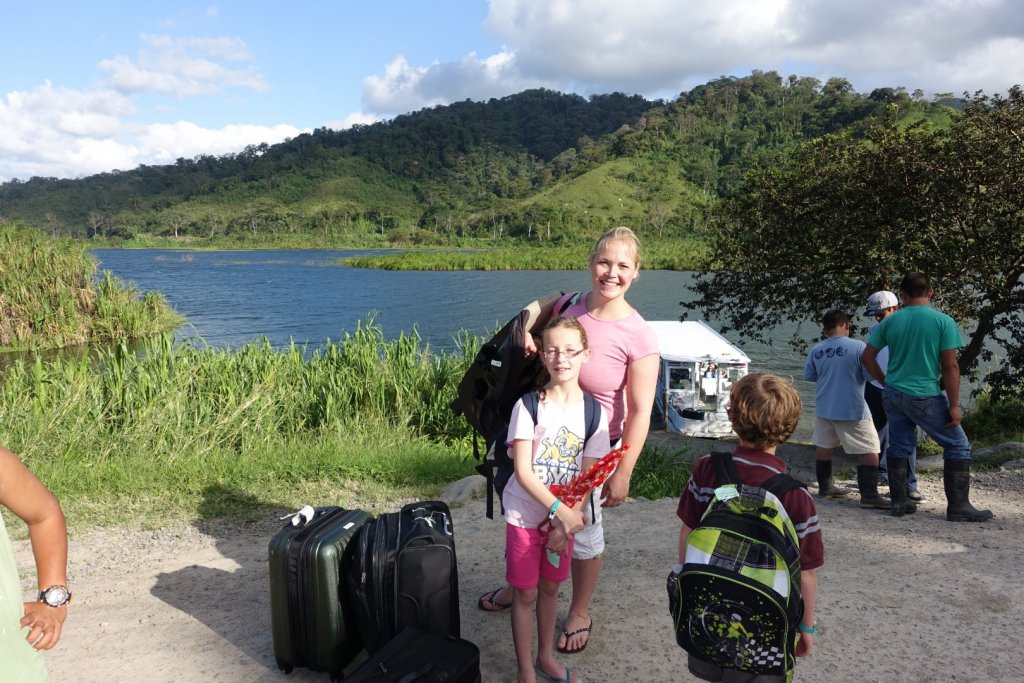 At the end of our trip Rolando picked us up from Monteverde to bring us back to the airport in San Jose. By the end of the trip we felt like we were seeing an old friend whenever he arrived to drive us to a new destination. We asked him for food recommendations and he brought us to a "Soda" for some local food on one of our drives. He was wonderful and made it so easy for us to explore a few different areas in his beautiful country!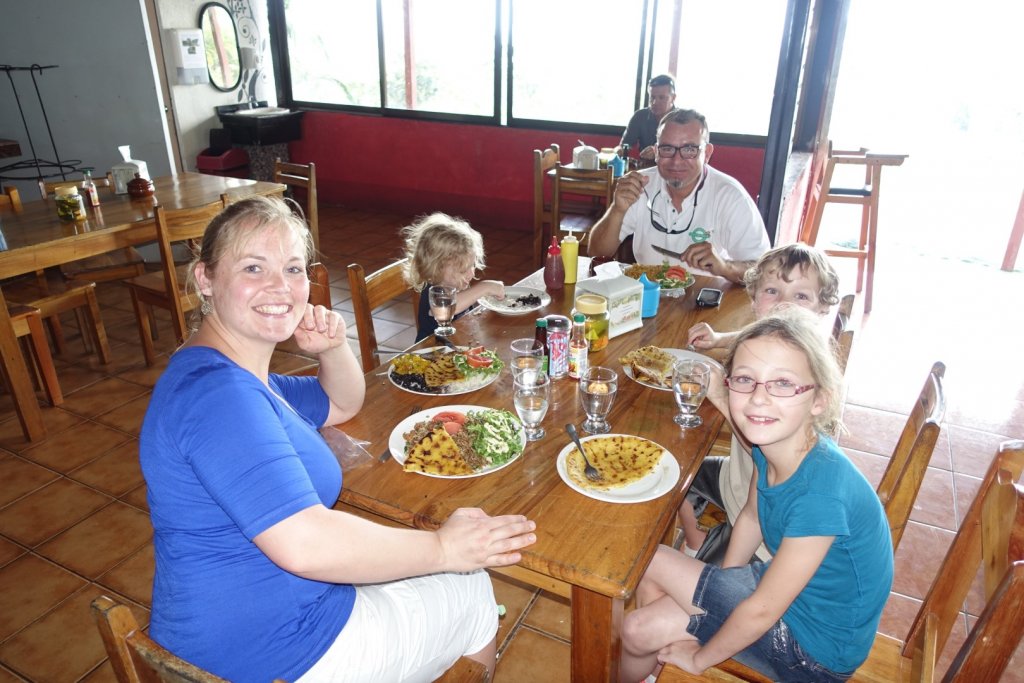 A Note About Water
To be on the safe side, especially with our young kids on the trip, we decided not to risk getting sick from the tap water in Costa Rica. So we brought a SteriPen with us and sterilized all our drinking water in a large Nalgene bottle before we drank. It worked great and we were all healthy!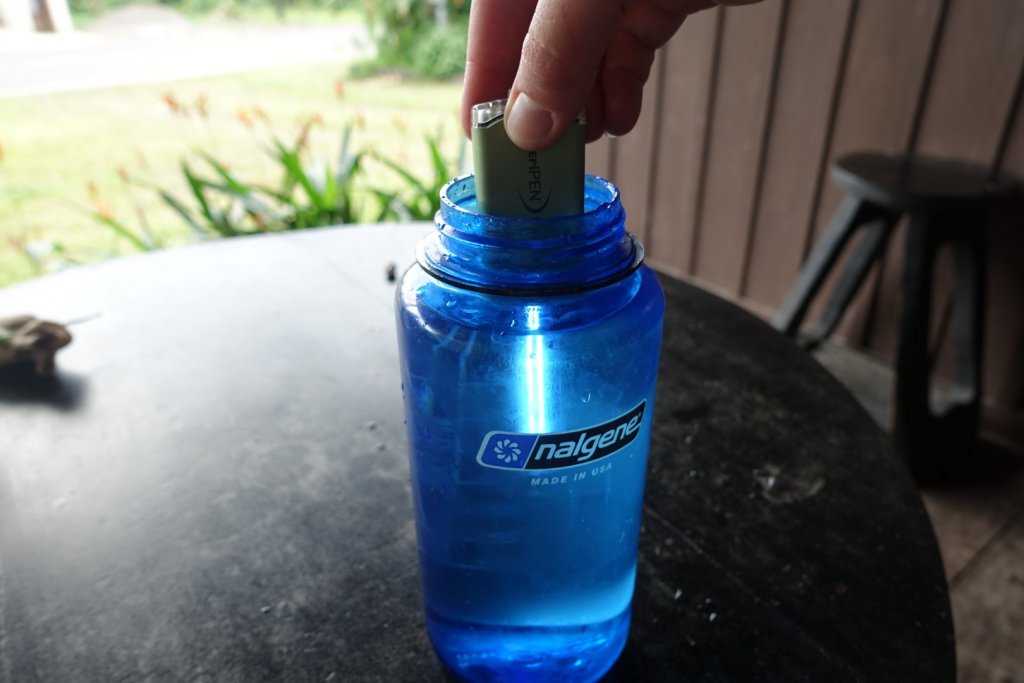 Have you had an almost perfect family vacation? Tell us about where you went in the comments!
We took this trip in March 2015.
Note: This post contains Amazon.com affiliate links. This means that if you buy a product using a link on this page I earn a small commission on your purchase, at no additional cost to you. To give you the best information possible, I will only link to products that I personally use and love.