I have suffered through many long-haul or red-eye flights with only snatches of sleep here and there. In my opinion there is almost nothing worse than sitting up, exhausted but unable to sleep, with hours still to go on a long flight.
But sleep has not come easy for me on flights.
I have tried using a traditional C-shaped neck pillow, draping over a backpack on my tray table, leaning forward on an inflatable pillow with holes to support my face and hands, taking Tylenol PM, and dripping relaxing lavender essential oil on a pillow, all with very little success.
Then I finally found a winning combination, and I was able to sleep for over 7 hours total on our overnight flight home from China recently. I was ecstatic!
Here's my formula for a power nap or a decent night of sleep on an airplane:
Feet up in a foot hammock
I love my foot hammock so much that I already wrote a separate post about it. It makes a huge difference for my legs and back and allows me to really get comfortable. My favorite foot hammock is this one from Amazon because it's straps connect to two places on each side so it stays open better than other models. If you plan to fly anywhere in the future, I highly recommend you get one of these! 
Head supported by a Trtl Pillow
To be totally honest, the Trtl pillow isn't crazy comfortable for me. It feels kind of stiff and takes some time to figure out the right position. But it is the only pillow that really supports my head and neck and allows me to truly relax and fall asleep, so I still recommend trying it if you have a hard time sleeping with other pillows.
Just know it might take some getting used to and you may need to be patient with the process of figuring out how to position it to your liking. It wraps around your neck like a snug turtleneck and I like that extra warmth since I often get cold when I try to sleep on an airplane.
I started with the basic model then later upgraded to the Trtl Plus. Here are the pros and cons of each:
Basic Model
Pros: The basic model is half the price of the deluxe model (I got mine for $30, while the deluxe was $60.) It's a little more comfortable to wear since the frame isn't so stiff.
Cons: Because the frame isn't as stiff, the basic pillow doesn't provide enough support for me on its own. Still, I was able to get comfortable when I propped it against the seat's headrest for extra support. Also, if you sleep hot on airplanes then you might not like the warm fleece fabric of the basic model.
Trtl Plus
Pros: The deluxe pillow provides much better support, and the height is adjustable. It is also made of a lighter fabric and includes breathable mesh so it doesn't get as hot. I like the extra padding in the pillow.
Cons: It's a little bulkier and more stiff, which isn't as comfortable to me but is necessary for support. It's also harder to wear noise-cancelling headphones with the plus model because the bulkier frame gets in the way.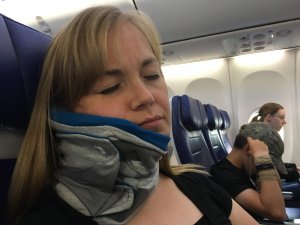 So is it worth the extra $30? It depends on what is most important to you. If you want comfort and softness, I recommend the basic model. But if you want great support, the plus model is the way to go.
Headphones
For quiet, ear plugs are a decent option. For relaxing music, regular earbuds work well. But if you really need some peace and quiet to be able to sleep then you may want to consider investing in a good pair of noise-cancelling headphones. They make a huge difference on a flight because they get rid of so much background noise.
An eye mask to block out light
I never realized how much this helped until I tried it. I didn't wake up automatically when the overhead lights came on for meals, which was great because I much preferred sleep to food! Blocking out light and other distractions helped me to zone out and really relax so I could fall asleep.
If you have a long flight coming up, try these out! Put your feet up, don some headphones and an eye mask, recline your seat, rest your head on a Trtl pillow, and sink into blissful oblivion! With a little luck, you'll wake up hours later, refreshed and ready for landing.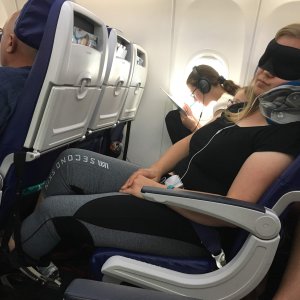 Do you have any other tips to share about how you get comfortable to sleep on a flight? I'd love to hear them. And if you try out any of my tips, let me know how they work for you!
Note: This post contains Amazon.com affiliate links. This means that if you buy a product using a link on this page I earn a small commission on your purchase, at no additional cost to you. To give you the best information possible, I will only link to products that I personally use and love.