Delayed or cancelled flights are stressful for most flyers. I get it. Especially with kids who need naps and are restless in the airport, it can be frustrating when things don't go as planned and you just want to get to your destination.
But flying is full of unexpected complications, especially during the holidays. So what can you do?
Check out our tips for interacting with airlines when something goes wrong with your flight. They can turn your inconvenience into something more manageable, or maybe even into something fun (it's been known to happen!).
Tip #1: Monitor Your Flight Status and Be Proactive
If you see that your flight is delayed and you are concerned about missing a connection, especially if your connection time is narrowed to less than 30 minutes, don't just wait to see what happens.
Log onto the airline's website and look at other flight options to see if any of them would work for you. This might mean flying to another city for a layover or even choosing to stay the night where you are if you are somewhere fun.
If you find something that you would be happy with, take it to the gate agent and see if they can rebook you.
Example #1
For example, last Thanksgiving we flew to see family in Missouri. We had a layover in Orlando, Florida, and when we got there our flight kept getting delayed later and later because of weather. Rather than wait around the airport to see when our flight would finally depart, we looked online and saw that there was a flight with open seats the next morning. So we asked the attendant if we could get rebooked onto that flight.
He was happy to oblige, free of any charge. It helped him out because it freed up our seats on the earlier flight that others desperately wanted.
We used hotel points to book a room at a nearby hotel and spent a fun evening in Orlando. We loved having some time in warm weather! Then the next day the weather in the Midwest had improved and we had an easy flight to Missouri with no delays.
Example #2
On another occasion, I was preparing to meet my sisters in Cancun, Mexico for a fun girls' weekend. I was flying from the East Coast and they were coming from out West. On the day before my flight, I noticed a large storm heading toward the East that was predicted to disrupt flights the next day.
So I looked at other flight options and talked to an airline agent. Since there was an active travel advisory for severe weather, she was able to change me to a flight that evening, free of charge. I booked a hotel with points and got an extra evening of vacation, then met up with my sisters the next day for our final flight and a wonderful weekend.
It's always good to realize that you have choices and make your own decisions rather than be at the mercy of the airlines who are juggling hundreds of passengers. Agents are usually very happy to work with you if you go to them with a solution that benefits you both.
If you plan in some flexibility, especially if you know that you are flying at a typically busy time, that can help a lot. We have been known to purposely book nearly-full flights, hoping that they would need passengers to get bumped and we could volunteer to give up our seats. We got quite a few free flights that way, especially when we were first married and airlines bumped passengers more frequently.
Tip #2: It Never Hurts to Inquire About the Reason for the Delay and Ask for Compensation
Whether an airline is able to offer any kind of compensation for the inconvenience of a delay or cancellation often depends on two things: the reason for the delay and whether or not you ask.
Most airlines can't do anything to reimburse you if delays are caused by weather, for example, but if there are mechanical issues with the plane and your delay is significant then they may be able to do something to make it up to you.
But you will need to ask.
Kindness, understanding, and flexibility go a long way here. It never hurts to kindly ask the gate agent, "Are you ever able to offer compensation when a flight is cancelled due to mechanical issues?" Each airline is different and every situation is different, so just don't get upset if they can't.
For long delays you can also check if they are able to give you hotel or meal vouchers. It is also possible at times to get compensation afterwards by sending a kind message to online customer support.
Tip #3: Use All Agents Available
Usually when flights are cancelled or significantly delayed, a long line forms at the gate counter and the poor workers are inundated with requests for help.
At times like this, we recommend that you divide and conquer to see if there is a quicker way to reschedule. If there are two or more adults in your group, one of you should get in the line at your gate while the other leaves to find an attendant at another counter without a long line. Usually any attendant is able to reschedule your flights.
One of you can also hop on the phone while waiting in line and call the airline to see if you can get through to an agent more quickly that way.
And remember, while waiting it is always a good idea to look up available flights on your phone so that you can suggest the option that works best for you.
Tip #4: Enjoy the Airport
Sometimes, no matter what you do, you will be stuck in an airport for much longer than you would like. We have spent countless hours in airport, some planned for but many unanticipated.
At times like these, we like to leave one adult with the luggage and walk a lot. It's fun to see how many steps we can get, and it keeps us active rather than stiff and sore from sitting and waiting. Most airports are large enough to give you plenty of space to stretch your legs and work out little kids' wiggles.
We also like to find a quiet corner somewhere to play a game or watch a movie. Or we may enjoy a restaurant. I usually bring food with us when we fly since eating at airports can be quite expensive, but desperate times call for desperate measures! And good food can really improve everyone's mood.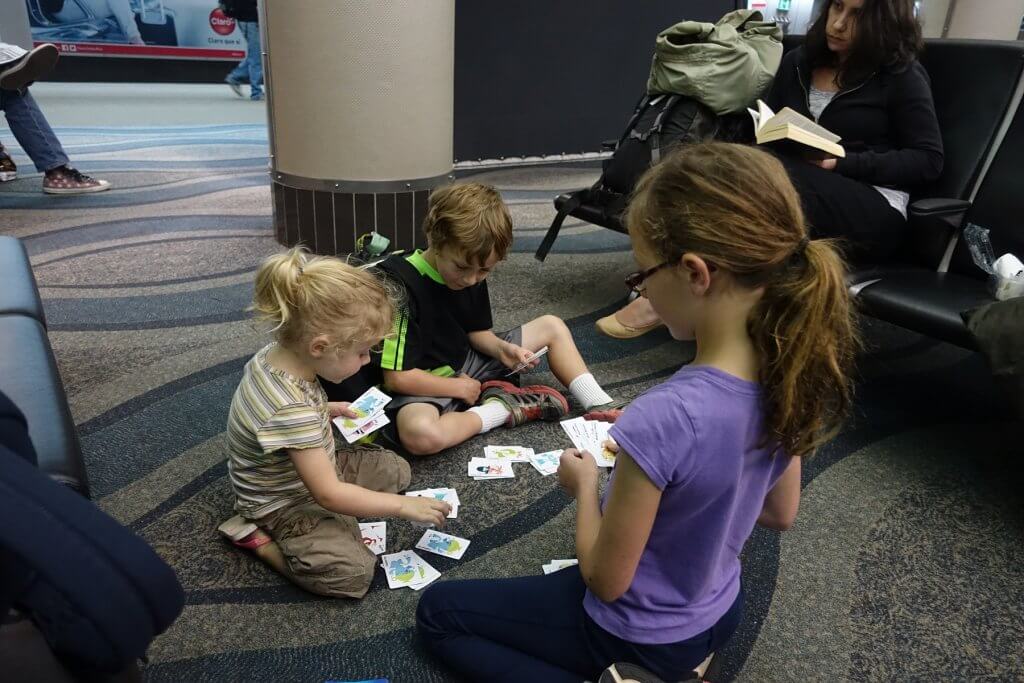 ---
For those of you who are flying this holiday season, stay safe and healthy! Flying during COVID is a different experience and may bring new challenges, but you will never go wrong following the four tips above!
Happy Travels!