One of the most common things we hear from others when we talk about traveling is "if only I were rich, then I could go to all of those places!"
We're here to tell you that traveling on a budget is totally possible if you are willing to be flexible and learn some simple strategies to save money.
1. Earn Airline Miles and Bank Reward Points with Credit Cards
The one thing that has saved us the most money on flights is earning airline miles and bank reward points by strategically signing up for credit cards when they offer big signup bonuses.
For domestic flights we love using Southwest miles because they are so flexible. You can cancel or change tickets with no fees and bags are free. Also, unlike many airlines, any flight available for purchase through Southwest is also available to be booked with miles. Airline miles with other carriers can have great value, but it can be tricky at times to find award seats.
Bank reward points can often be an even better choice than miles associated with a specific airline. Some bank points, like Chase Ultimate Rewards, can be transferred to multiple airlines (including Southwest) or they can be used towards any paid flight. Other good bank reward points include Citi Thank You, American Express Membership Rewards, and Capital One Venture.
Although this has worked very well for us, we caution you to use good judgement and common sense if you decide to use this strategy. We do not recommend anyone racking up a bunch of credit card debt in an attempt to earn miles or points.
If you are interested in learning more about how to use credit cards to earn miles and points, we recommend this beginner's guide from The Points Guy.
2. Search Google Flights
When we aren't using airline miles to fly, we find most of our cheap flights using Google Flights. It is an incredible search tool with some great features that make finding cheap flights so much easier:
With one search you can compare flight options from multiple airports to your destination or to a region like "Europe"
You can search with flexible dates and quickly compare prices on different days
With the map view or list view you can explore options that you may not have previously considered
An Example
We recently planned a trip to Europe over our kids' spring break week. Spring break is a peak travel time, so flights are often expensive. But while searching with Google Flights we saw that we could get much cheaper flights if we were willing to drive a few hours from our home to leave on the trip from an airport in another state.
Our search from multiple airports within driving distance from our home to "Europe" on Google Flights resulted in quite a few options to Europe for under $400 round trip: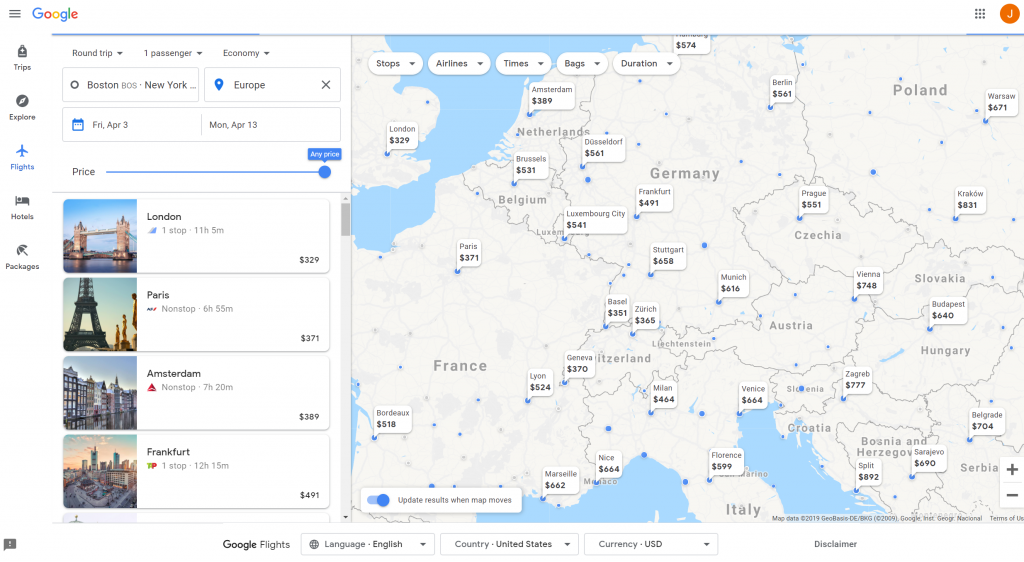 We didn't know much about Basel, Switzerland, but we liked the round trip flight options to/from there so we did a little research and decided that Basel would be the perfect jumping off point to see not only some small towns in France (which is what we were really hoping for) but also the Black Forest in Germany and the Alps in Switzerland.
So with some flexibility, a little online research, and the help of Google Flights, we were able to plan a trip through France, Germany, and Switzerland that we are really excited about.
For more information about how to use Google Flights, here are two very helpful posts that explain things in more detail: Google Flights basics from Scott's Cheap Flights, and advanced Google Flights from the Points Guy.
3. Be Flexible and Creative
If you can be flexible in your travel dates it's much easier to find cheap flights. Sometimes just traveling one day earlier or later will save hundreds of dollars. Also, flights are much cheaper when you travel off-season. Think Bali during the rainy season, or Norway in winter.
Also, as mentioned above, getting creative with your departure and destination airports can open up cheaper options.
If you are headed to Hawaii, it may save money to fly to California first then catch a flight to Hawaii from there. Or if you want to go to Germany this might mean finding the cheapest ticket from your home to anywhere in Europe, then seeing how much it would cost to get a separate flight a day or so later to Germany. Often flights between countries in Europe or within other regions are very affordable.
Or as we discussed in the example above, you might decide that you are open to an entirely new destination that has cheaper flight options available.
4. Offer to Give Up Your Seat if a Flight is Oversold
Unfortunately this isn't an option as often as it used to be, but we still recommend that you always check with gate agents to see if your flight is oversold. If it is, airlines will often offer hundreds of dollars in flight credit or other payment forms if you will give up your seat on the flight and take a later flight. Also, they will sometimes give you airport meal vouchers or even a free hotel stay if the next available flight is the next day.
You can hear their offer before making a final decision, so it's always worth checking with the agent as soon as they show up at the gate before someone else offers to be bumped from the flight. If the flight is overbooked, they will let you know what they can offer you to give up your seat and when you'll be able to catch another flight. Then you can decide if it will work for you.
Over our 15 years of marriage so far, we have been bumped off of over 30 flights. The first was on our honeymoon, and it started a domino effect of many free flights because we received enough airline credit to book another flight, then got bumped off of that flight! This is one of the ways we were able to afford to travel when we were newly married and with really young kids.
Let us know if you have questions in the comments, and go find some cheap flights!