Fort Wilderness Campground is a nature oasis in the middle of the bustling city and theme park area and is one of our favorite places in Orlando.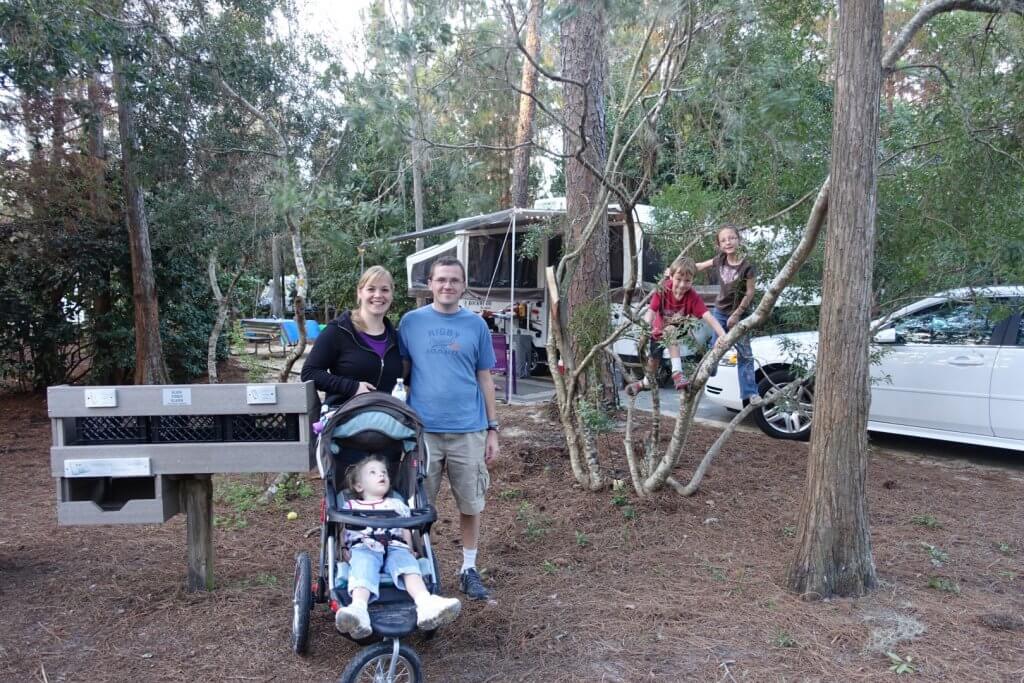 Although staying at Disney's Fort Wilderness Campground is not necessarily cheap compared to many other campgrounds, it can still be the least expensive Disney Resort, especially if your family has more than four people.
We like to rent a camper, so we spend as much as we would for a cheap hotel room, but we still choose the campground on many of our trips for the experience it provides. We love that it removes some of the hectic feel of a typical Disney vacation and helps us to slow down and enjoy our time together.
If you are planning a trip, grab a copy of our printable Kid's Travel Activity Book to help your kids prepare for and enjoy your vacation!
Lodging Options: Camper, Tent, or Cabin
Renting a Camper
Renting a camper provides extra space and comfort and is my favorite way to camp at Fort Wilderness. We've always easily accommodated our family of 5 in a camper with room for everyone to sleep and space for our luggage.
And I love that with a camper the chance of rain or extreme temperatures don't dampen our trip since all of our campers have included space heaters and/or air conditioning depending on the time of year.
Also, having a sink, small refrigerator, stove, microwave, lights, and more make camping much more comfortable for a family with young kids.
Most companies we've found will take care of delivery and set up so your camper is waiting for you when you arrive. So it really is as simple as staying in a hotel room but still a little more adventurous. Some companies will even stock the fridge and cupboards with groceries of your choice for an extra fee.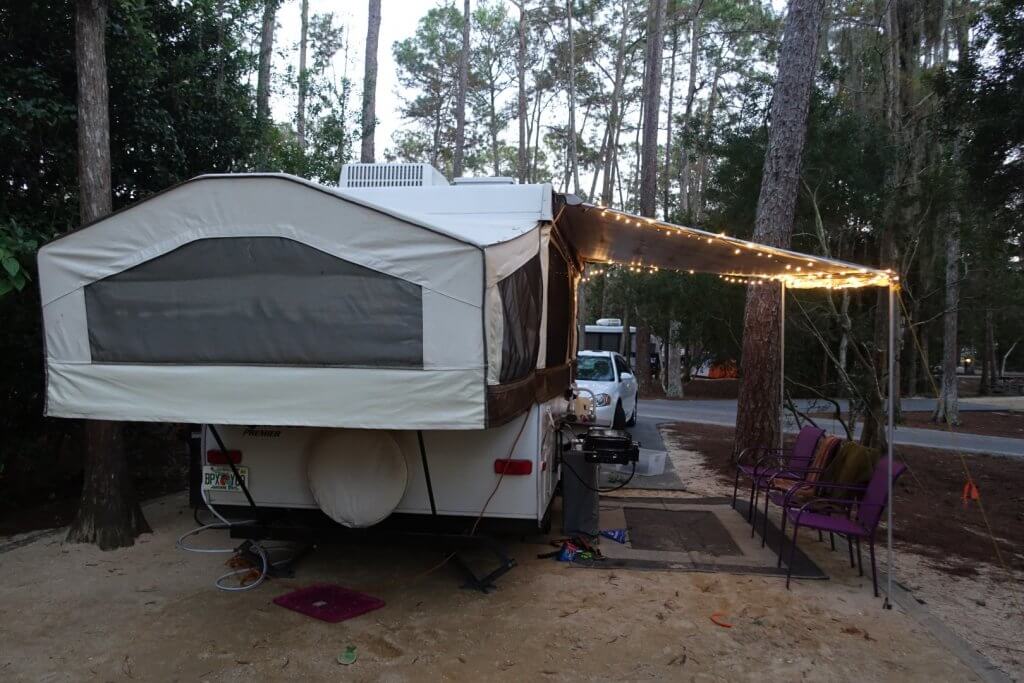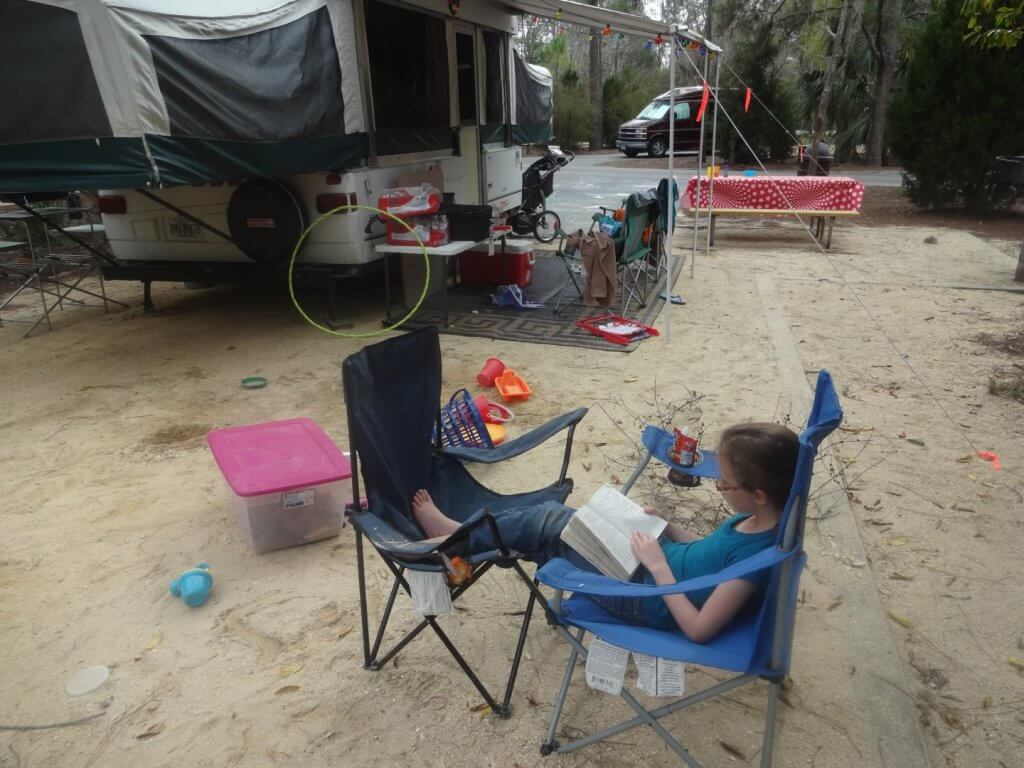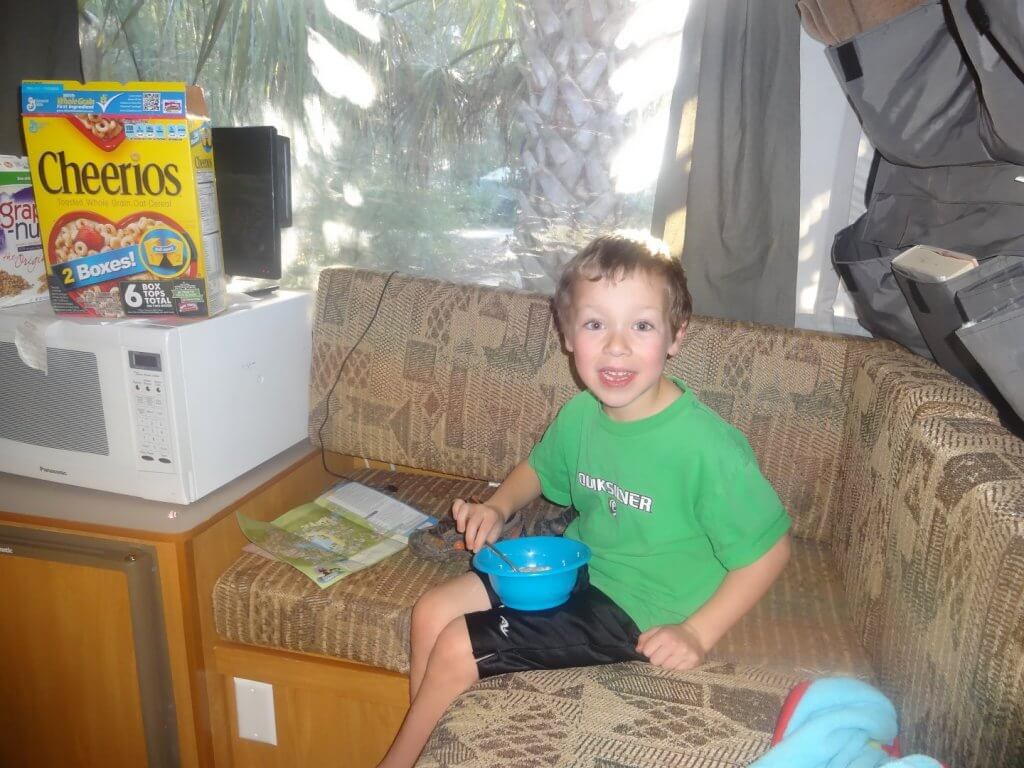 On our last trip we rented our camper from Meacham's RV and had a great experience with them. There was a special at the time of our booking and we got a free golf cart included in our rental, which made getting around the campground extra fun and easy! You can also check Outdoorsy.com; we have seen great prices there and many in the Orlando area are willing to deliver to Fort Wilderness.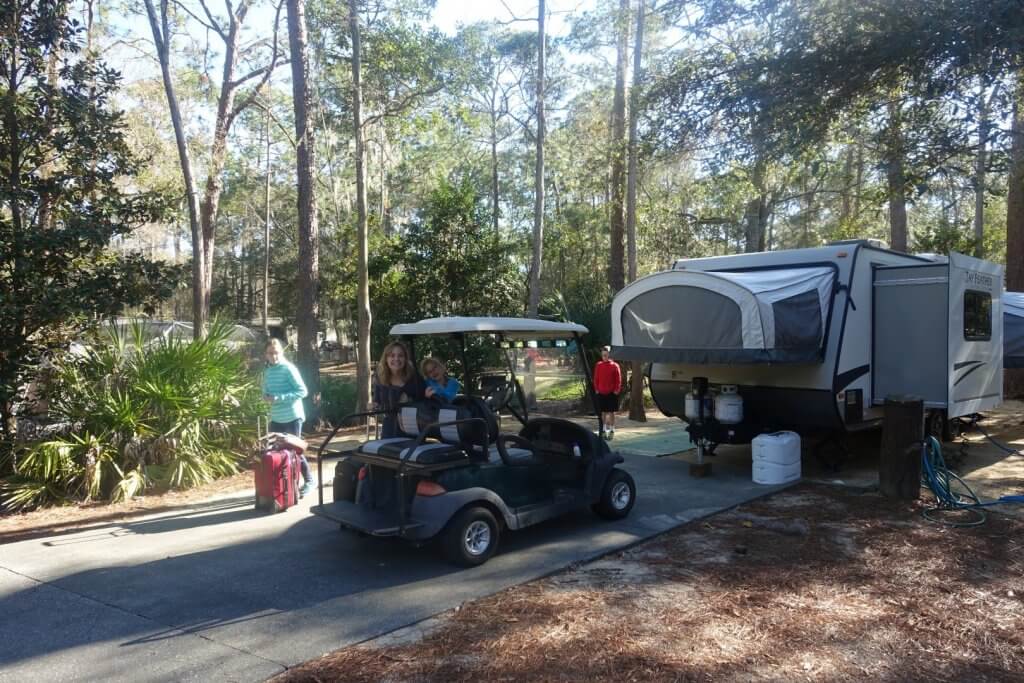 Tent or Cabin
My husband and son packed a tent for a father-son trip and had a great time. The clean restrooms, hot showers, and other amenities at the campground make tent camping really comfortable.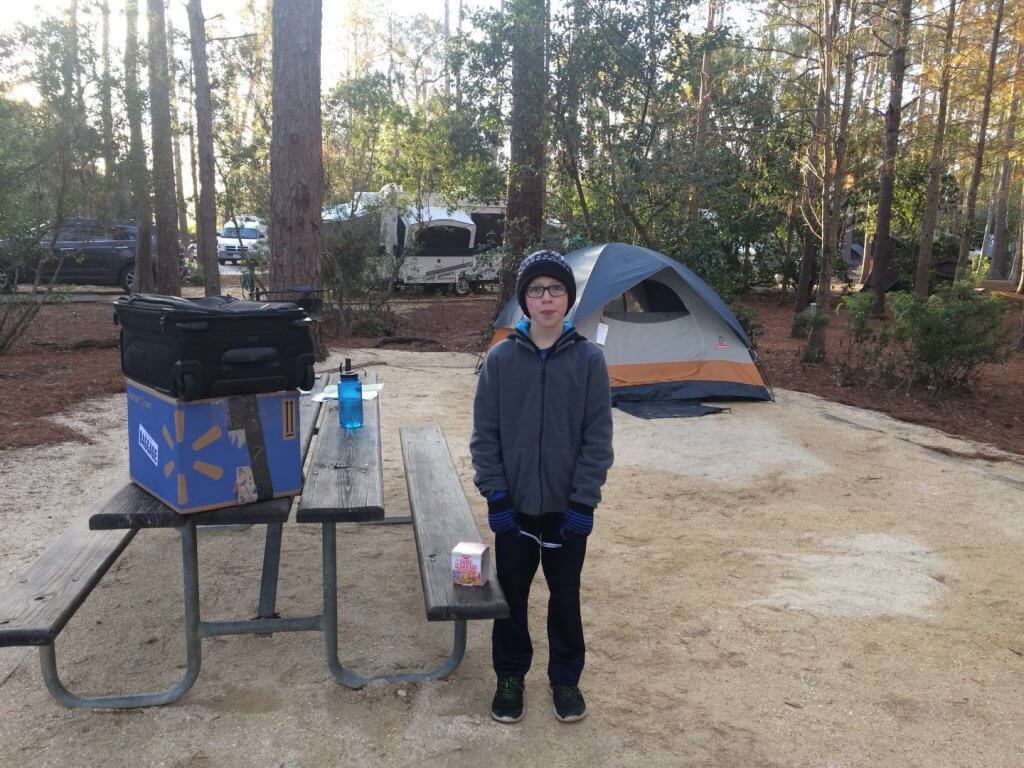 There are also cabins available for rent at the campground if you are more comfortable with a solid roof over your head, but they are pretty pricey. Still, there are options for every comfort level! And the campground is usually dotted with Disney-themed decorations that make the atmosphere festive and fun all year round!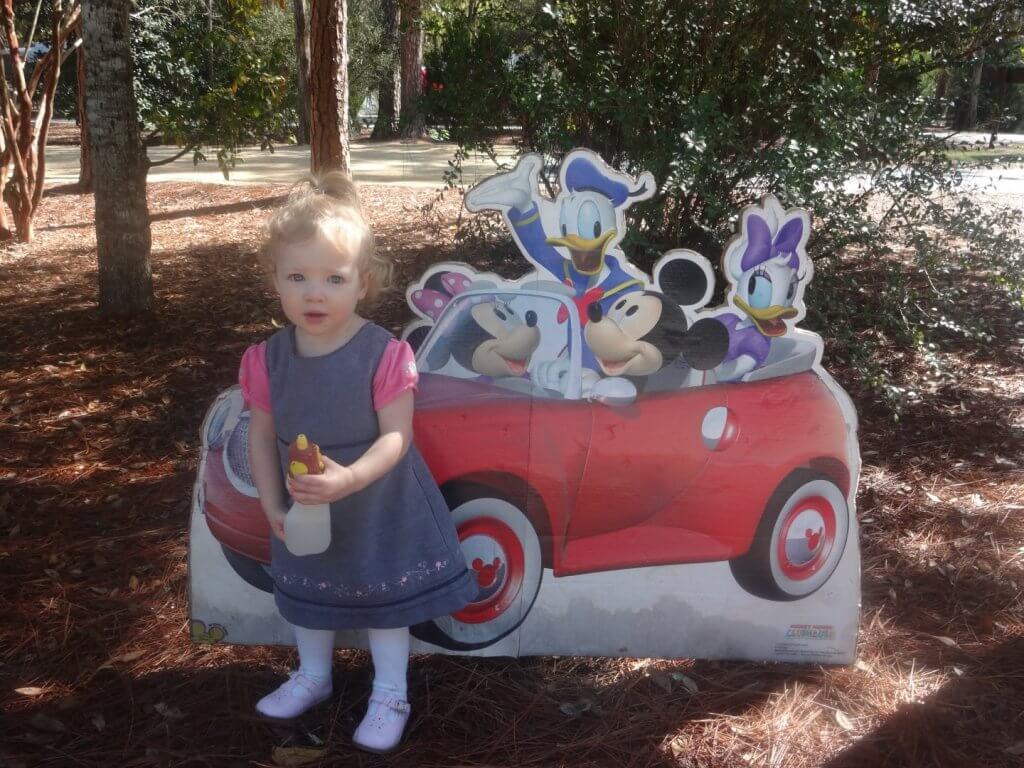 A Fun Way to Get There: Disney's Magical Express
*As I was writing this post, Disney announced that they will be discontinuing the Magical Express in January 2022, so I recommend you enjoy it while you can!
For only one more year, if you are staying at any Disney Resort you can enjoy free transportation to and from the Orlando International Airport and your resort. The Magical Express is comfortable and convenient, and we are sad to see it go starting in 2022!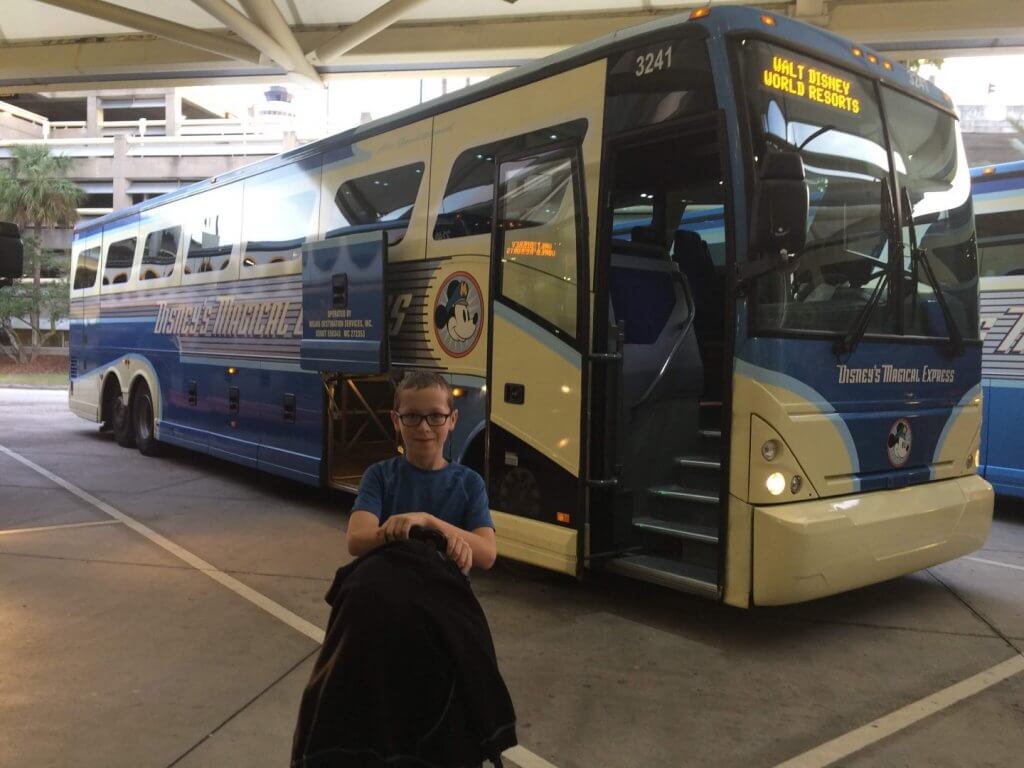 In the past we have enjoyed a trip to Disney without even renting a car, and it was actually very easy to get everywhere we wanted to go. We took the Magical Express from the airport, had groceries delivered to our campsite, and took Disney transportation to Disney Springs and the Disney Parks. It was so convenient not to deal with a car rental or parking anywhere.
On other trips we have rented a car and ventured outside the city for other activities that we enjoy.
Getting Around the Campground
Fort Wilderness Campground is huge compared to a typical campground (750 acres!). This makes you really feel like you are actually out in the wilderness rather than in the middle of a bustling city!
Walking
The campground is definitely walkable, but it can easily take you 20-30 minutes to get from one end to the other, so plan for a little time to get where you want to go. If you have young kids, you'll definitely want a stroller.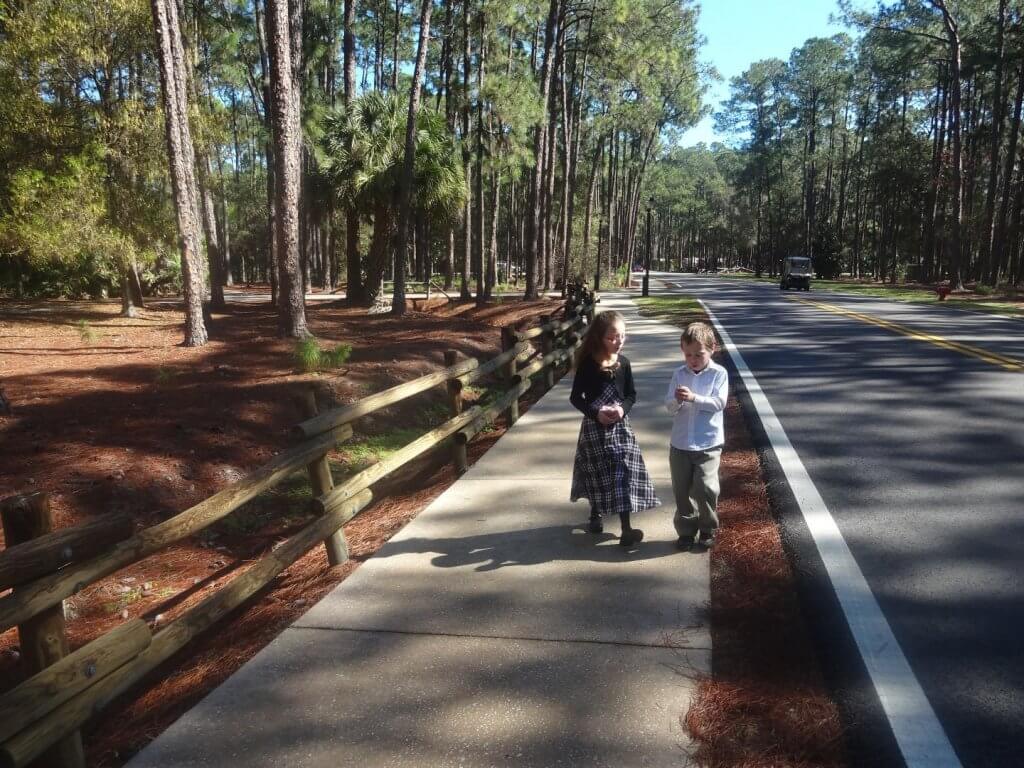 Riding Campground Buses
There is a great internal bus system in the campground that makes it easy to get around if you don't want to walk. Busses run often and there are different routes so you can get all around the campground easily.
This bus system also connects to the larger Disney bus system so you can take a bus to any Disney park and many other Disney properties from the main depot at the campground.
Renting Bikes
Bike rides at Fort Wilderness are another way to see the campground and get around. We love renting a couple bikes for an hour or more for some one-on-one child and parent time.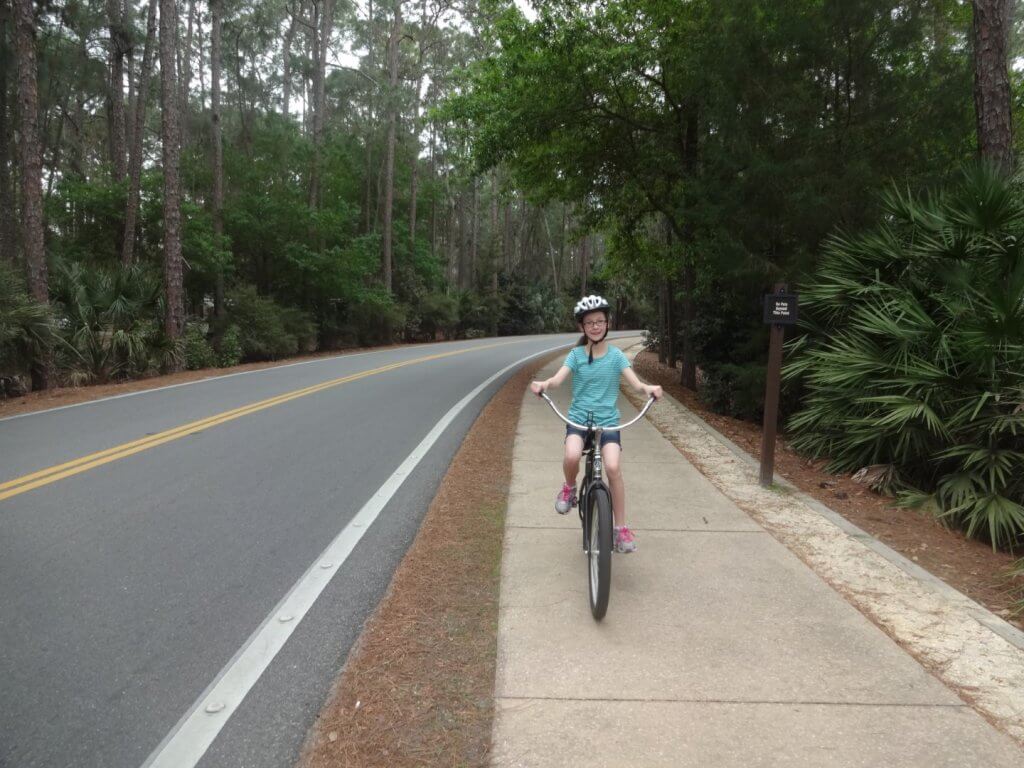 Renting a Golf Cart
Driving a golf cart around the campground is delightful, and something your kids are sure to enjoy. Golf carts are plentiful on the roads and add a fun vacation vibe to the resort.
Activities
Little Boy (and Big Boy!) Heaven: Catching Lizards
Since we don't have wild lizards where we live, by far my son's favorite activity every time we are at Fort Wilderness is catching lizards. He has perfected the lightning-fast grab. He doesn't keep them long; it's the chase that is so much fun.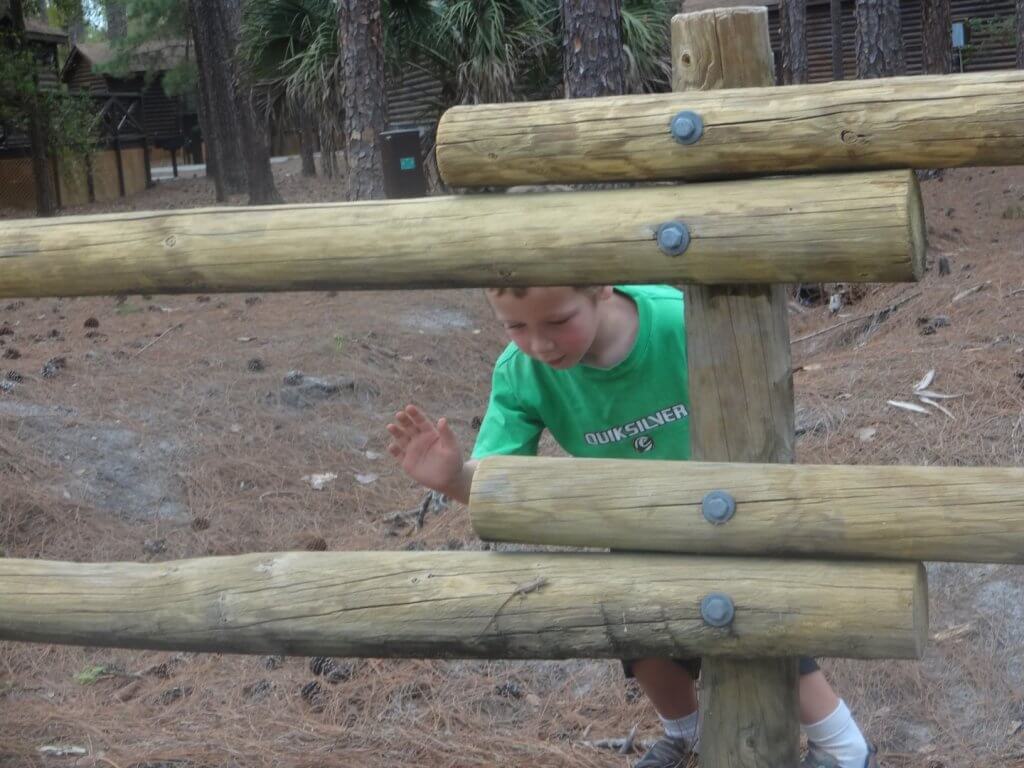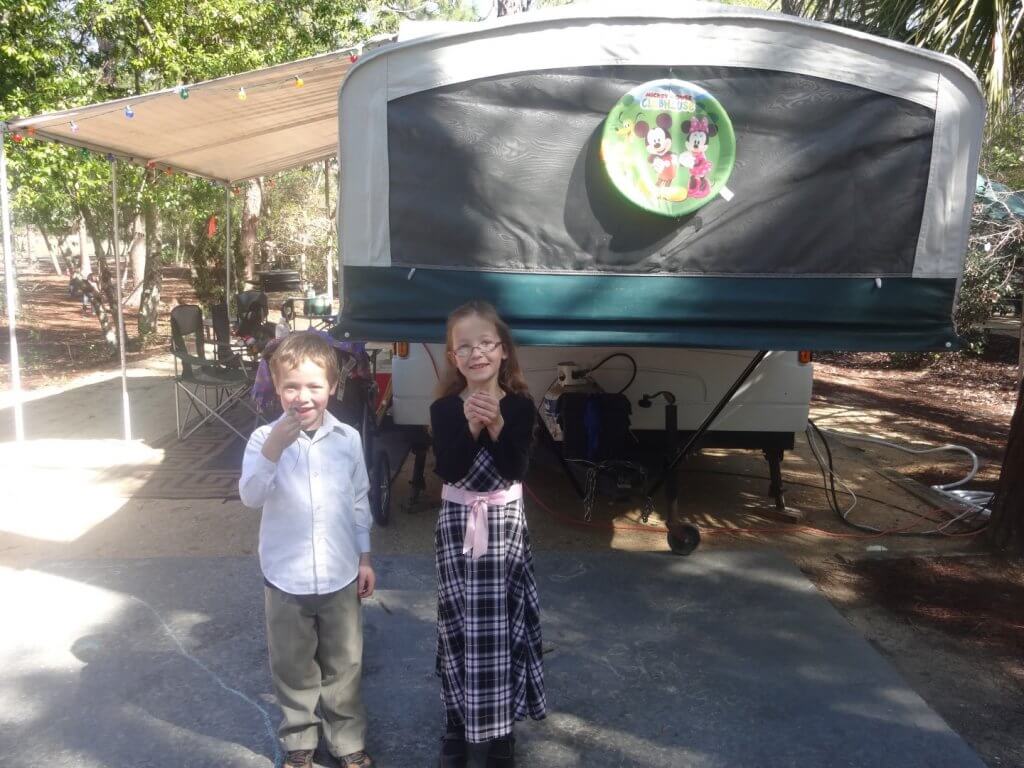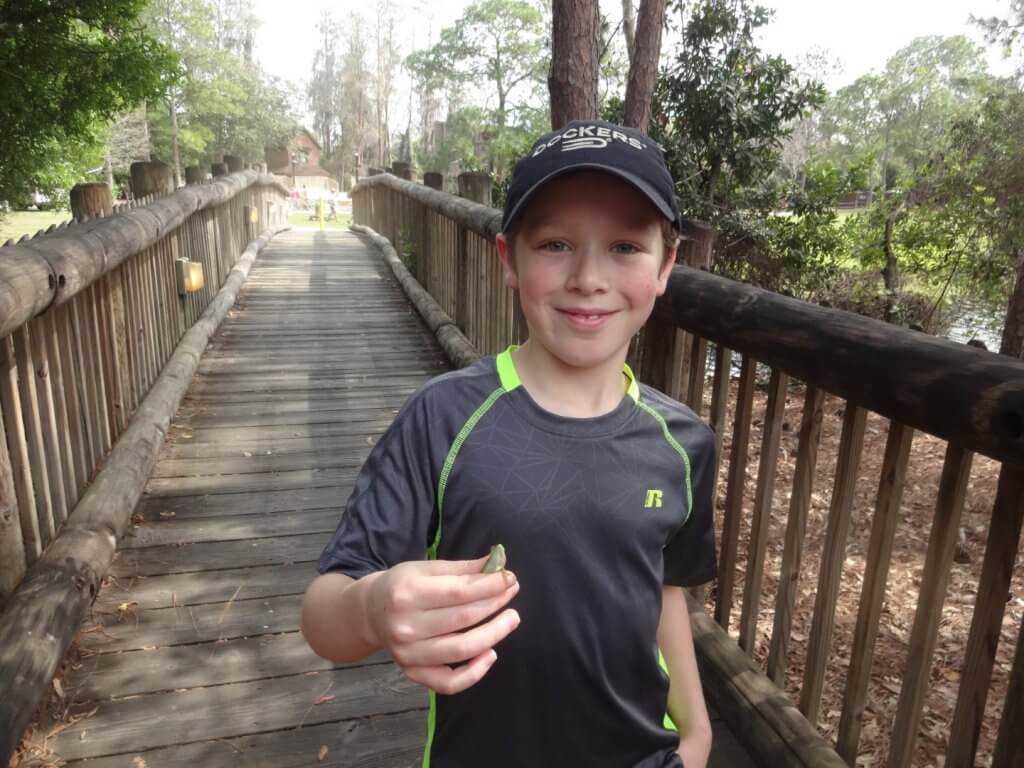 Fishing
You can bring your own pole or rent one and enjoy some fishing time while you camp!
Swimming Pools and Playgrounds
You can't go wrong with two heated swimming pools, water slides, and four separate playgrounds!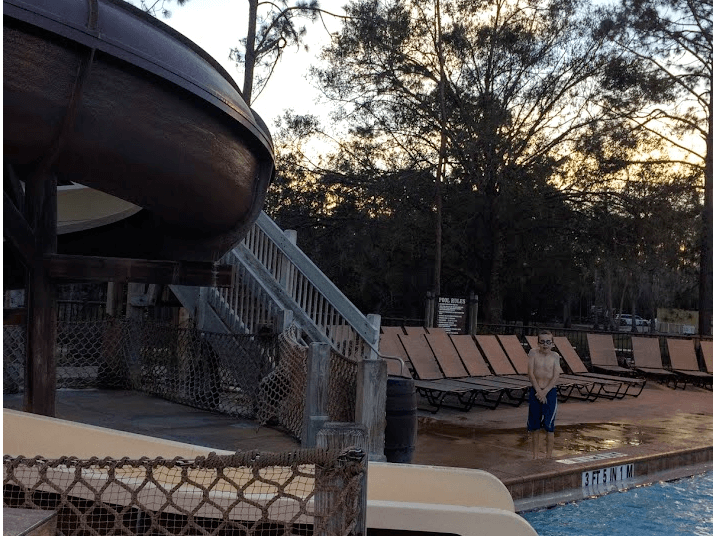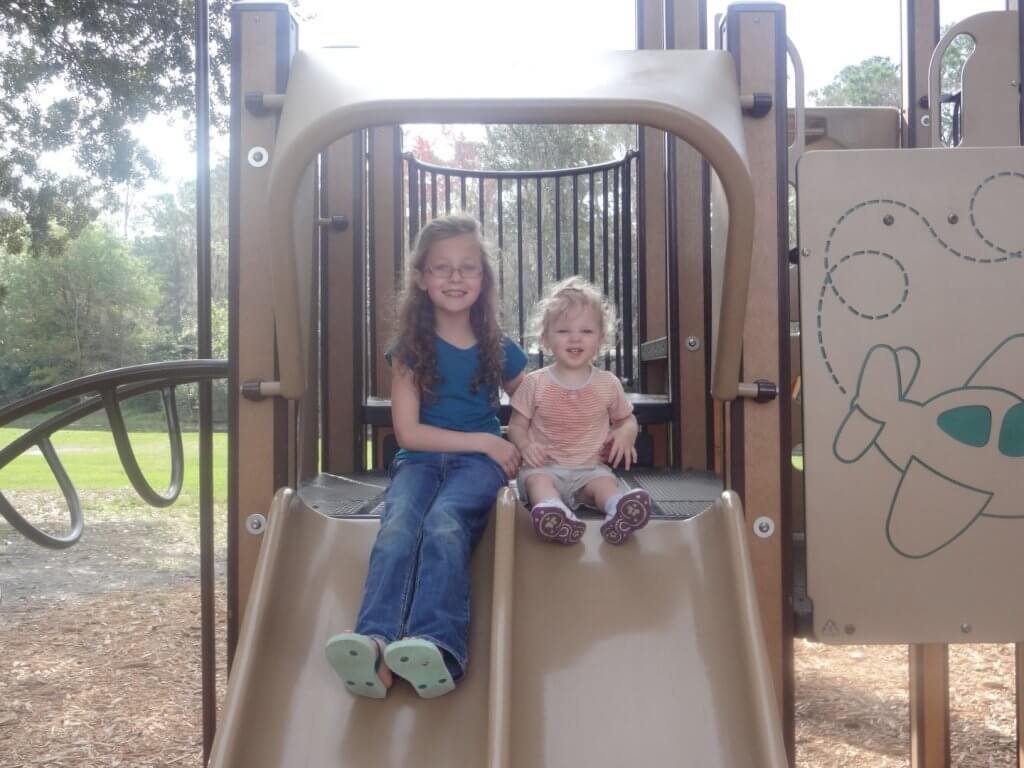 Hoop-Dee-Doo Revue
The dinner and show at the Pioneer Hall are pricey but a fun family experience if you feel like splurging. Dinner was served family-style with buckets of fried chicken and BBQ ribs and all the fixin's and strawberry shortcake for dessert.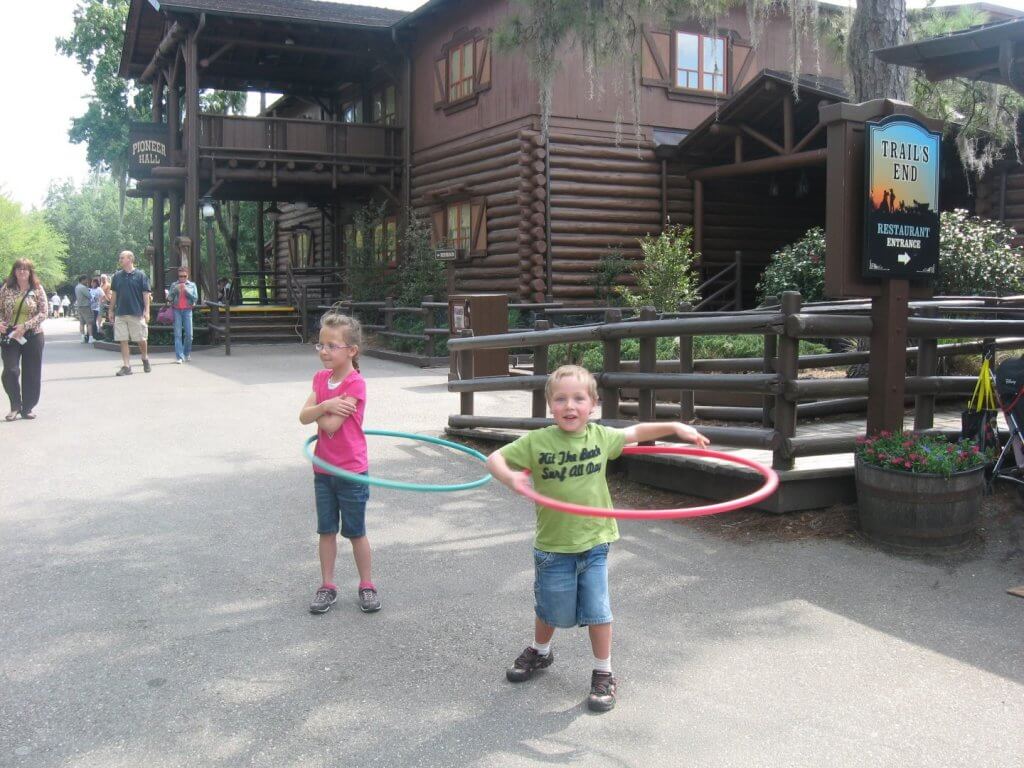 Take a Boat Ride
Whether you are visiting the park or not, you can ride a boat to and from Disney's Magic Kingdom and the dock at Fort Wilderness. It's a fun way to get to and from the park or a fun little activity to add to a day at the campground.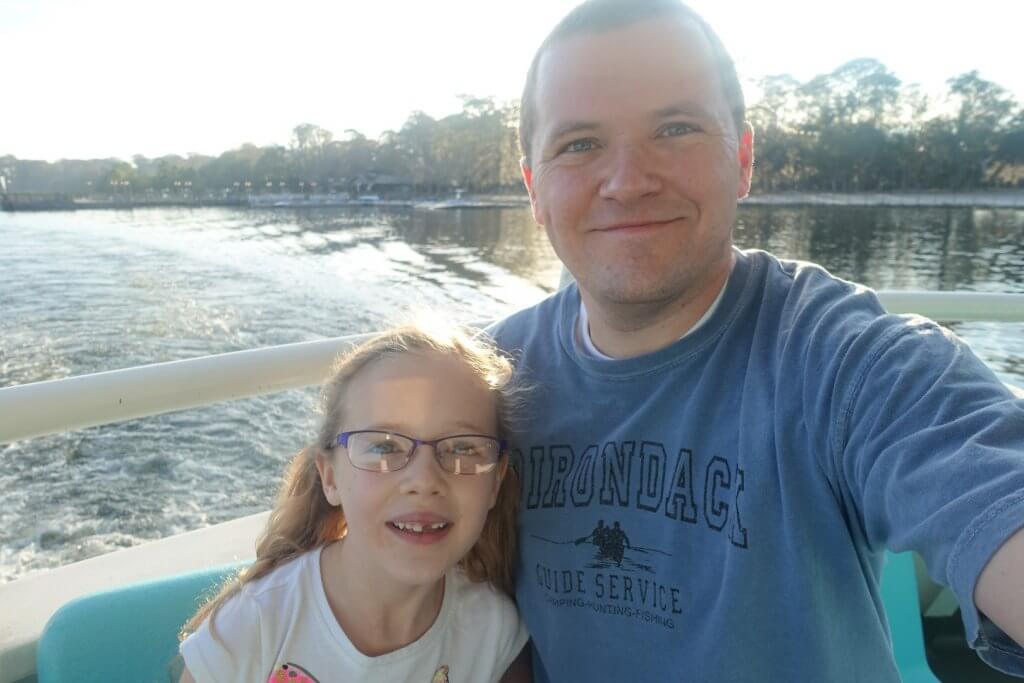 Visit Meadow Trading Post and Settlement Trading Post
It's always fun for our kids to check out the trading posts for a snack or souvenir. It's pretty cool to go to a store while camping, and it's very convenient if you end up needing milk or other food essentials and don't want to leave the campground.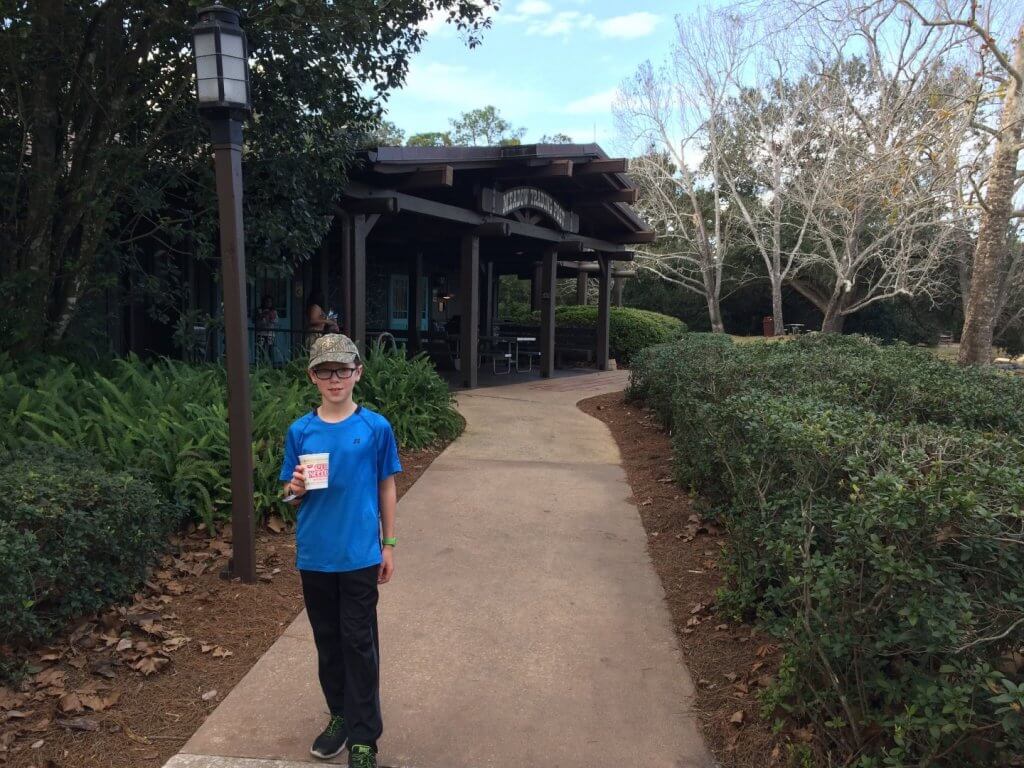 Campfire Program and Outdoor Movies
The individual sites at Fort Wilderness Campground do not have their own firepits, so if you want to make s'mores you'll need to head over to the large campfires near the Meadow Depot where you can enjoy Chip 'n' Dale's Campfire Sing-A-Long and an outdoor movie on most nights. You can bring your own supplies or purchase a s'more kit onsite.
The campfire program and evening outdoor movies are always a highlight for us.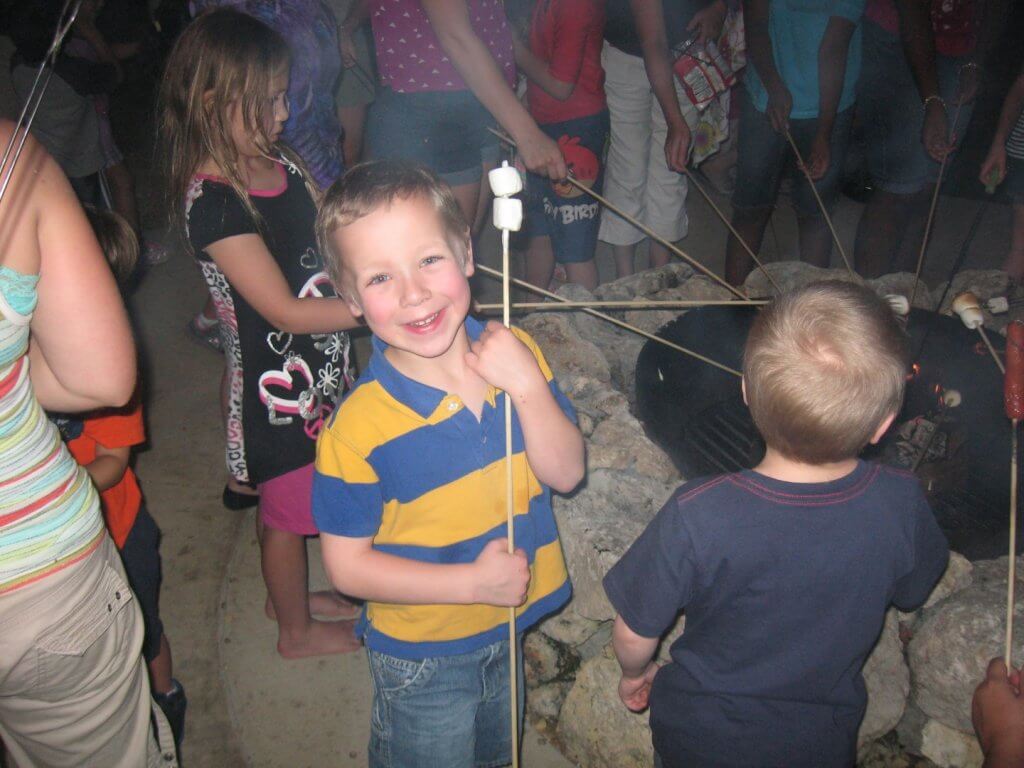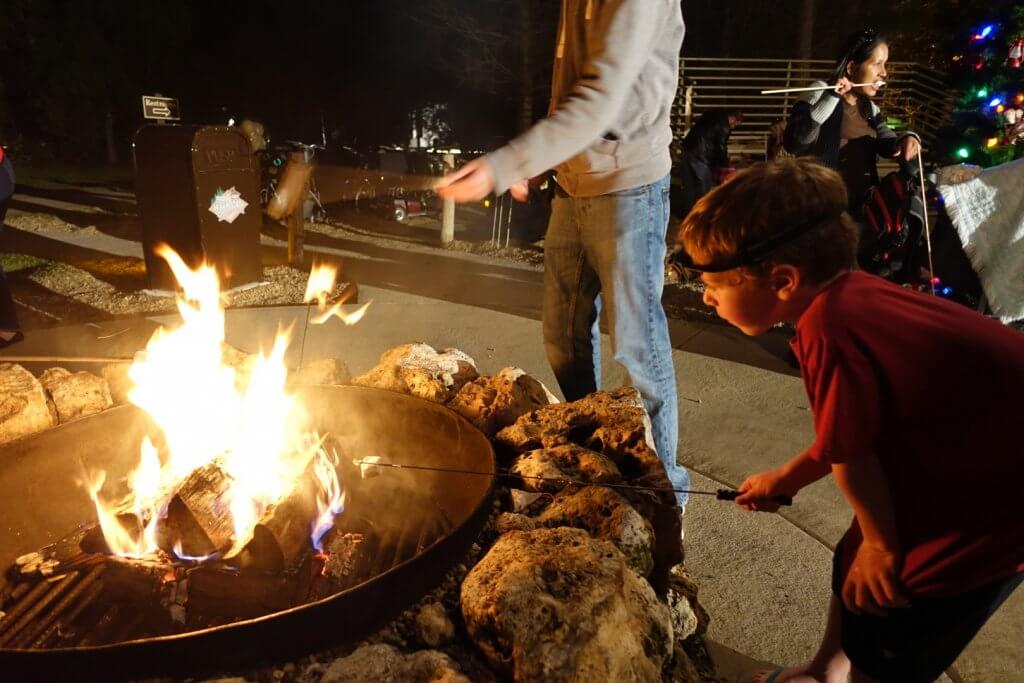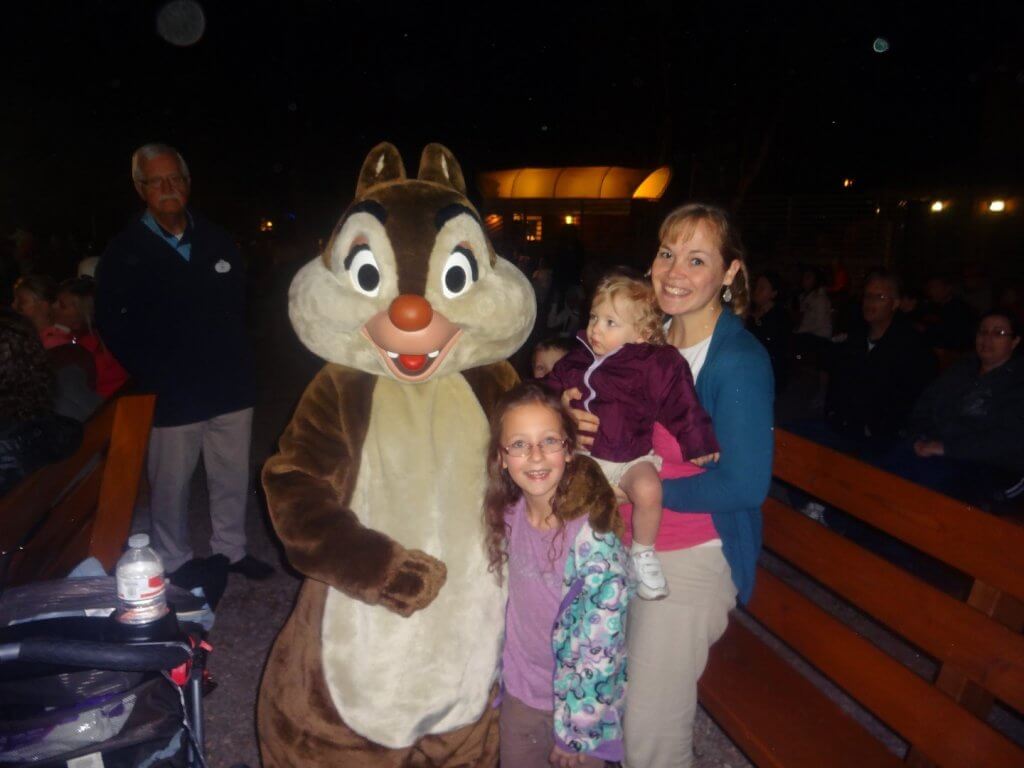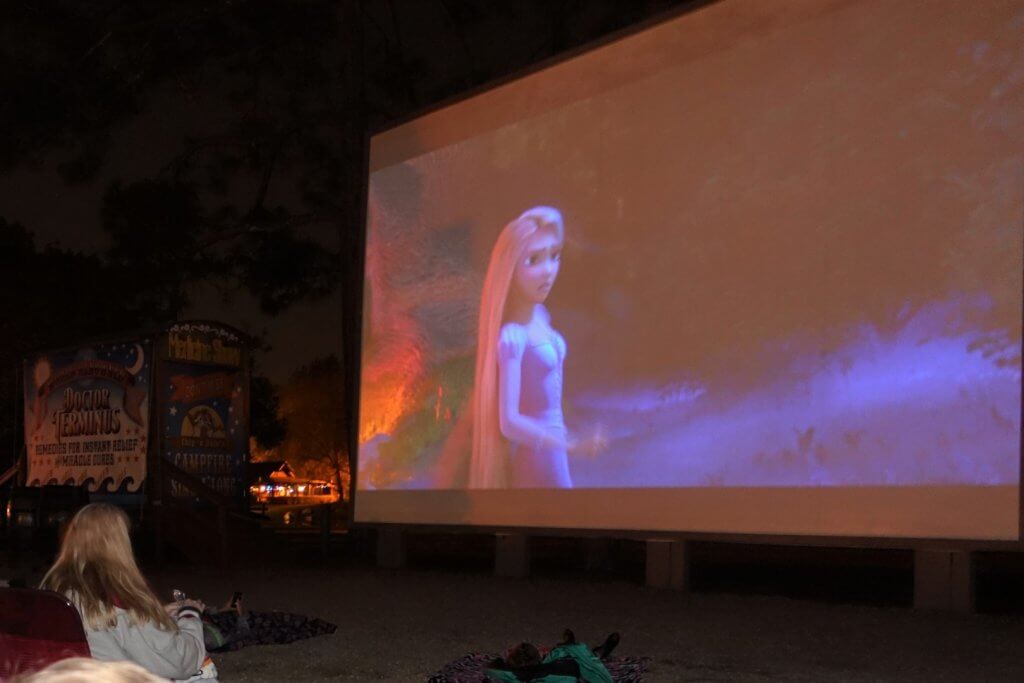 Fireworks and Light Boat Parade
Since the Fort Wilderness Campground is just across the lake from Disney's Magic Kingdom, it's a great place to see the Magic Kingdom firework displays. They even play the music at the boat launch so you can watch from the pier or beach and get a much less-crowded taste of a Disney Fireworks show.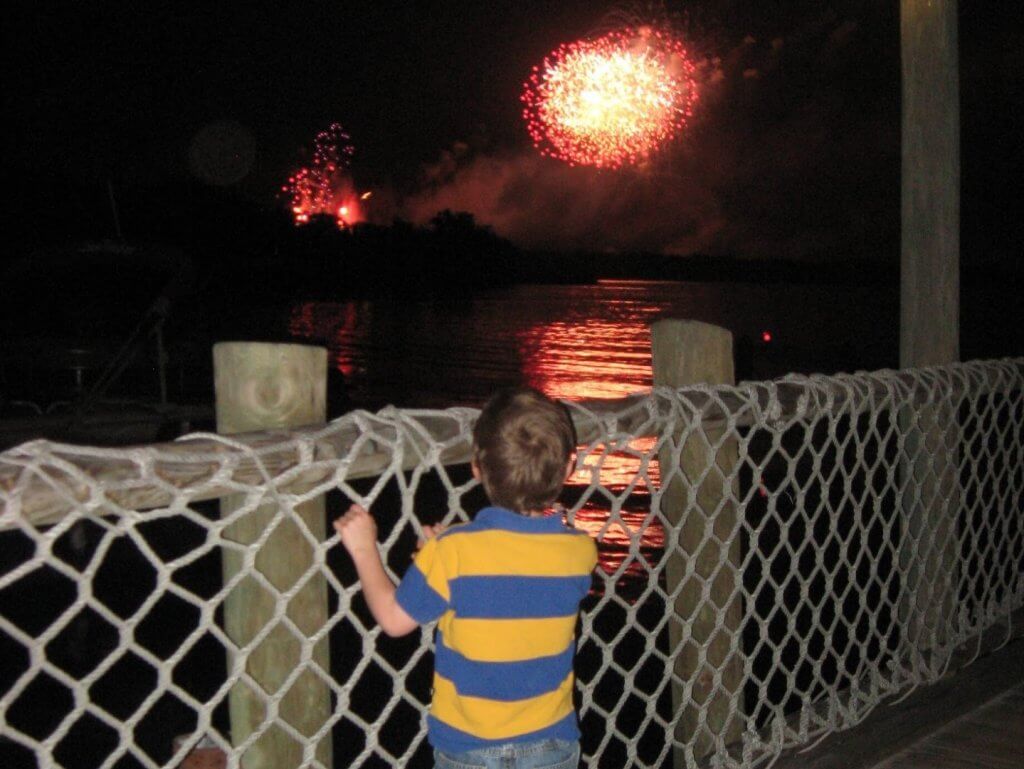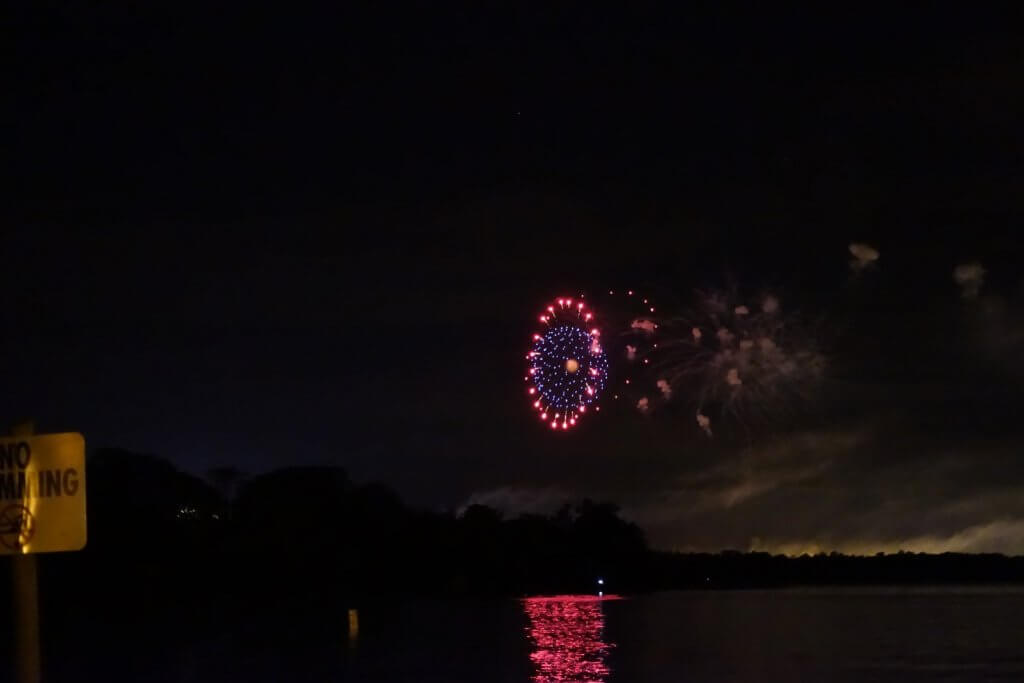 There is also an electric water pageant featuring lit-up boats and fun music that sails past the Fort Wilderness Campground and other lakefront Disney Resorts most nights.
Outside the Campground
We enjoy the campground enough that we don't always feel the need to leave for other activities. But if you are looking for other things to do in the area, we do love picking our own oranges and more at Showcase of Citrus just 30-40 minutes from Orlando.
There you can pick your own oranges, lemons, pomelos, grapefruit, tangelos, kumkwats, and more! Pure Florida deliciousness! They also have a play area for kids and a quaint country store.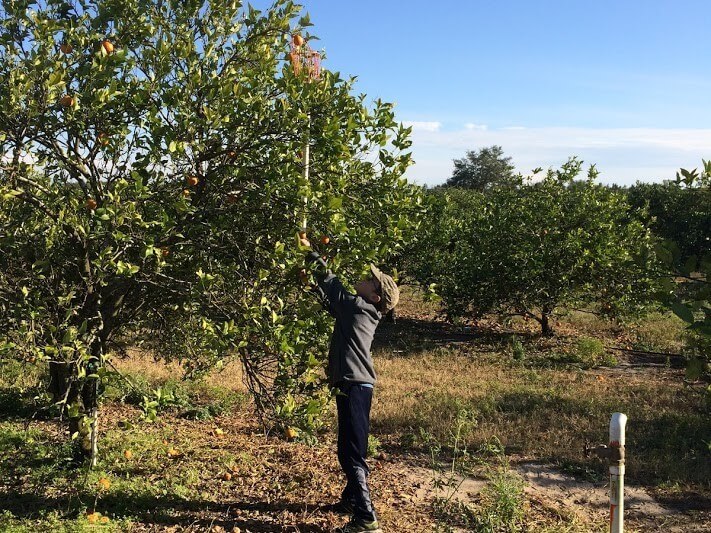 It's hard to beat fresh-picked citrus fruits, which are never available in our home state of New York!
If you are up for a something more, consider a visit to the Kennedy Space Center Visitor Complex just an hour away. If your timing is right, you may be able to view a live rocket launch.
And just two hours away, you can swim with manatees at Three Sisters Springs!
---
If camping's not your thing, check out another of our favorite places to stay in Orlando: The Hyatt Regency Grand Cypress!
And if you love to camp, we bet you'll enjoy our other favorite camping spots around the United States. Read more in these posts:
Grab a printable activity book for your upcoming trip at our new store!