This is a great year to visit Massachusetts!
UPDATE June 2020: Well, maybe not. 2020 has turned out to be not a great year to visit anywhere! Many activities and events planned for this spring have been rescheduled for this fall and next year. See current updates here.
In the meantime, as things open up you may still be able to visit many of these places this summer.
2020 marks the 400th Anniversary of the Mayflower voyage and the founding of Plymouth Colony, and celebrations and events are planned throughout the year.
This article gives a good overview of the main events planned in 2020, starting with the Commemoration Opening Ceremony in Plymouth on April 24th.
Today I want to share some highlights from two previous trips to give you some ideas of what you may enjoy to see and do if you visit Plymouth or Boston this year.
Check out the map below to explore the main sites mentioned in this post:
Plymouth, Massachusetts
Mayflower II Replica (returns to Plymouth in late May 2020 after a multi-year restoration)
One of my favorite parts of our visit to Plymouth was touring Mayflower II. The struggles of the pilgrims' journey across the ocean was much more real to me when I experienced how small the boat was and tried to imagine a journey across the ocean in such tight quarters.
I am eternally grateful that the pilgrims were willing to sacrifice so much to leave their homes in the pursuit of religious freedom in a new land.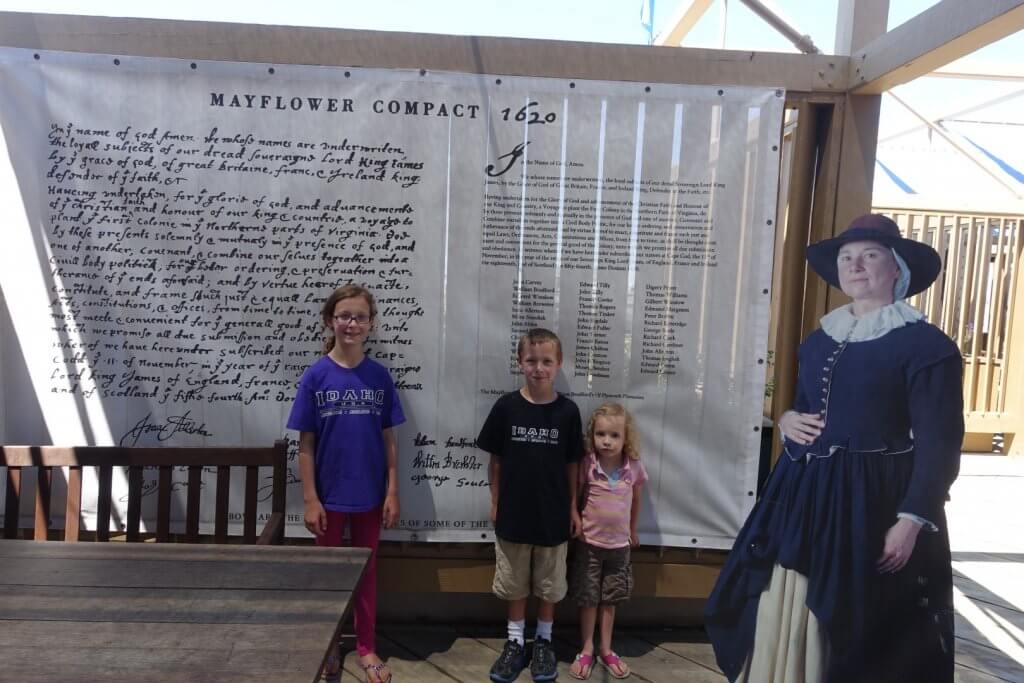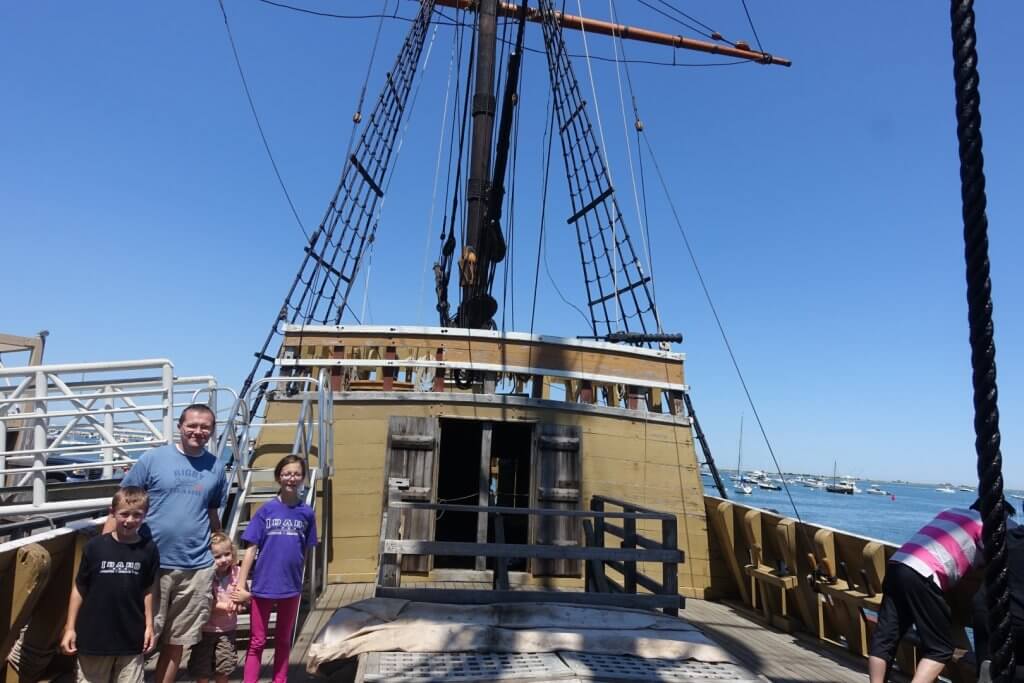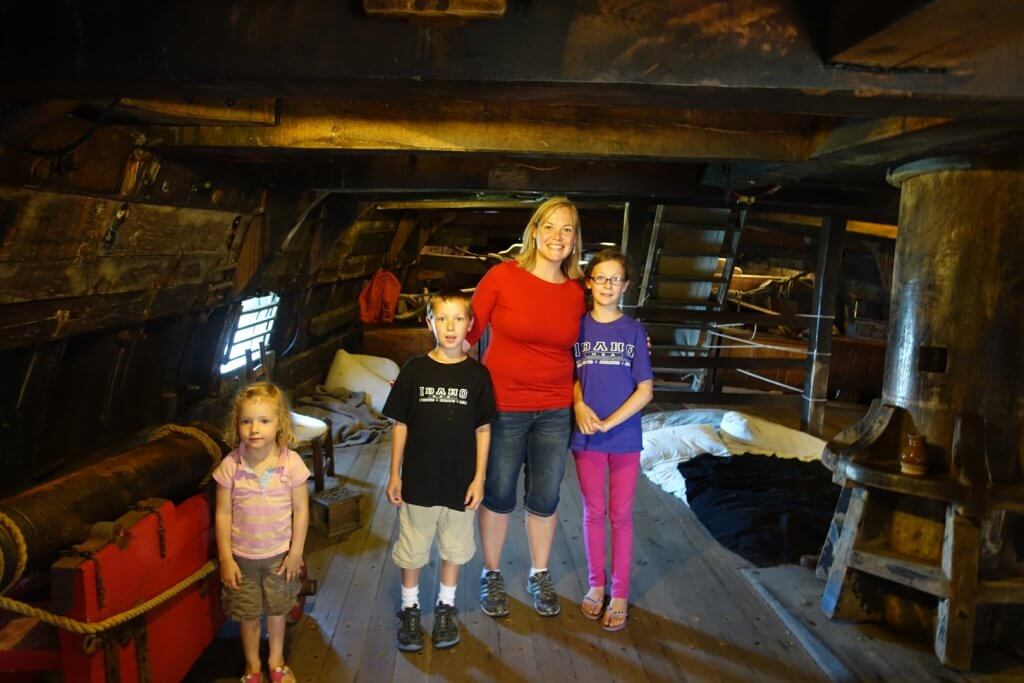 Sites and Monuments
Early Pilgrims
Since my husband and I both descend from Mayflower passengers, including William Bradford and William Brewster, our family really enjoyed finding William Brewster's home site, William Bradford's home site, the William Bradford Monument, , and William Bradford's grave site on Burial Hill.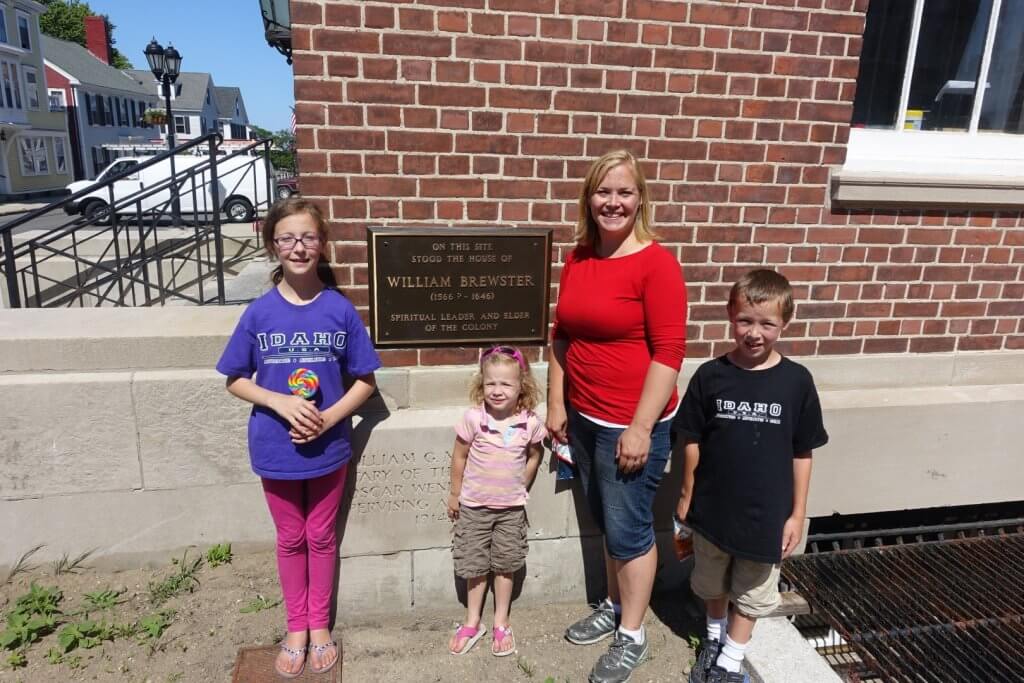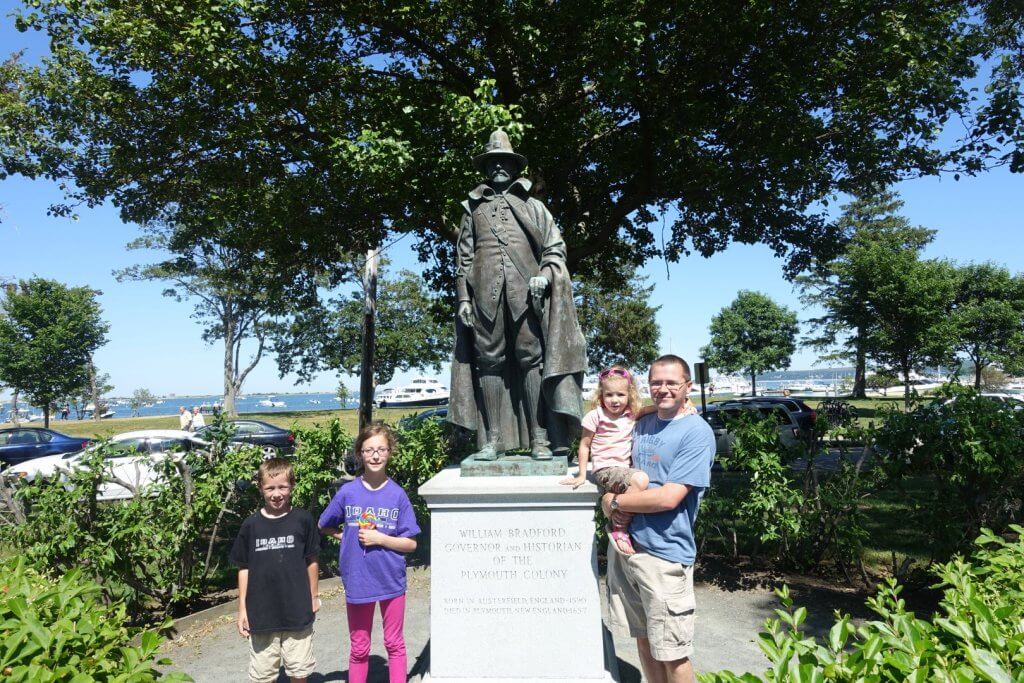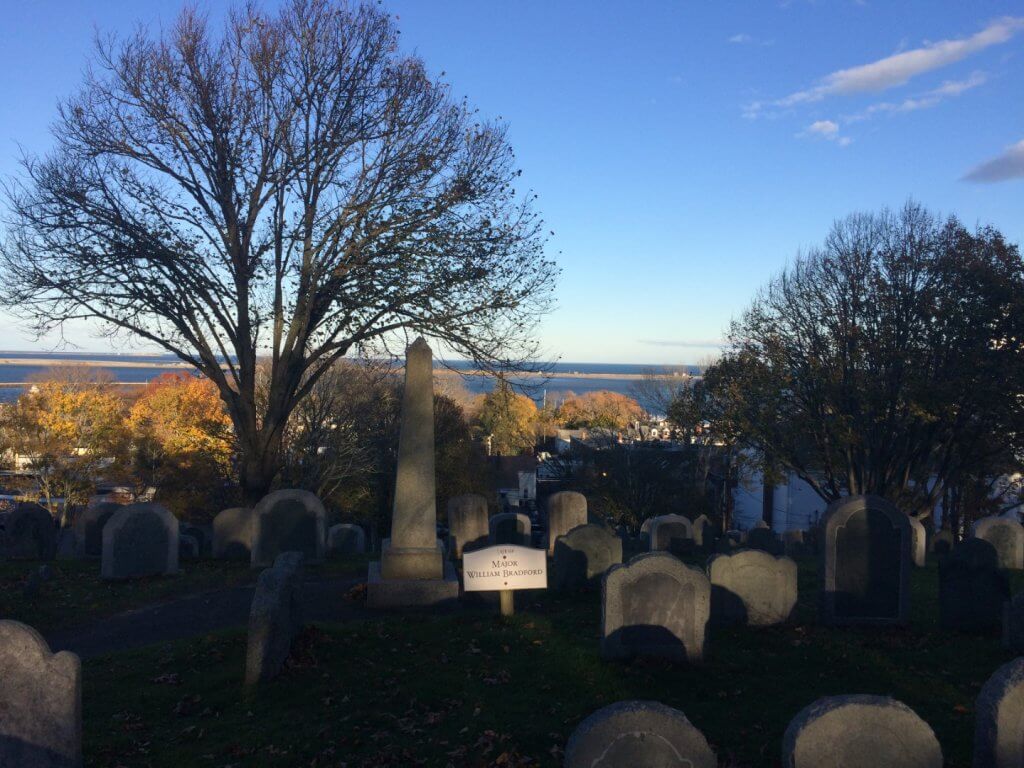 Plymouth Rock
Plymouth Rock, though relatively small and made of, well, rock, symbolizes the courage and strength of the pilgrims. So I recommend that you join the crowd under the granite canopy and take a minute to look down at the rock in the ground. It would be a good time to think about those who came before you and how their sacrifices made life better for all of us today.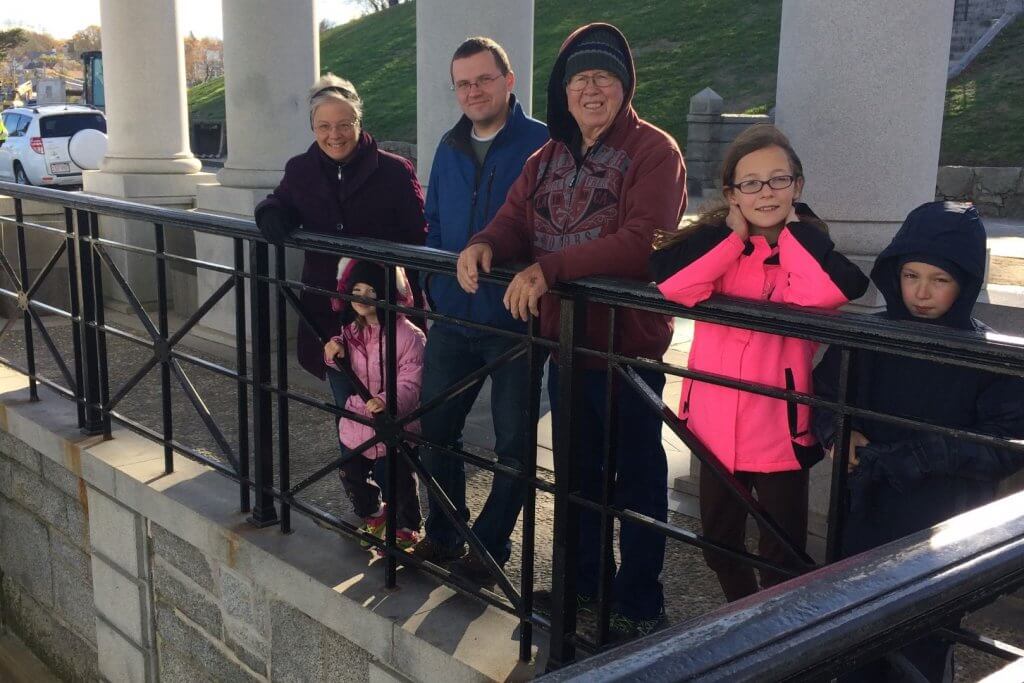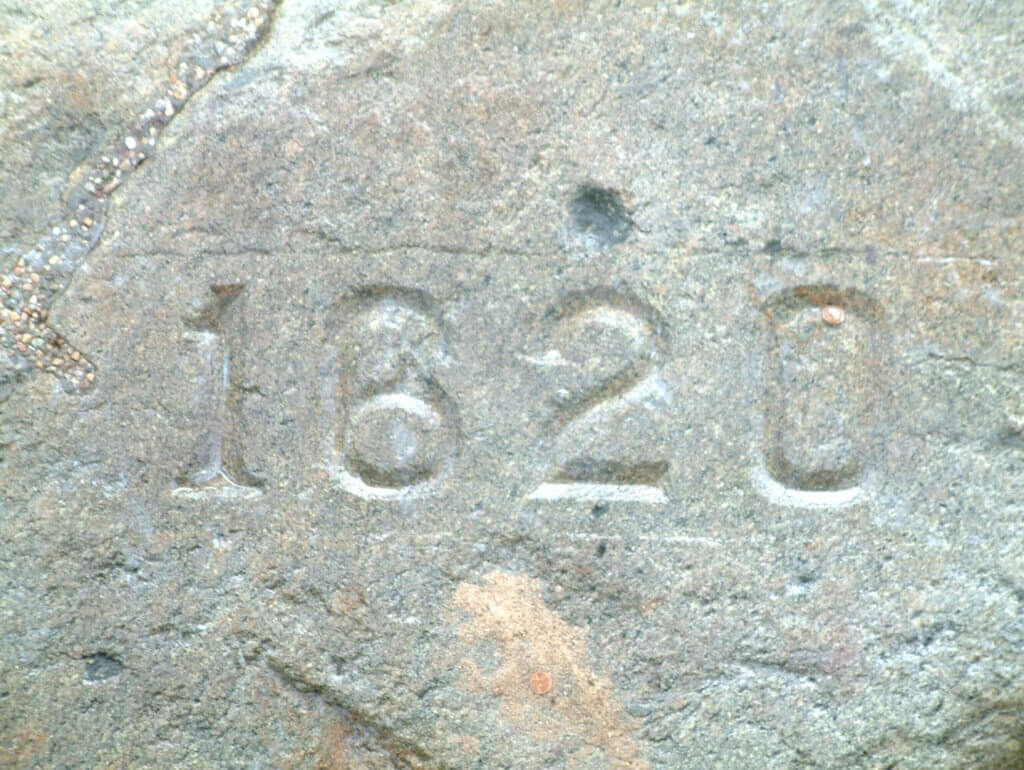 We were lucky enough to see a sign in Plymouth Harbor advertising free walking tours of Plymouth. We learned a lot from our guide, who showed us the likely location of the first Thanksgiving as well as other interesting sites and facts around town.
If you get the chance to take a free tour, go for it!
National Monument to the Forefathers
This monument is not nearly as well known as Plymouth Rock, but it is much more impressive to see. It is rich with history and symbolism as it portrays the virtues that formed the foundation of our country.
You don't need hours here, but you'll want to spend some time reading the inscriptions and studying the carvings on each side of the monument. There is a large grassy area surrounding the monument to keep kids occupied, and it would be a great place for a picnic lunch. In my opinion it is well worth a visit.
Learning about the monument beforehand will help you better appreciate the message the sculptures are meant to convey. Here's some information to get you started:
The monument was created to honor the ideals on which Plymouth Colony was founded; faith, education, law, morality, and freedom. Faith is represented by the central standing figure, a woman with her right hand extended to the sky and her left hand holding the bible.

The front panel is inscribed with the following dedication: "National Monument to the Forefathers. Erected by a grateful people in remembrance of their labors, sacrifices and sufferings for the cause of civil and religious liberty."

The right and left panels contain the names of those who came over in the Mayflower, and the back panel reads a quote from Governor William Bradford's journal:

"Thus out of small beginnings greater things have been produced by His hand that made all things of nothing and gives being to all things that are; and as one small candle may light a thousand, so the light here kindled hath shone unto many, yea in some sort to our whole nation; let the glorious name of Jehovah have all praise."

https://www.plymouth400inc.org/happy-125th-anniversary-to-the-national-monument-to-the-forefathers/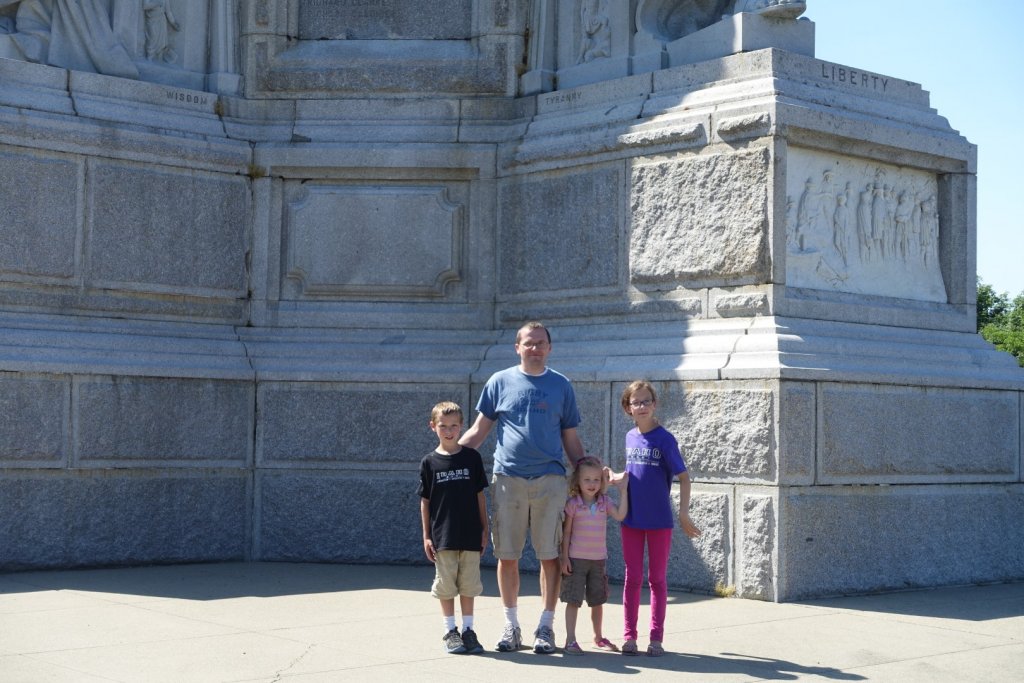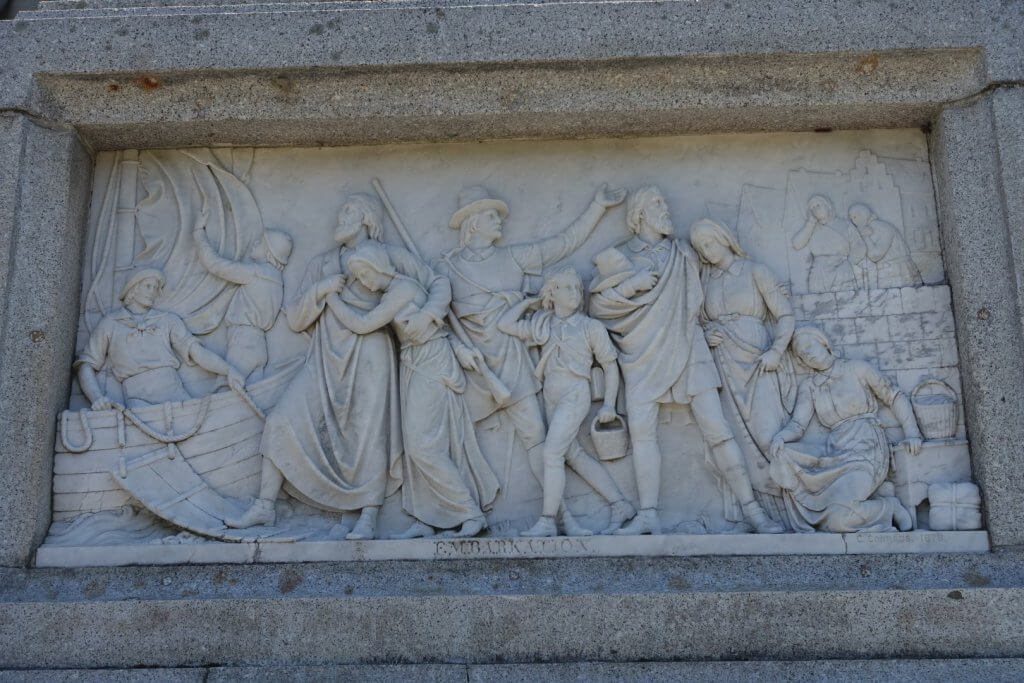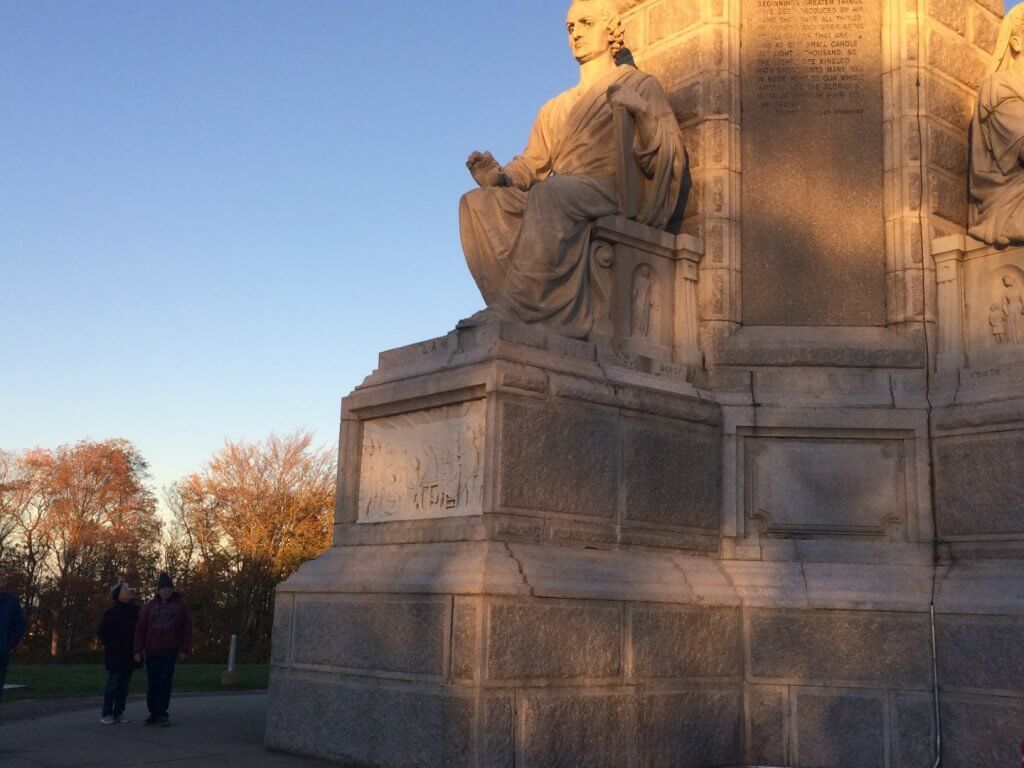 Plimoth Plantation
If you want to see what life may have been like for the pilgrims after they landed in America, Plimoth Plantation is an educational stop. There are actors dressed in period costumes who play the role of the early pilgrims and the homes and other buildings are constructed to be like those that would have existed then.
It's fun to talk to the characters about their daily lives and experiences. We felt like a couple hours or so was plenty of time to walk around here, but if you want to really see everything and talk to everyone, you may want to stay longer.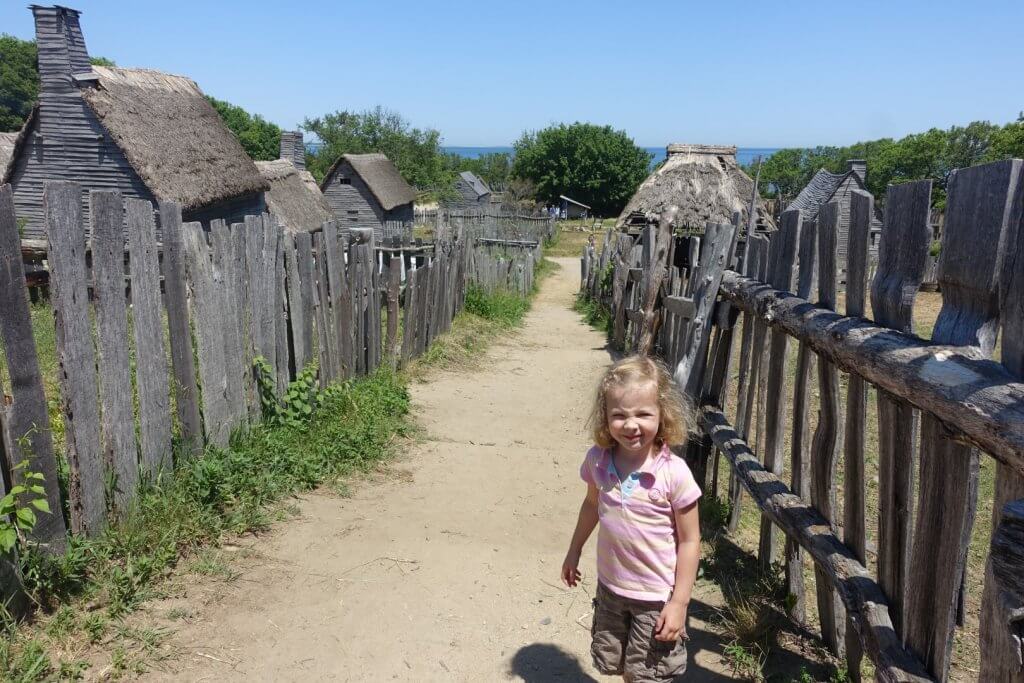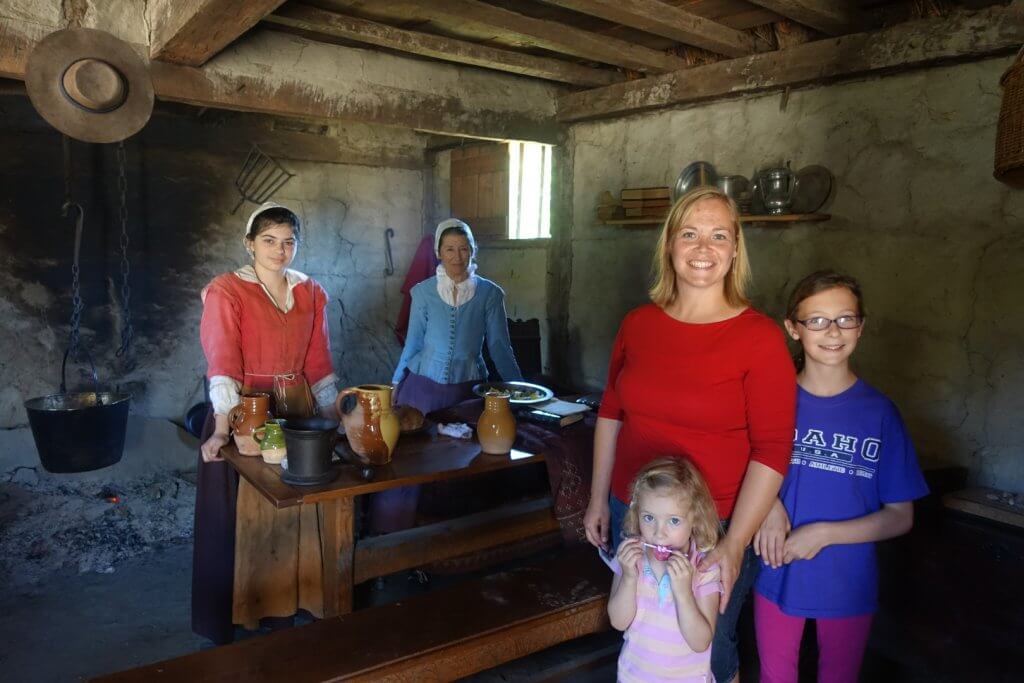 Duxbury Beach
We all had fun splashing in the waves and playing on the wide expanse of sand at Duxbury Beach.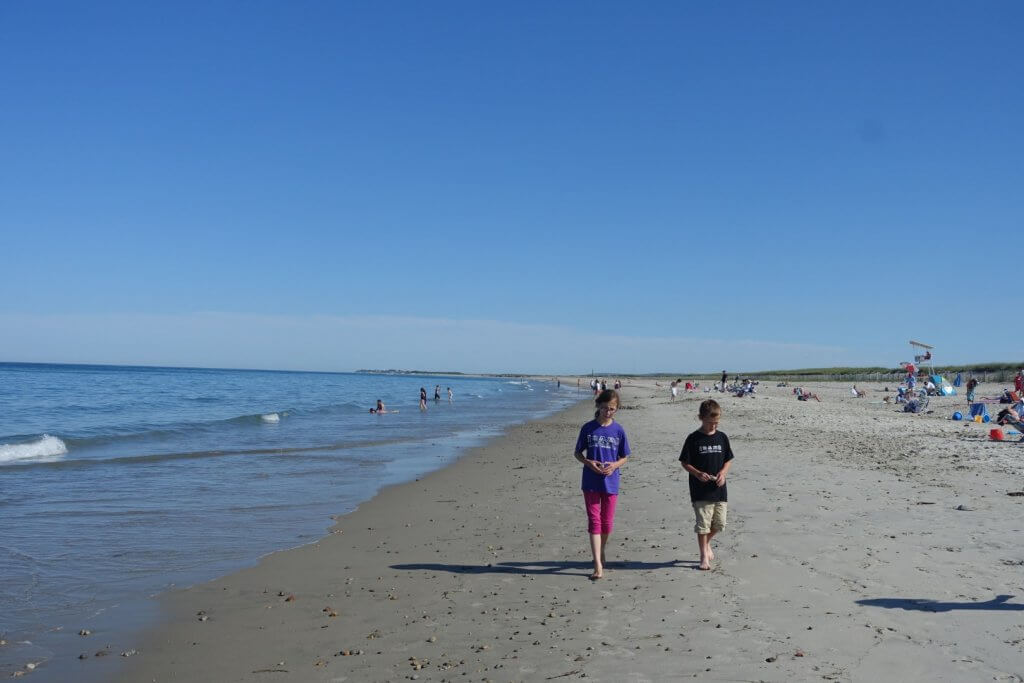 Boston, Massachusetts
Just over an hour away from Plymouth, it's worth a trip to Boston for more history and fun. Here is a small taste of what there is to do in Boston.
Boston Tea Party Ships and Museum
We had a great time at the Boston Tea Party Museum. The actors there are great and do a good job of making the whole experience fun and engaging for kids.
Everyone got to participate in a lively reenactment of a town meeting where the decision was made to dump all the tea into the harbor. Then we boarded the ship and got to drop big cubes of "tea" into the harbor. It was great fun.
The museum also had really impressive 3D displays and a film that we really enjoyed. It's a little pricey for our budget-travel style, but in our opinion it was definitely worth the cost.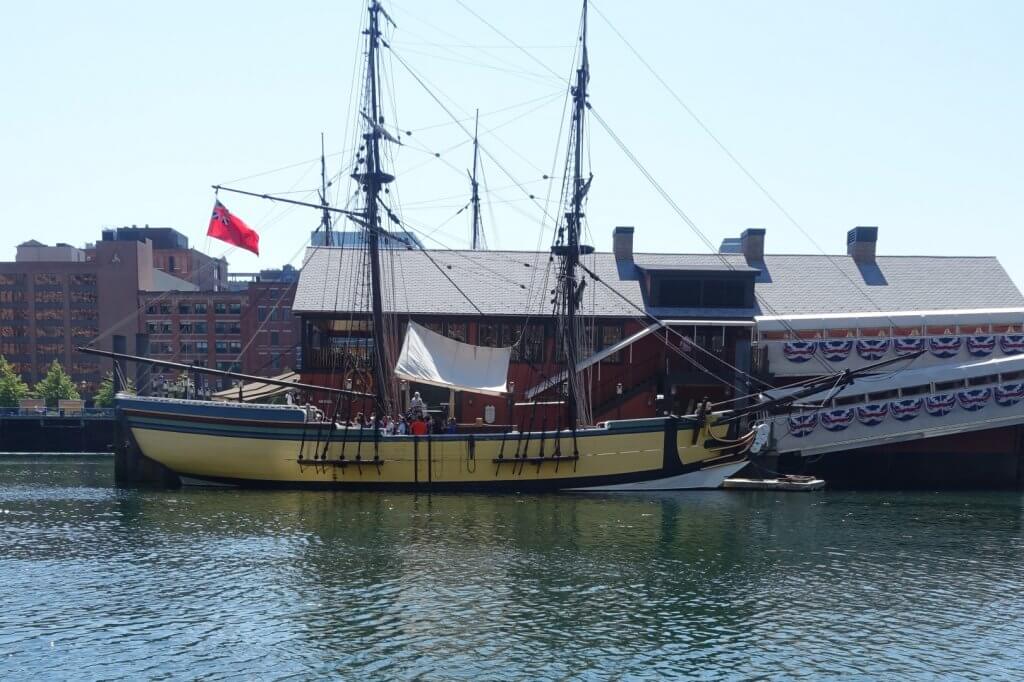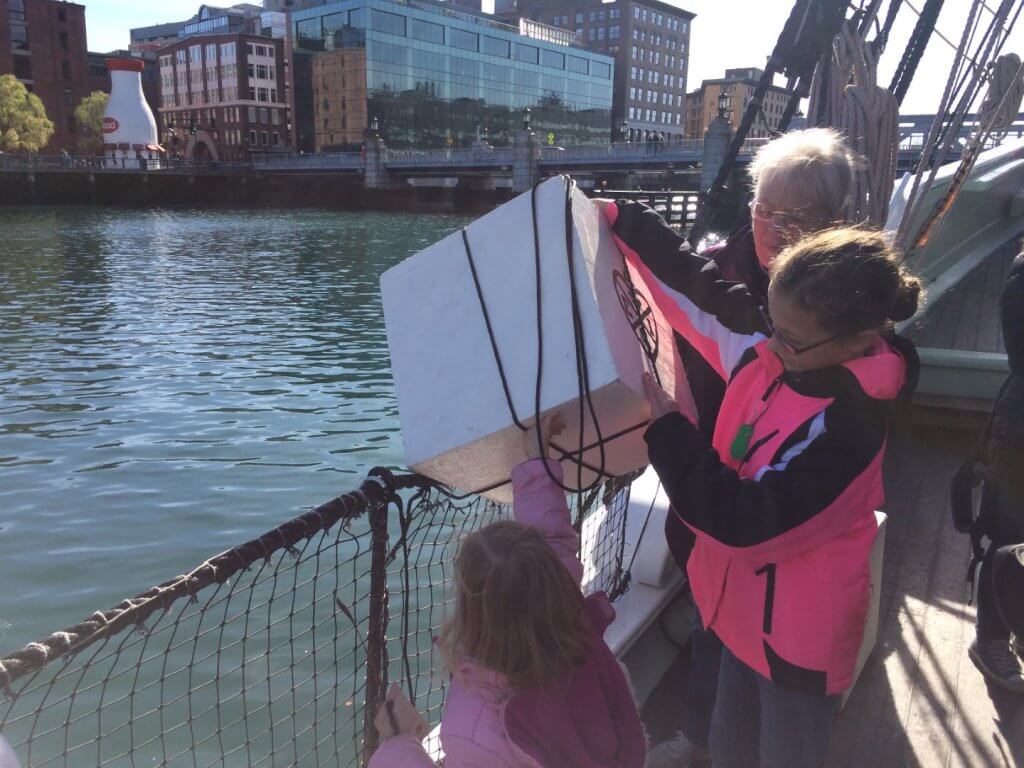 Harbor Walk
We also enjoyed walking along the harbor. We stumbled upon a festival at Christopher Columbus Waterfront Park and our kids loved running around and participating in the fun. You can check for upcoming events at the park here, or go to the park anytime to enjoy the views, large grassy areas, a playground, and more!
Don't miss out on fresh lobster while in Boston. We had a great experience at James Hook and Company. It's not cheap, but it's delicious and worth the splurge if you don't live in a place where you can get fresh seafood often!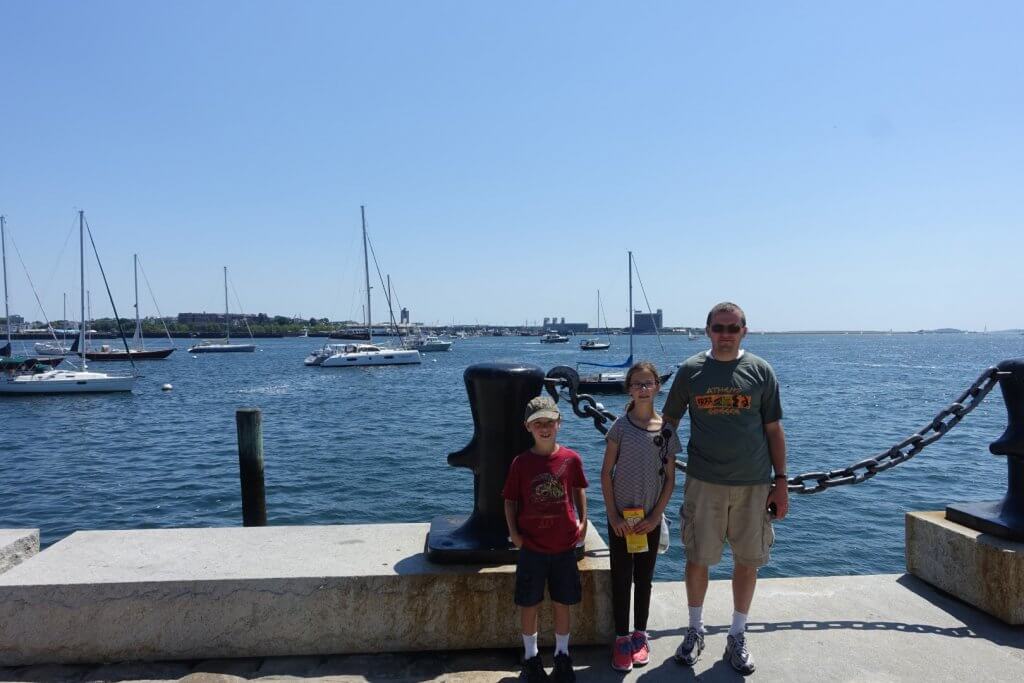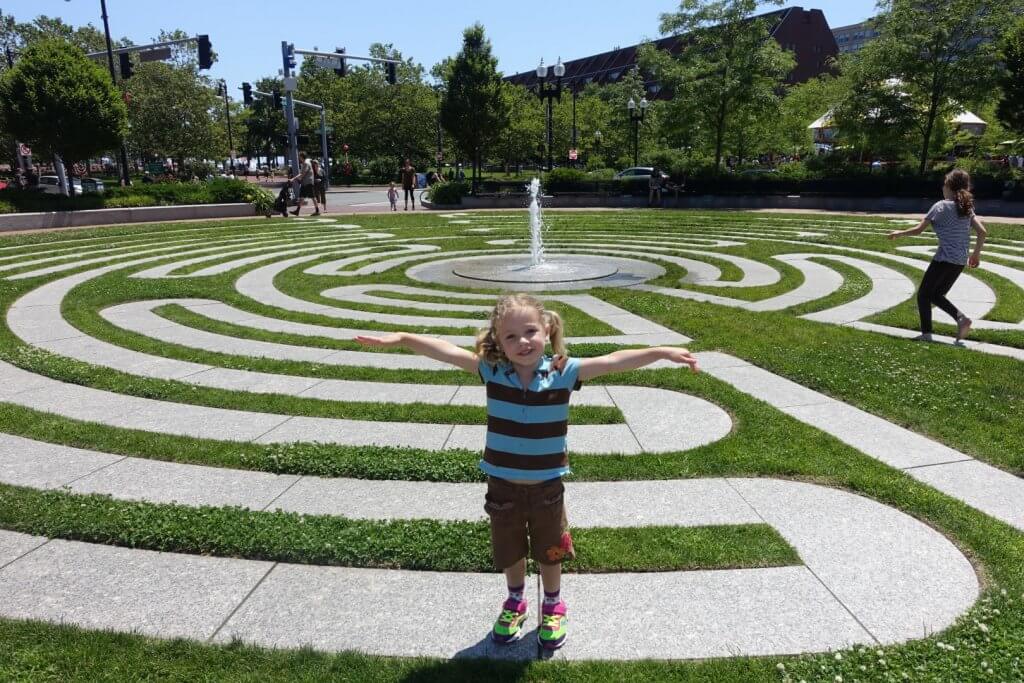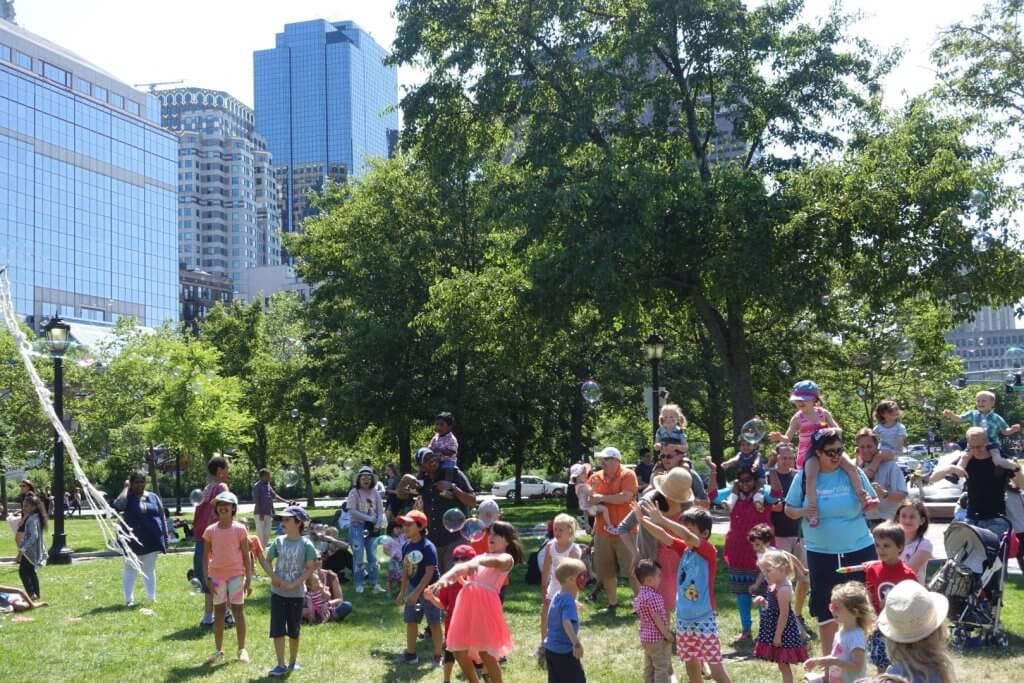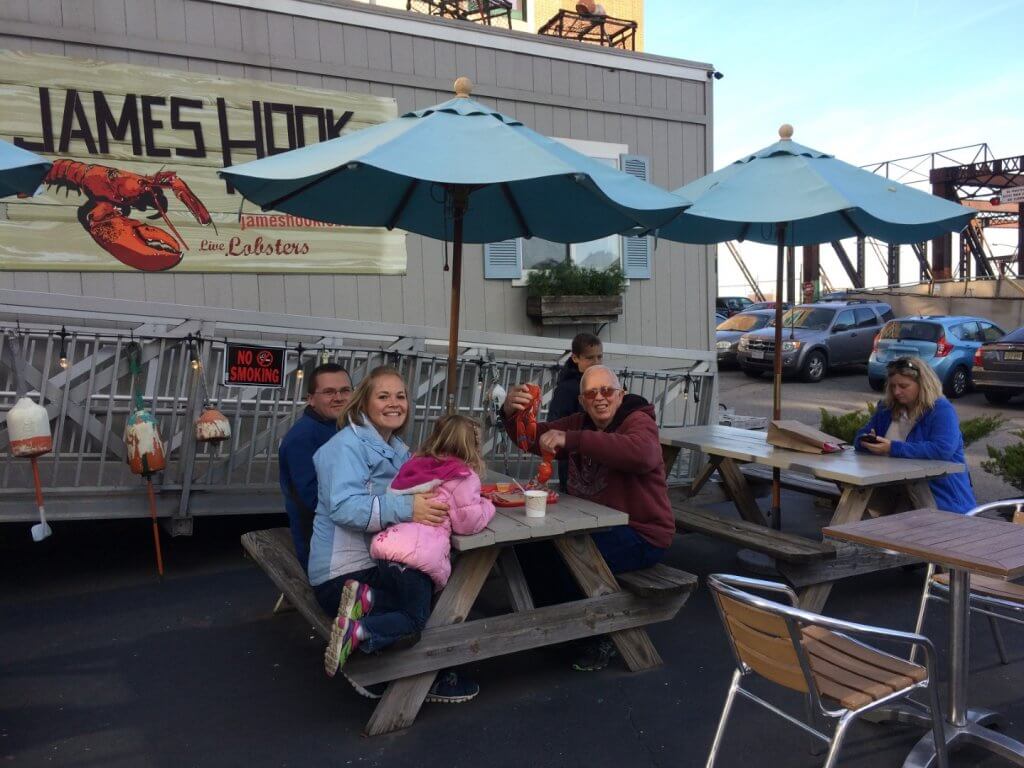 The Freedom Trail
We didn't walk the whole Freedom Trail, but we really enjoyed a couple of the sites including Faneuil Hall (where we enjoyed browsing the market and eating delicious Wicked Good Cupcakes) and the Old North Church. Check out all of the sites on the trail here.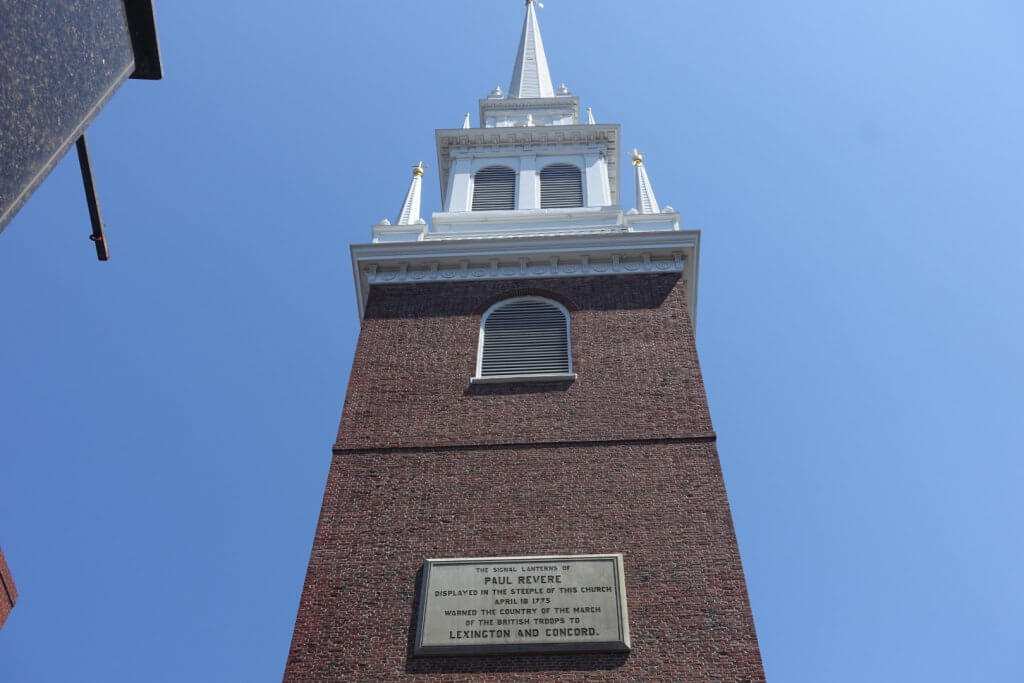 ---
If you decide to head to Massachusetts this year, I'd love to hear about your trip in the comments below!
If you plan to be in the Northeast United States for a while and want to see more of the area, check out this post about our road trip through nearby states for more ideas of what you may want to see and do.