One of the first things we noticed when we got off the bus in Chongqing was the smell.
It wasn't a bad smell, just a unique one that we couldn't identify. Later that evening we ate some noodles at our hostel and we tasted the same thing–something a little spicy but mostly mouth-numbing. We finally learned that it was the famous Sichuan pepper that we were experiencing. My husband loved it right away, but I had to smell and taste it a few times before it started to grow on me.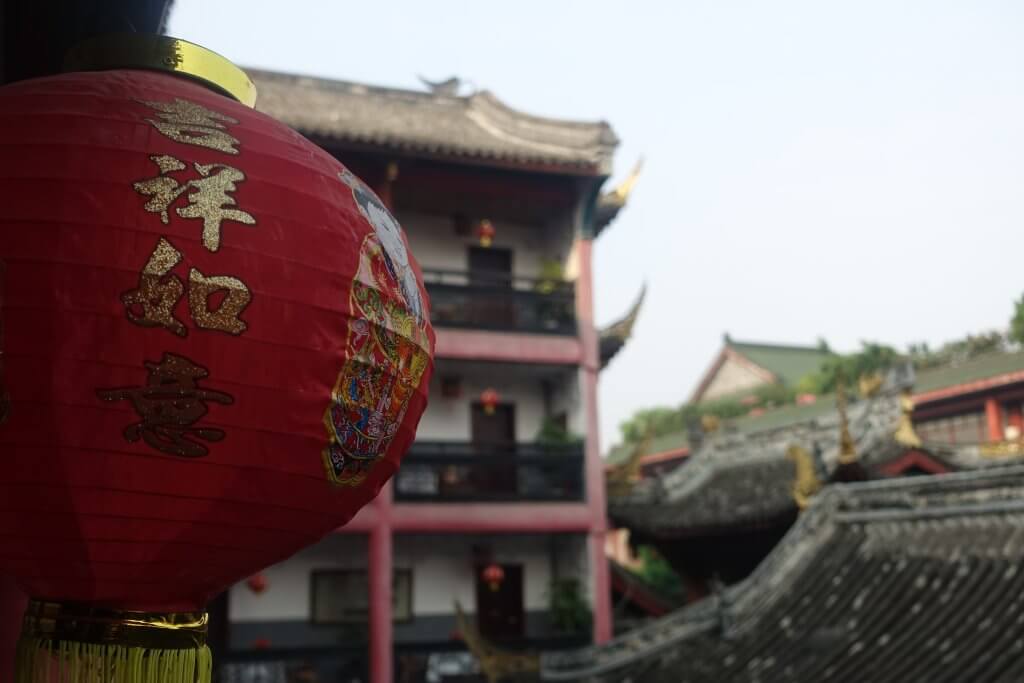 Now when I think back to China, I immediately think of the smell and taste of the Sichuan peppercorns. My mouth is watering as I type!
Another thing that comes to my mind is the haunting sound of the erhu, or Chinese violin. I was feeling a little sick and really just wanting to get to bed when we went to the Sichuan Opera in Chengdu. But as soon as I heard the erhu, I was entranced.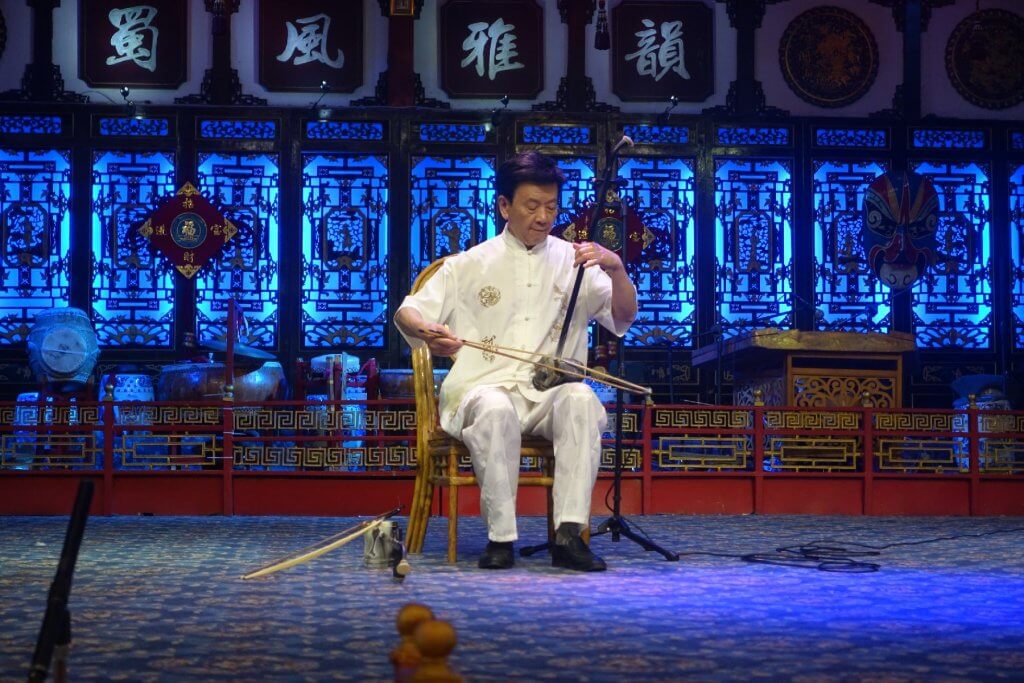 The sound was so beautiful. It sounded like a violin, but more soulful somehow. Since I play the violin, I mentioned to my husband that an erhu would make an awesome souvenir. We asked around but were told that good erhus weren't easy to find. By some stroke of fate, on our last day in China my daughter spotted an antique erhu hanging on the wall in a Tibetian shop. So my prized carry-on on the long-flight home was my very own erhu!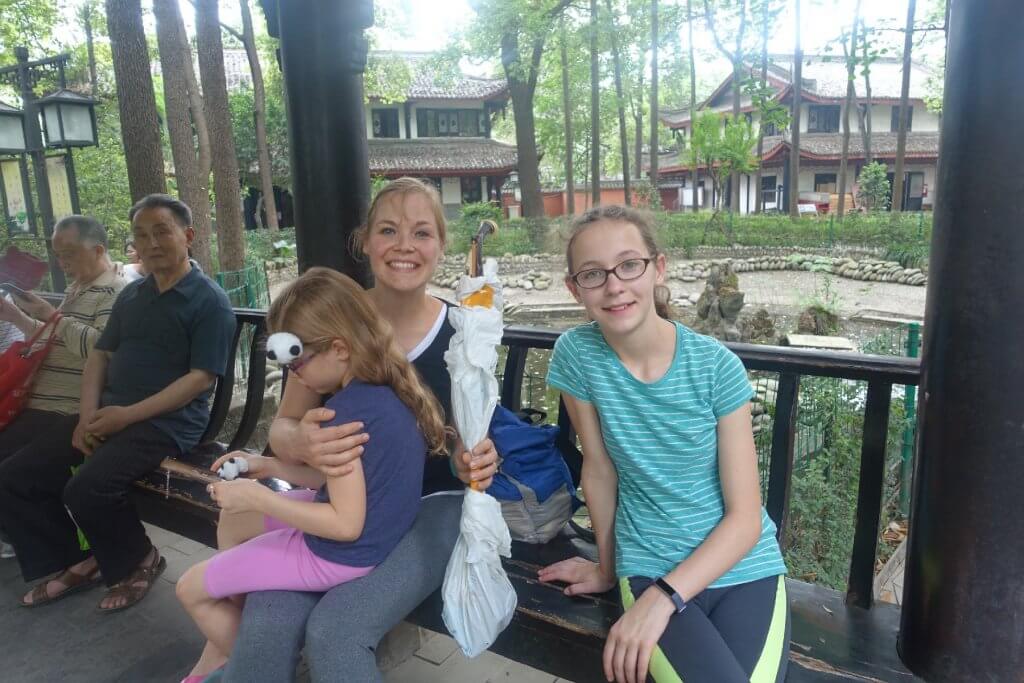 Why We Chose China
My husband has always wanted to go to China. Previously I have been too nervous to go to China with kids, but we have traveled to some pretty exotic locations now so I decided that I was ready for the adventure. We were looking to go somewhere during our kids' spring break, and when he found tickets to China during spring break week for only $425 we couldn't pass them up.
Activities
Yangtze River Cruise
Our favorite activity on our trip was our cruise on the Yangtze River between Chongqing and Yichang. The cruise went through the Three Gorges and ended at the Three Gorge Dam, and was a wonderful beginning to our trip to China with our kids. Check out our full Yangtze River Cruise report.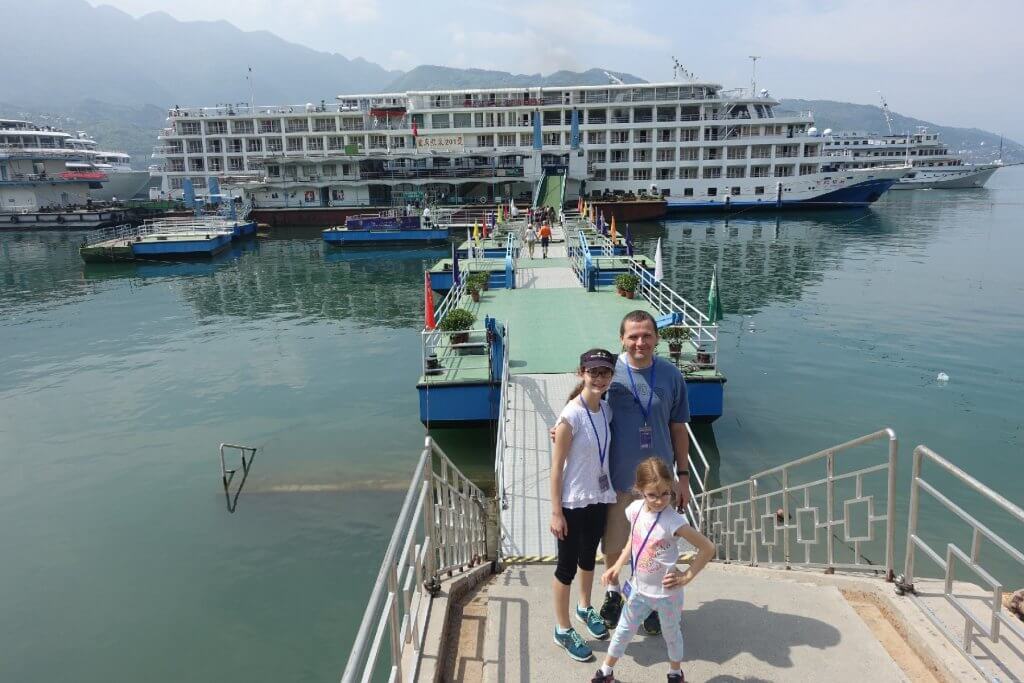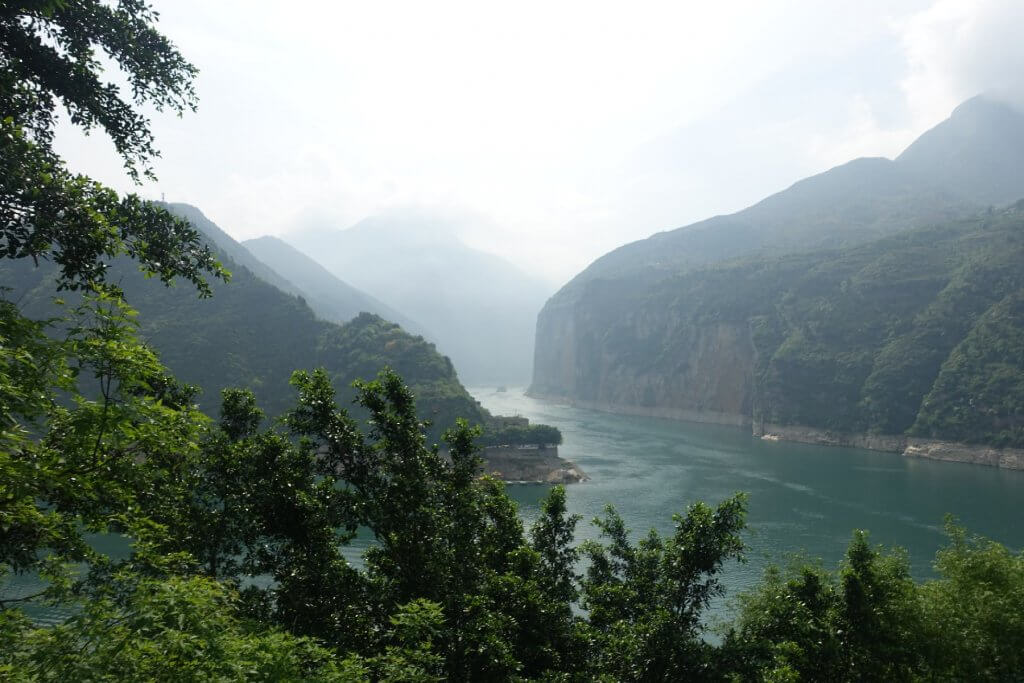 Chengdu Research Base of Giant Panda Breeding
We had a fun morning wandering around the Giant Panda Breeding Research Base in Chengdu, spotting pandas and enjoying the scenery. Looking back, we wish we would have taken more time beforehand to learn about the base and what they are doing to help pandas. It would have been more meaningful for us to visit then, instead of it just feeling like a really neat panda zoo. But it was still lots of fun to watch the adorable pandas, there is something so cuddly and endearing about them. It was a highlight of our time in Chengdu for our kids.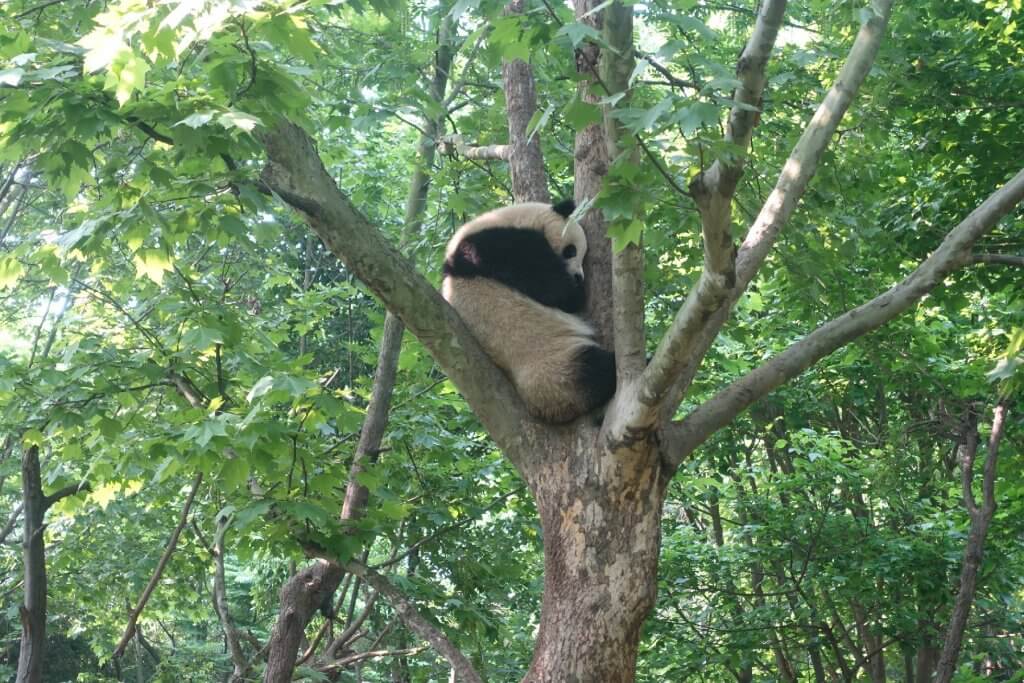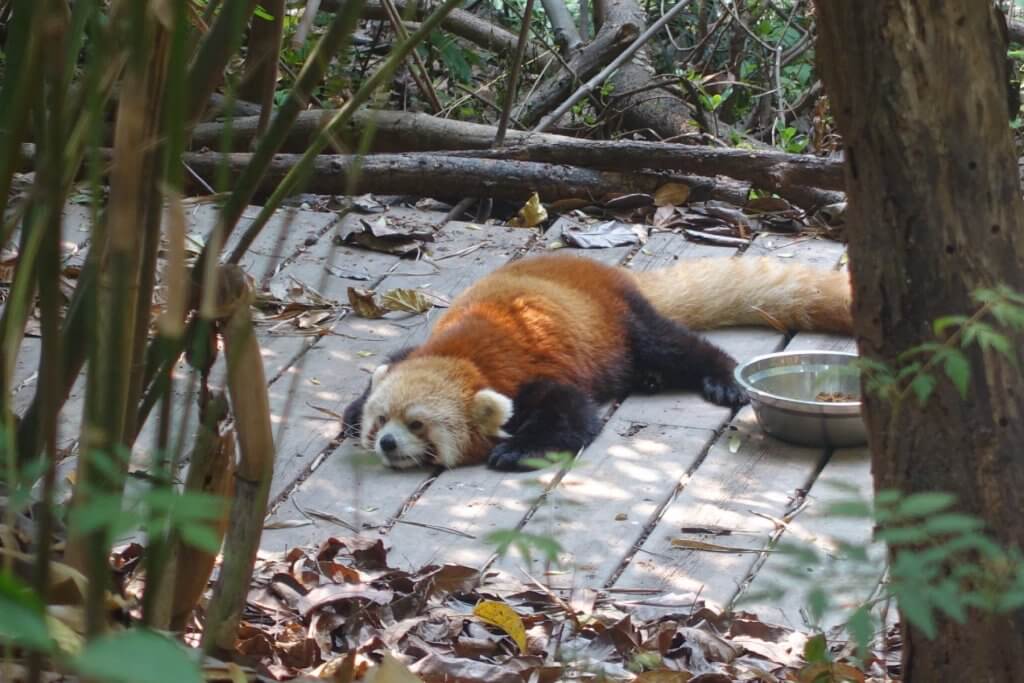 Sichuan Opera
Our evening at the Sichuan Opera Theater was delightful. We paid the extra $15 per ticket for VIP seats in the front of the theater, and we were so glad that we did. It really enhanced the show to be able to see the actor/performer's facial expressions.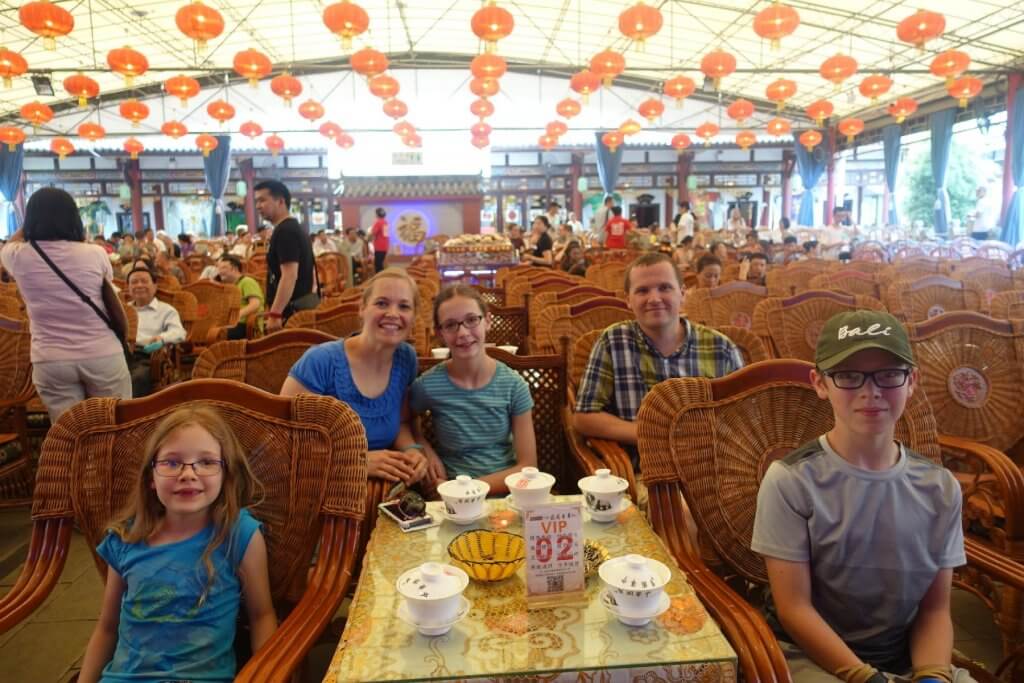 Before the show we got to dress in traditional Chinese costumes and get quick Chinese massages.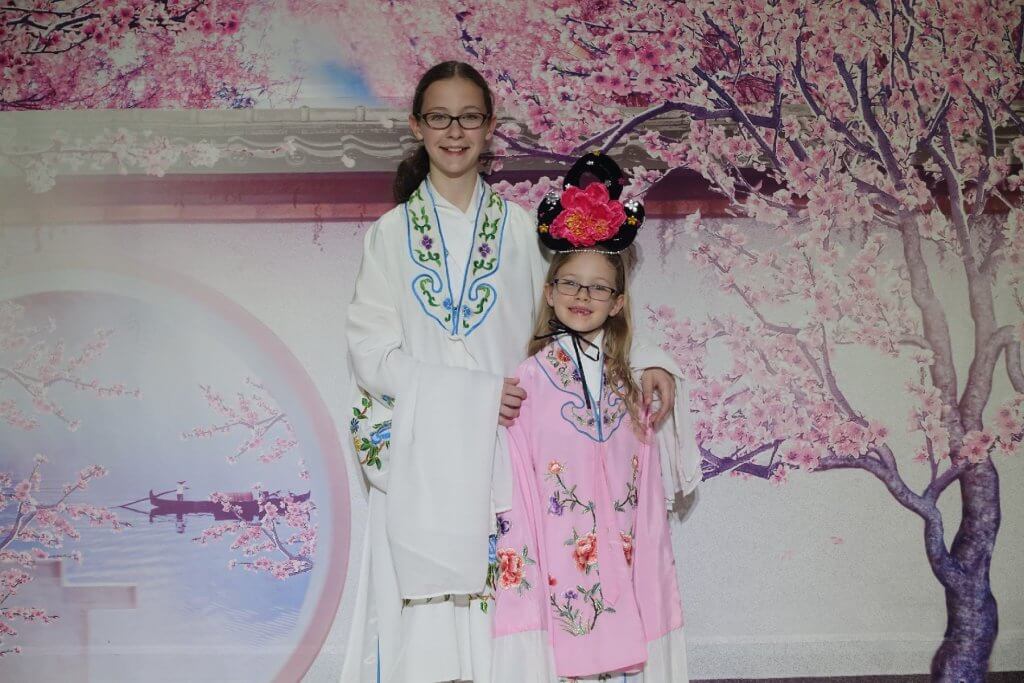 During the show I especially enjoyed the beautiful Chinese violin performance. My kids especially liked the hand shadow art, Chinese puppet, and rolling lights acts. There was a play all in Chinese that we couldn't understand, but watching the actors was still entertaining. And the costume/face-changing/fire-breathing show at the end was a great finale!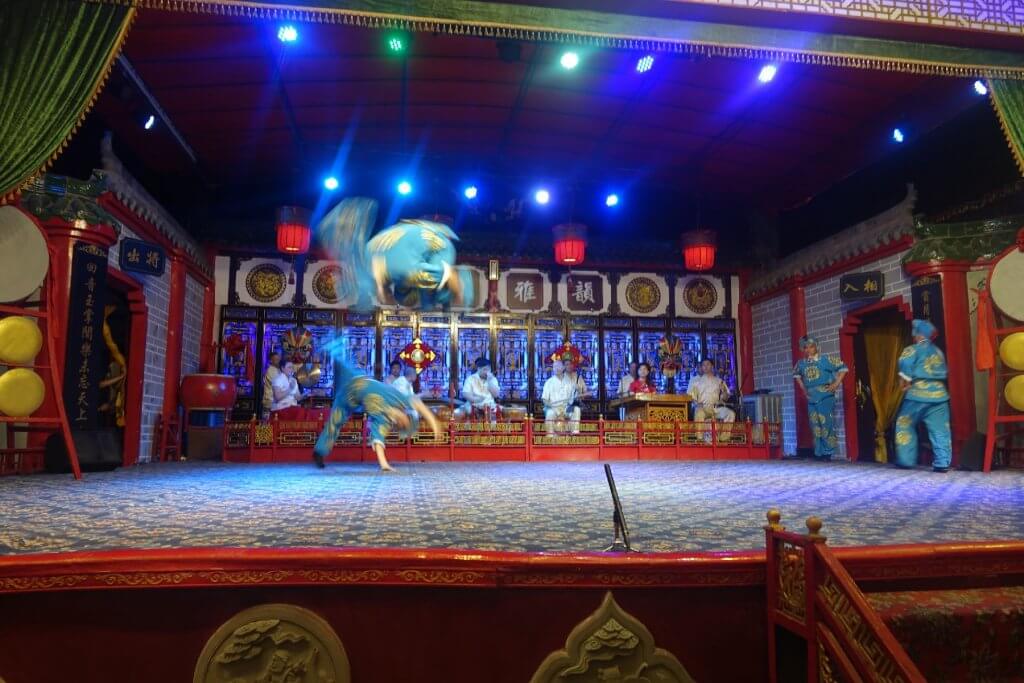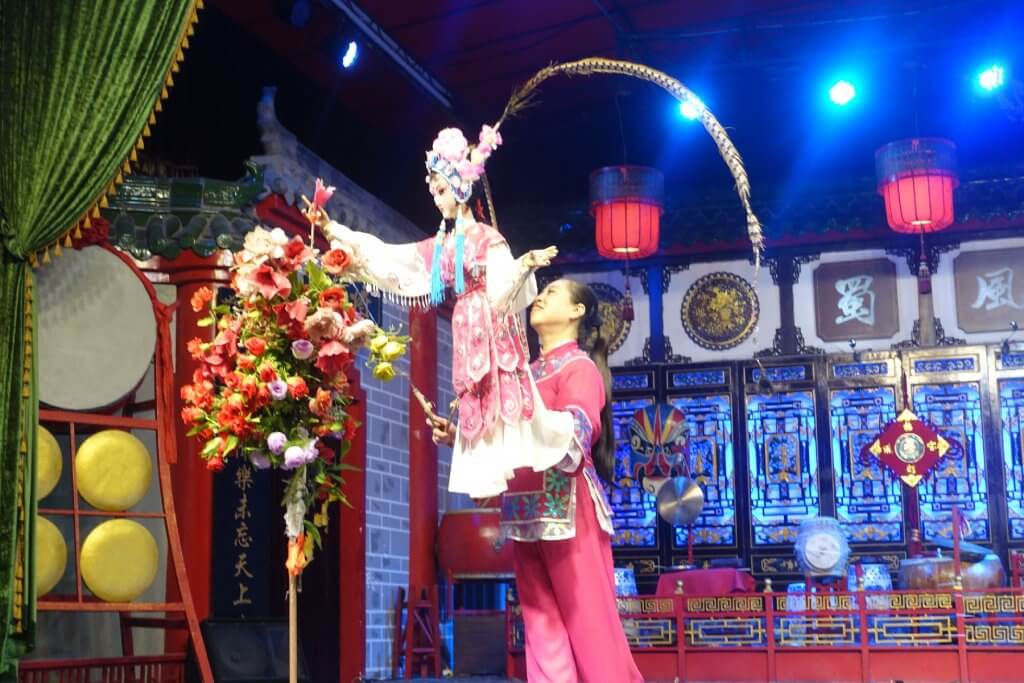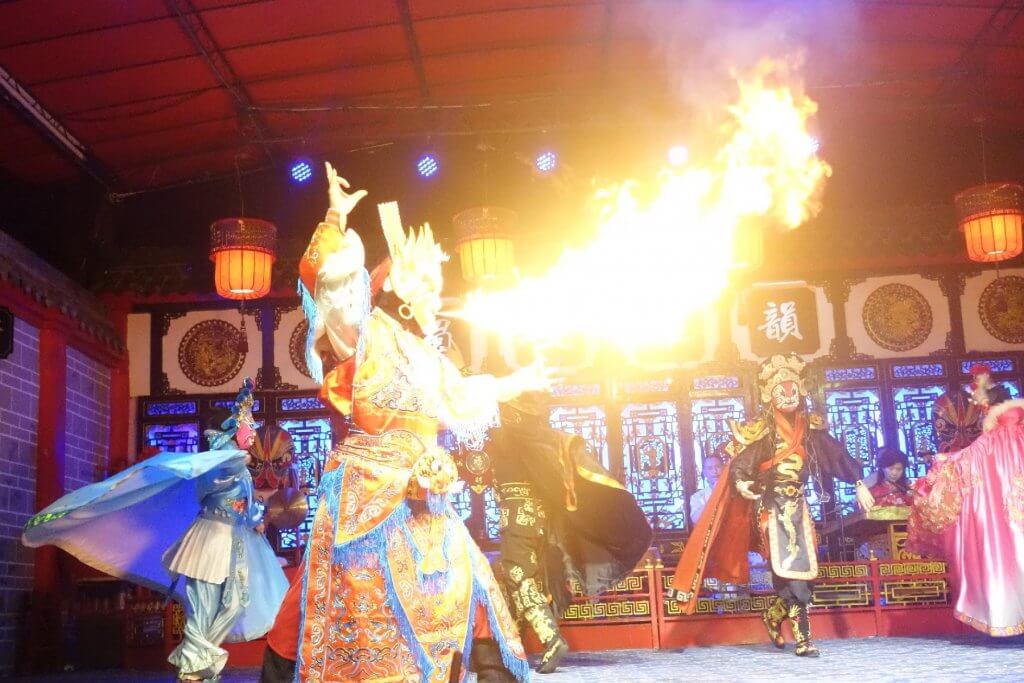 People's Park
People's park is a great place for people-watching! We enjoyed walking around and watching all the action throughout the park. There were groups of people doing Tai Chi and other forms of dance/exercise.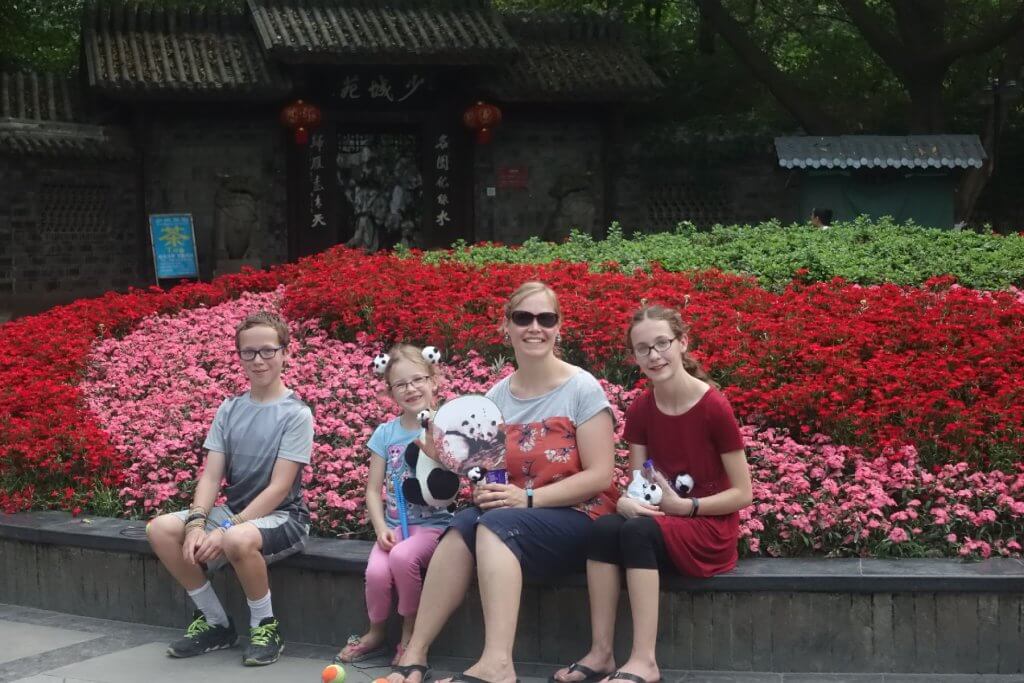 We came upon someone selling balls on strings with a crowd of people trying them out, and we had a good time learning to work them ourselves. Chinese people liked to point at our blonde-haired daughter and even discreetly take her picture, which was entertaining to watch.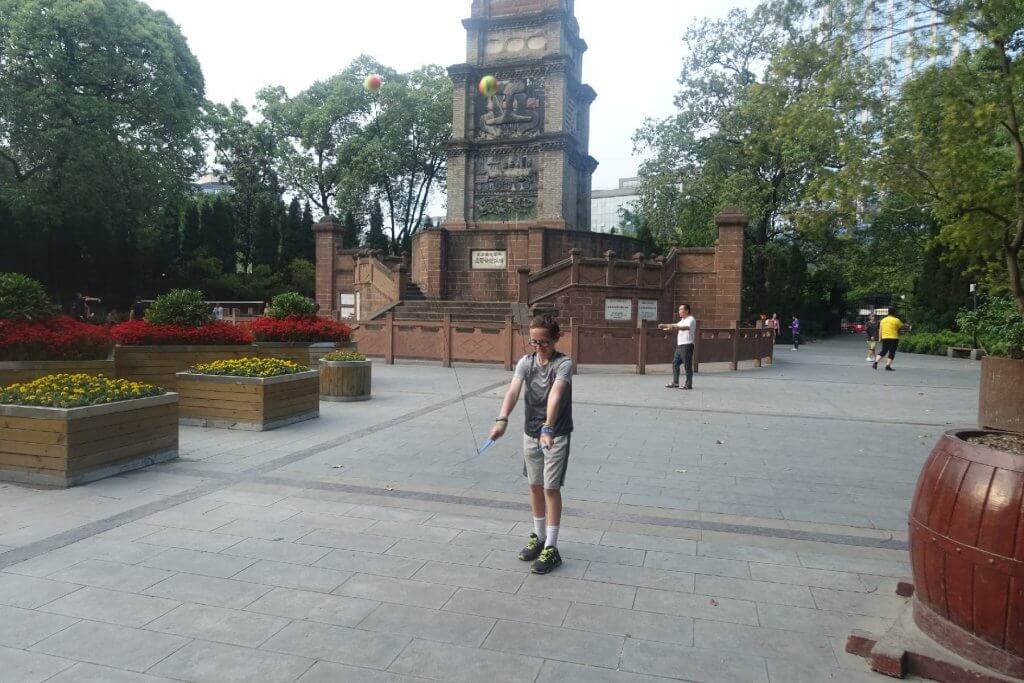 Wenshu Yuan Monastery
The Wenshu Yuan Monastery was a peaceful place to relax on our last day in China. The inside of the monastery was beautiful, and it was fun to explore the grounds. We also did some last-minute souvenir shopping in the Tibetan shops nearby. We were so excited to find an erhu (Chinese violin) to buy in an antique shop!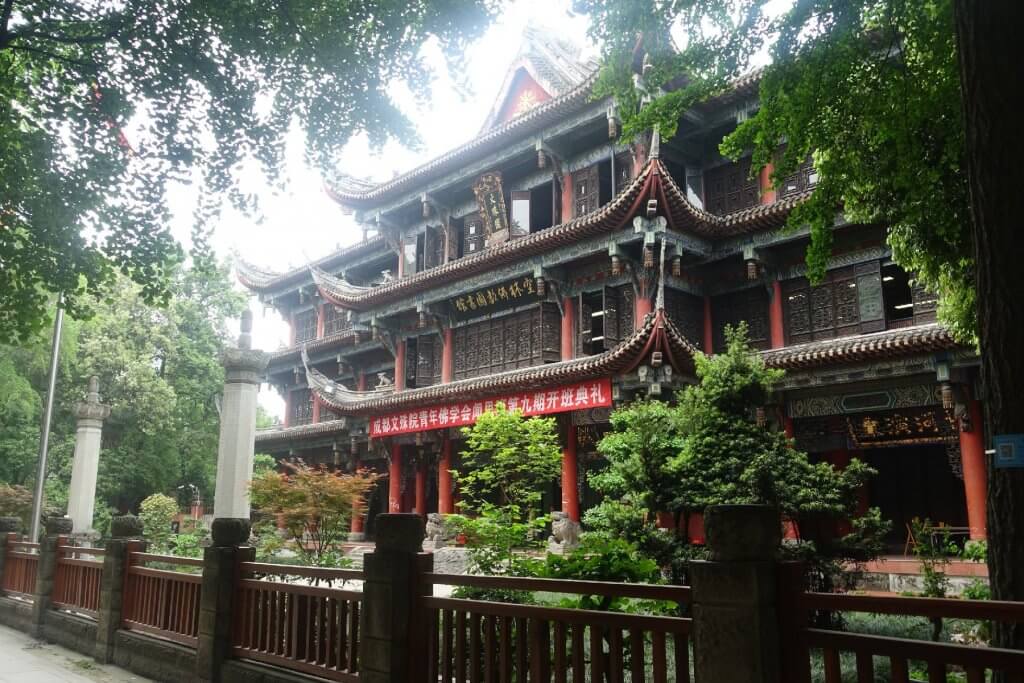 Lodging
We arrived in China at 7:00am on our first day, so beforehand we booked a room in a hostel so we'd have a place to leave our bags and take a nap if needed. It was great to have a place to shower and refresh ourselves.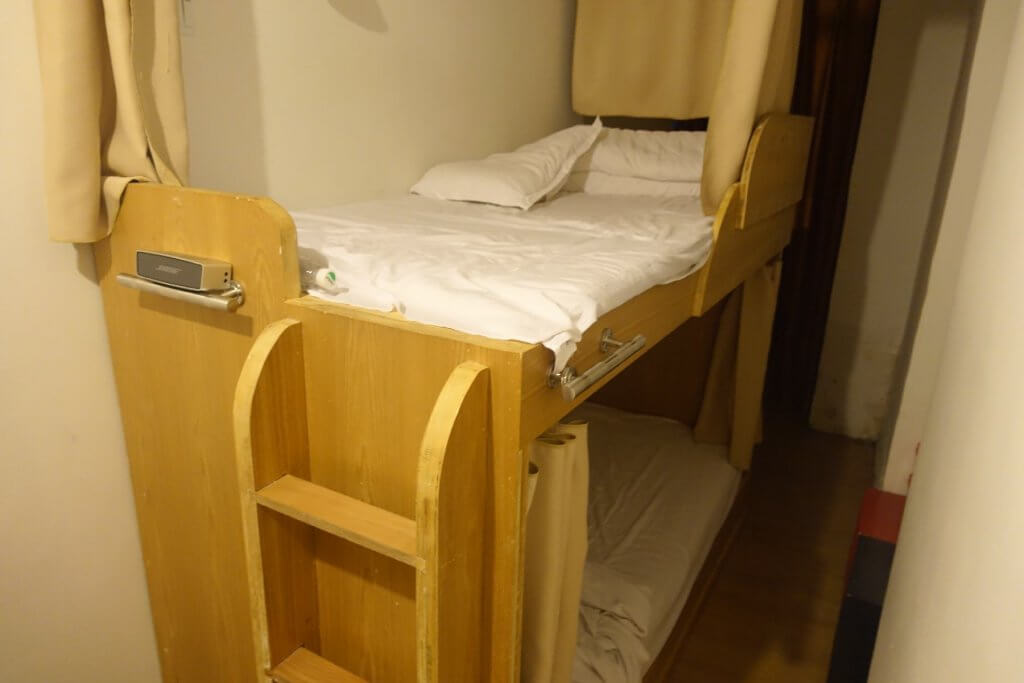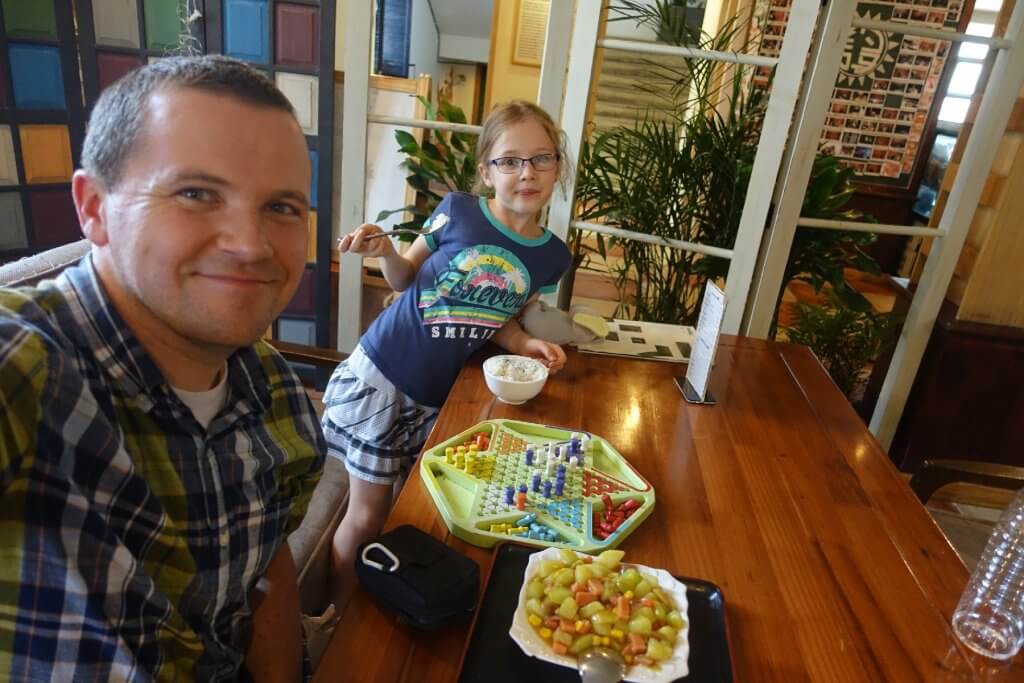 In Chengdu, we initially found inexpensive rentals on Airbnb, but we then found out online that in China there are laws stating that you must register with the police whenever you check in to a new place of lodging. From what we could tell, we would have to go to a police station, with the rental owner, to register if we stayed in an Airbnb, but most hotels are able to complete this registration for you when you check in.
For simplicity we decided to stick with hotels for this trip, and we stayed at the Wenjun Mansion Hotel in Chengdu after our cruise.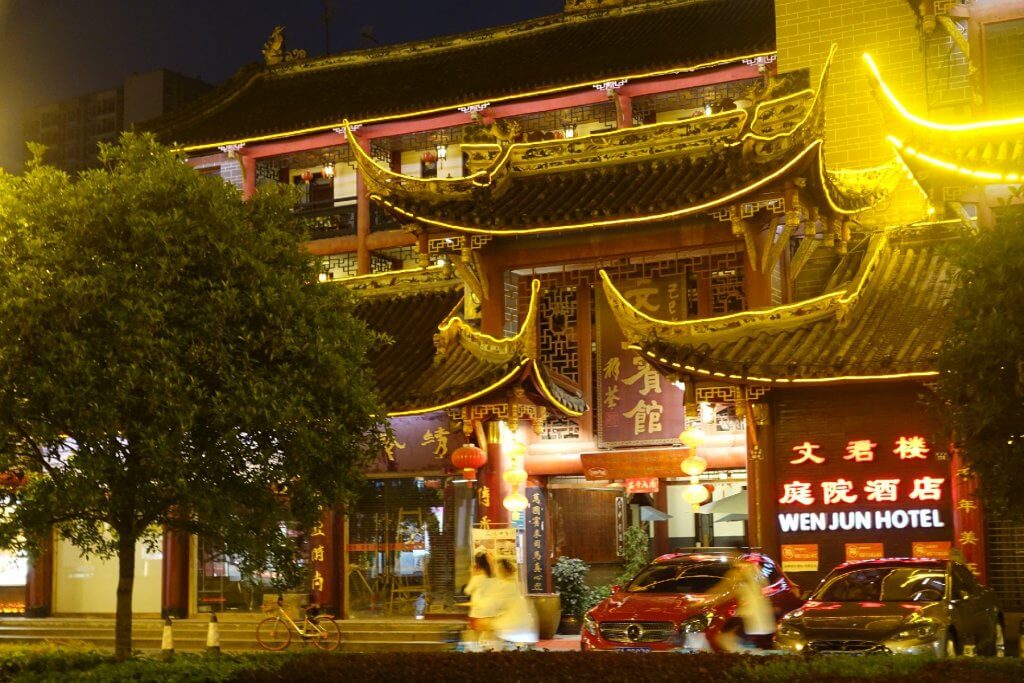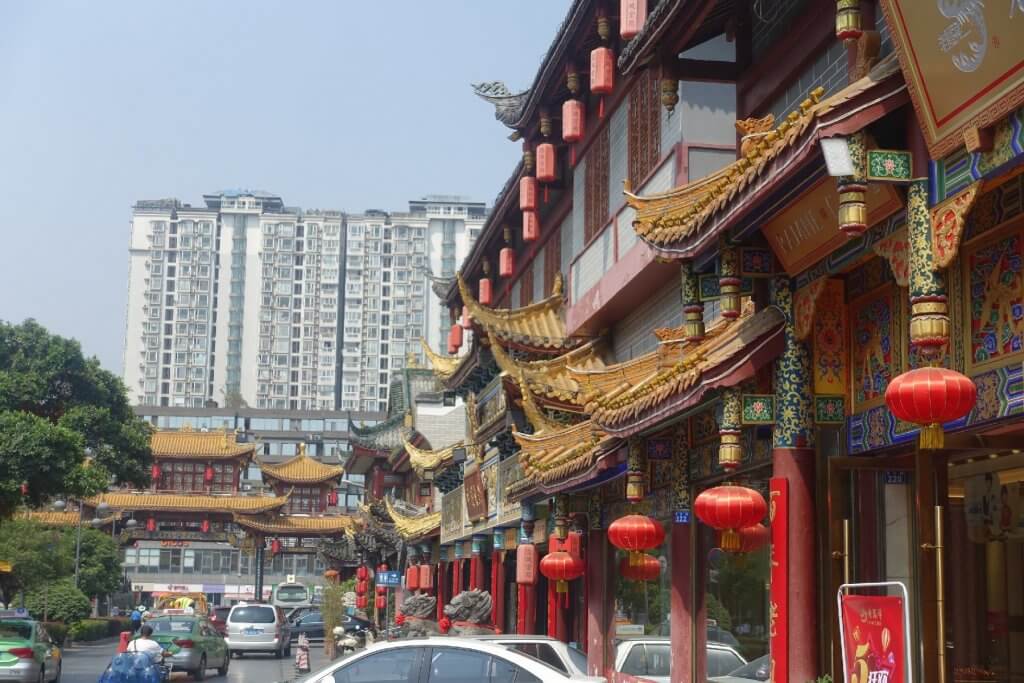 We chose the Wenjun Mansion Hotel for its great location. The street itself was very picturesque with Chinese lanterns and architecture. It is also within easy walking distance to Cultural Park (home of the Sichuan Opera), People's Park, and the Wide and Narrow Alleys where we did most of our souvenir shopping.
Transportation
Getting around in China was more difficult than we expected, but it was possible with some patience and the help of our smartphones. We didn't find anyone who spoke English, aside from those who worked in the hotels, so we were never able to tell a taxi driver where we wanted to go or ask someone which metro line we should take.
What made it doable was having train tickets purchased ahead of time (we used Chinatravelguide.com) and having phones so that we could find the address we needed to go to in Chinese. Having the addresses printed ahead of time, in Chinese, would also have worked well.
Taxis were very affordable and easy to find, and worked great for us as long as we were able to show the drivers our destination in Chinese.
For short distances we walked a lot, although we needed to keep our kids close because the motorcycles drive on the road and the sidewalks and the road crossings can be really crowded and chaotic!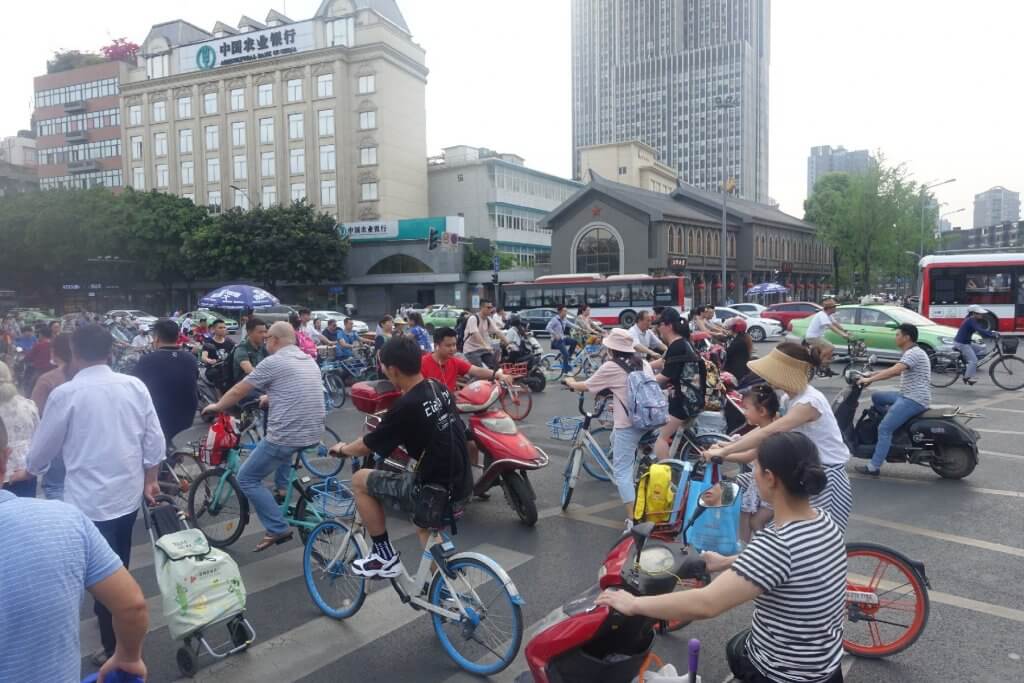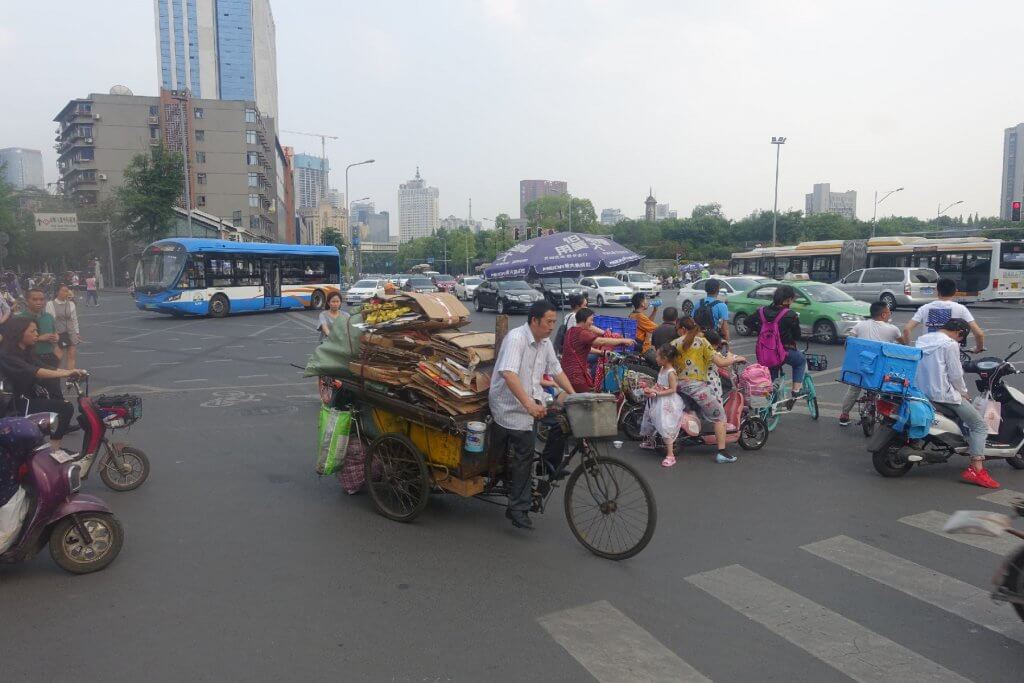 Quick Look at How We Got Around
We took a bus from the airport to Chongqing, then a taxi to the cruise port.
The Century Diamond cruise brought us from Chongqing to Yichang. This was the highlight of our China trip!
In Yichang we took taxis to the train station and then a train to Chengdu.
In Chengdu we took taxis everywhere we went except we arranged a private driver through our hotel to bring us to the airport so we wouldn't have to split up into two taxis for that longer ride.
Food
Food was taken care of on the cruise, which was wonderful, especially for our kids who could always find something that they liked. For the rest of our trip we enjoyed a couple restaurants (more details below) but mostly ate from the small convenience stores we found and the occasional fruit stand.
On most of out trips I'm able to easily find large grocery stores near out hotels for food, but we didn't come across any large stores full of groceries in China except when we went to Walmart in Yichang. So we ate a lot of ramen-style noodles, yogurt drinks, and other foods we could find at the convenience stores.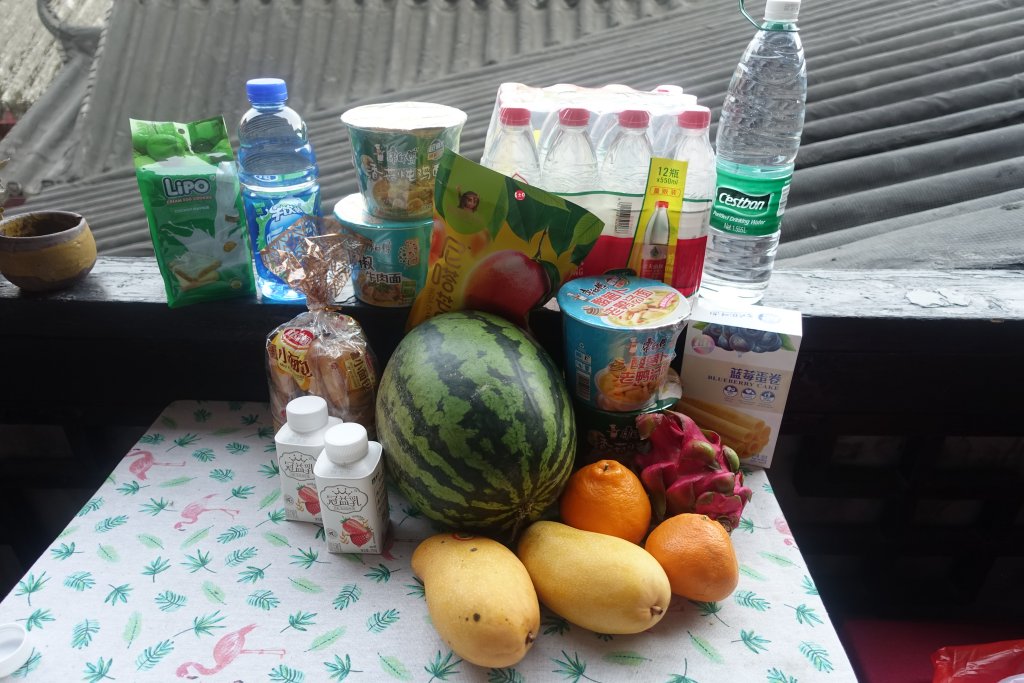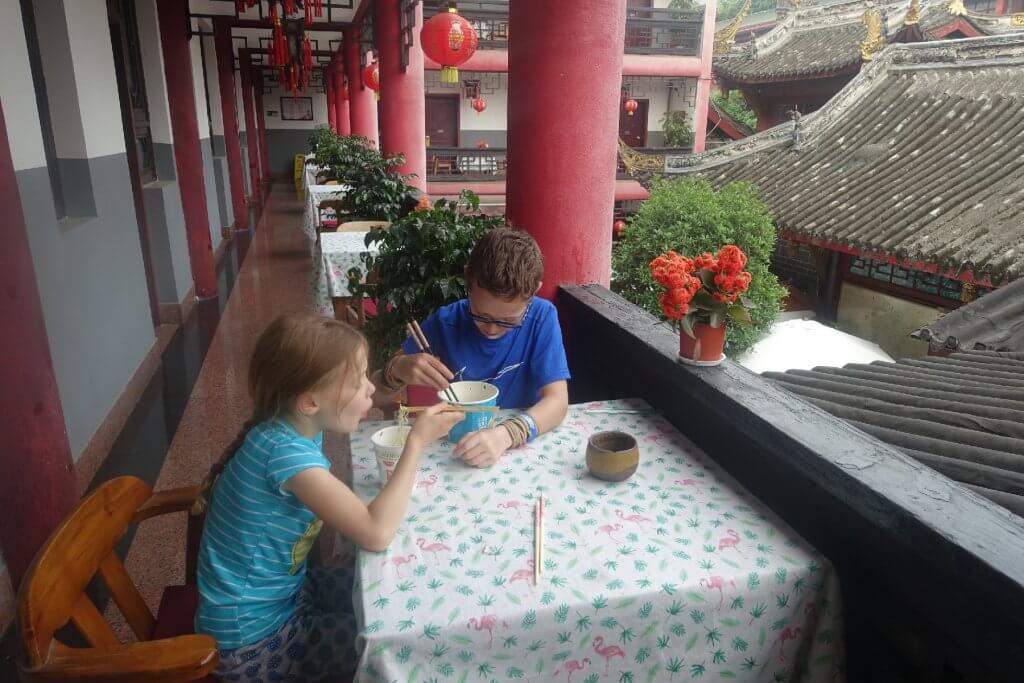 Looking back, I wish I would have planned ahead more for food since it was harder than I thought it would be to figure out what to eat there when we got tired of noodles.
Our kids liked the pizza from Pizza Hut, even though it was different from pizza in the USA. The pizza served at the Wenjun Mansion Hotel wasn't their favorite.
My husband and I really enjoyed the Hot Pot at Longsen Garden in Chengdu just down the street from our hotel. It was a must-do Sichuan experience and turned out to be a delicious meal. We ordered spicy and regular broths, along with an assortment of dumplings, vegetables, and noodles.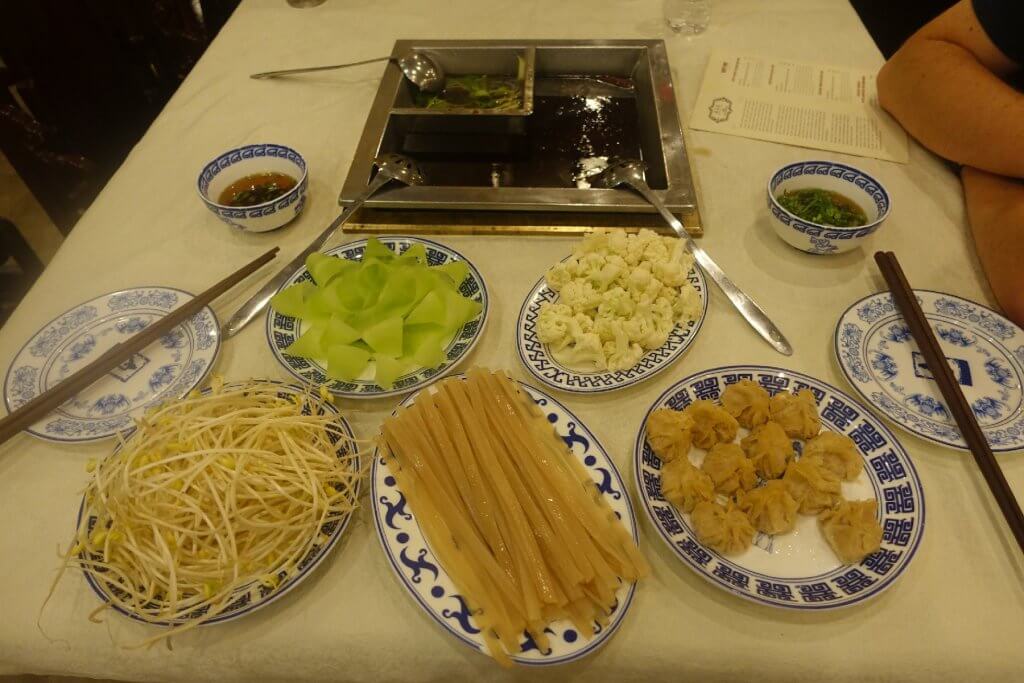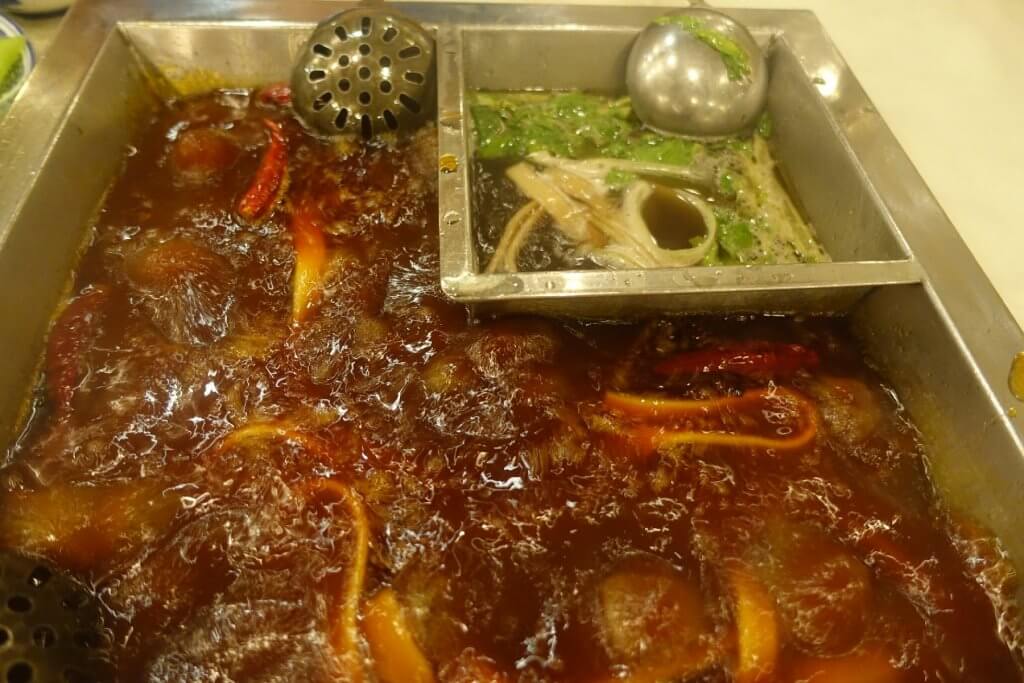 Important China Tips
Money
We didn't find any grocery stores/convenience stores or restaurants in China (not even Walmart) that accepted credit cards except the restaurant at our hotel in Chengdu. Most of our activities were prepaid online so they weren't a problem. I recommend that you plan to have enough cash for all your food or set up Alipay on your phone like many of the Chinese people had. I read online before our trip that credit cards were widely used/accepted in China so maybe we just had bad luck, but it would be wise to be prepared for the possibility of not being able to use your credit card.
We got cash from an airport ATM when we arrived in China, but the 3 ATMs we tried in Chengdu would not work for us. We finally exchanged some of our USD to Chinese Yuan at a bank but it took a really long time and they needed all sorts of information like where we were staying, our passports, if this was our first trip to China, etc, and they even took a picture of us. So it was quite an ordeal.
Health Precautions
We got lots of advice about how to avoid food poisoning in China. Being in China with kids made me want to travel especially smart. We decided on a few rules that we'd stick to: only drink bottled water, don't eat from small food stands/shops where food may have been sitting out for long periods of time, don't eat pre-cut fruit (except on the cruise.) My daughter and I both got sick despite our caution, but the symptoms were manageable and I'm not sure if they were from food poisoning or just a result of jet lag or different foods and smells.
I brought my travel first aid kit on our trip and was very glad I had it with us. We ended up using the Pepto Bismol and Imodium (neither of which helped much), the prescription for traveler's diarrhea (which was a lifesaver!), benadryl, hydrocortisone cream, and Band-Aids (the last three were all for mosquito bites that were driving my daughter crazy–we didn't see many mosquitoes but did get some bites.)
Bathrooms
It's worth a note about toilets in China. I was happy to find that many restrooms had at least one western-style toilet, but there were also a fair number that only had the hole-in-the-floor Chinese toilets, so be prepared for that adventure. If you have kids with you, this is probably something they will always remember!
We brought small packages of tissues with us everywhere we went since some of the public restrooms don't have toilet paper. I wish I would have brought hand sanitizer since not every restroom had soap for hand washing.
Internet
In China the internet is heavily censored, which for us meant that we would not be able to use any of the Google apps we are accustomed to (Google maps, Gmail, or even the Google search engine). Before our trip, we read online that you can get around this if you install a VPN app on your phone. We used ExpressVPN, and our phones worked perfectly for everything we needed. It was a good thing they did; I don't know how we would have gotten around without being able to search for our destination names in Chinese!
Daily Itinerary
Day 1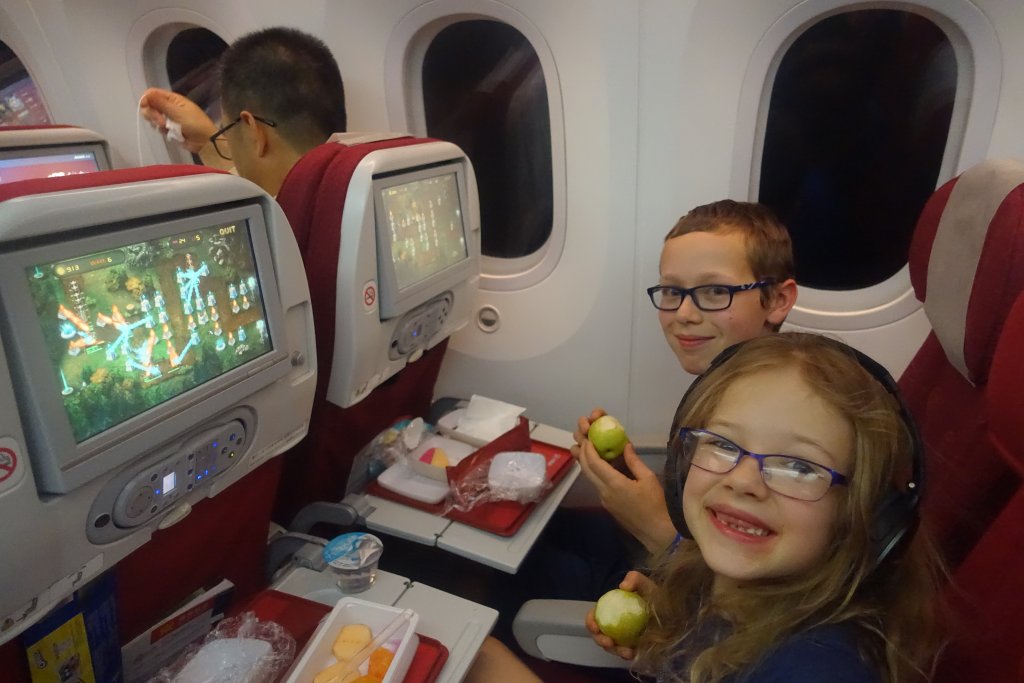 Our 14-hour flight from NYC landed in Chongqing around 7:00am. We took a bus into the city and were able to check in to our hostel as soon as we arrived, which was around noon. We showered and napped, which was wonderful.
Then we headed out to explore and find some dinner. We ended up eating some snacks from a convenience store, some longans from a small shop, and some rice and noodles at Chongqing Travel with Hostel. Then we found two taxis to take us to the cruise terminal and boarded our ship. We were exhausted by bedtime!
Day 2 and 3
On the Century Diamond Yangtze River Cruise (full cruise report here).
Day 4
We got off the ship and took a walking tour through the Three Gorges Dam. Then we took a bus into Yichang, purchased a few supplies at Walmart, took two taxis to the train station, then a 7-hour train ride to Chengdu.
Before our trip I'm ashamed to admit that when I thought of China I just pictured big cities, tons of people, and lots of concrete. I never thought about the parts between big cities that were more rural and green. Our train ride was beautiful, and I really enjoyed watching the tree-covered mountains and small villages with terraced gardens and farmland pass by through the windows. We also went through many tunnels going through the mountains.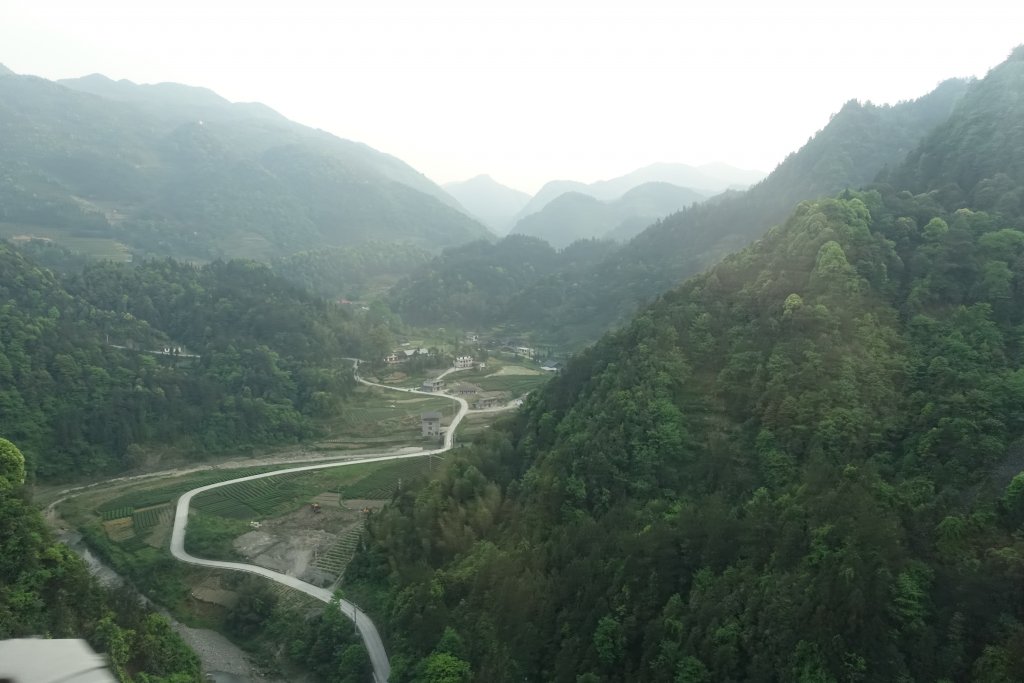 Day 5
We enjoyed shopping in the Wide and Narrow Alleys and relaxing in our hotel room. My husband and kids found a robotic icecream machine and had to try it out! In the evening we attended the Sichuan Opera.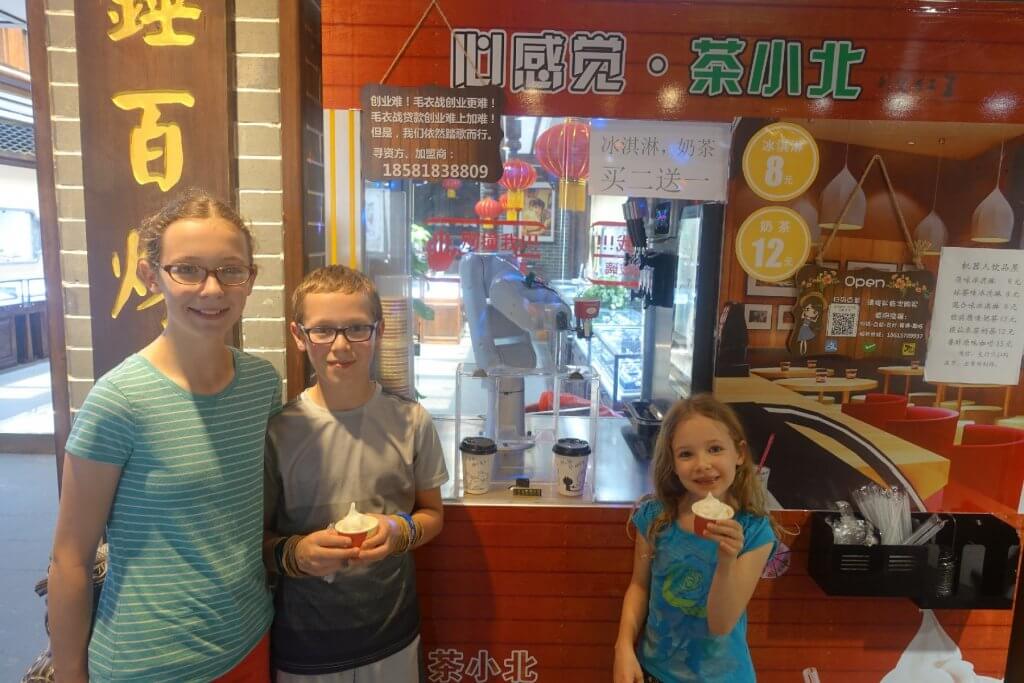 Day 6
We got up early to catch a taxi to the Chengdu Research Base of Giant Panda Breeding. In the afternoon we walked around People's Park and returned to the Wide and Narrow Alleys for some souvenir shopping. We got the kids pizza for dinner, then my husband and I walked down the street to Longsen Garden to try the Hot Pot. It was delicious, and a really unique experience.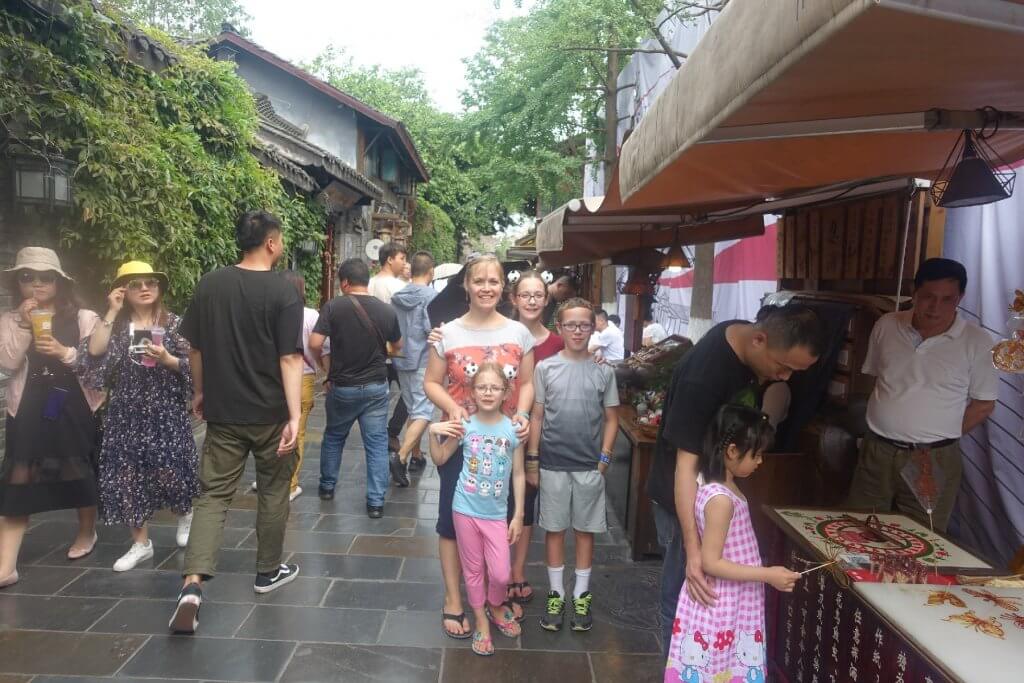 Day 7
After checking out of the hotel, we headed to the Wenshu Yuan Monastery and enjoyed walking around the grounds and shopping at the Tibetian shops nearby. Then we returned to our hotel for dinner and to pick up our bags at the front desk before heading to the airport for our flight home.
Other Places We'd Love to Visit in China
They didn't fit into this trip, but in future trips to China with our family we'd love to see the Great Wall of China, Guilin, and Zhangjiajie National Forest Park.
---
Where is your favorite place in China, and what unique experiences have you had there? We'd love to hear about it in the comments!                 
We took this trip in April 2019.