The sweet smell of incense and flowers fills my mind when I think of our time in Bali. I see a mental picture of women sweeping their steps then carefully setting out fresh Balinese offerings each morning. I hear the eager invitation of "taxi! taxi!" that followed us as we wandered around Ubud.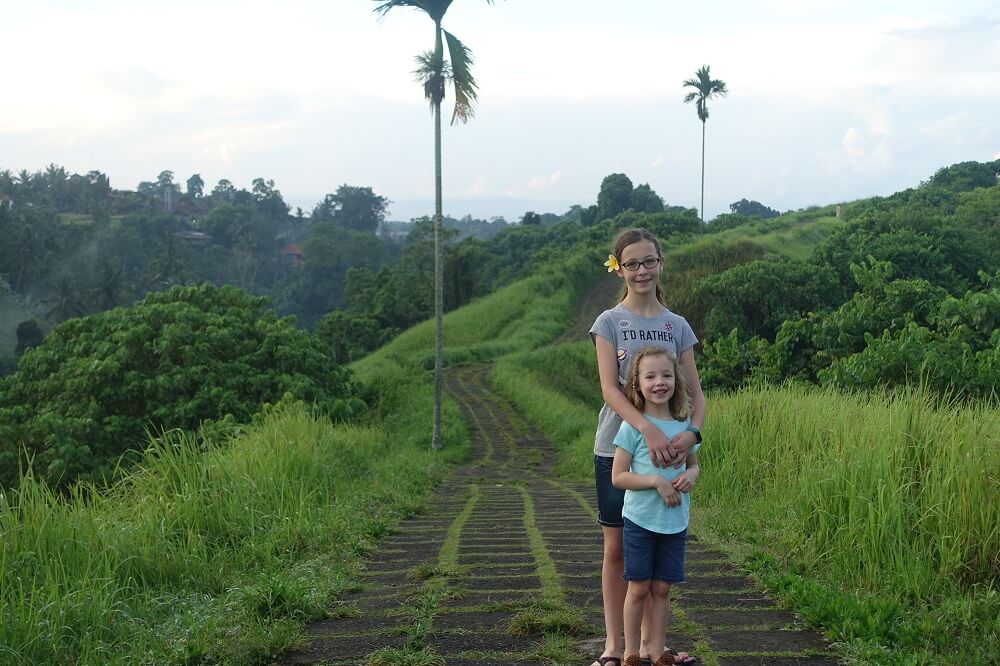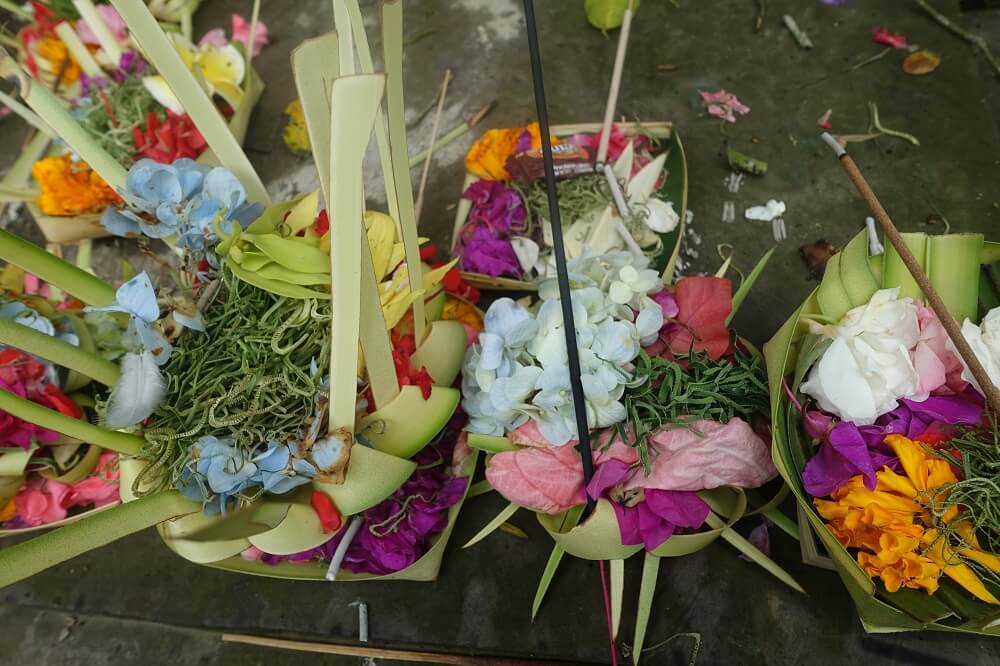 Our time in Bali was relaxed and pleasant, surrounded by beautiful rolling hills, rice terraces, flowers, and sometimes wild monkeys!
Why We Chose Bali
We really wanted to experience something new and different. My husband had read trip reports about Bali on other travel blogs and was excited to experience such a unique place on the other side of the world. Bali's culture, food, people, and landscape were all new and interesting to us.
Bali it is very budget-friendly with affordable lodging, transportation, and food (especially because we traveled in the off-season), which is important for our family travel style. This trip included our whole family: two parents and 3 kids ages 12, 9, and 5.
Activities
In and around Ubud:
The Ridge Walk
Walking around town
Shopping at the outdoor market in the early morning with the locals
Playing in the rain (definitely something to prepare for if you are there during the rainy season!)
Shopping for sarongs and sashes then walking through local temples
A short taxi ride to rice terraces and a water temple
The Monkey Forest
Inexpensive massage at the Champlung Sari Hotel
In and around Kuta:
The Bali Zoo (on the drive between Ubud and Kuta)
Walking and biking on the path along the beach from the Holiday Inn Resort Baruna Bali
Beach
Daily Itinerary
Day 1
We arrived late on Saturday night after a total of about 23 hours in the air and an 11-hour layover in Manila. We were exhausted and appreciated that the Kuta Central Park Hotel had a family suite with enough beds for all of us in one room so we could easily get right to sleep.
Sunday morning we attended a local church service near our hotel then took a taxi to Ani's Villas in Ubud. We used the rest of that day to walk and explore the area and catch up on some much-needed rest.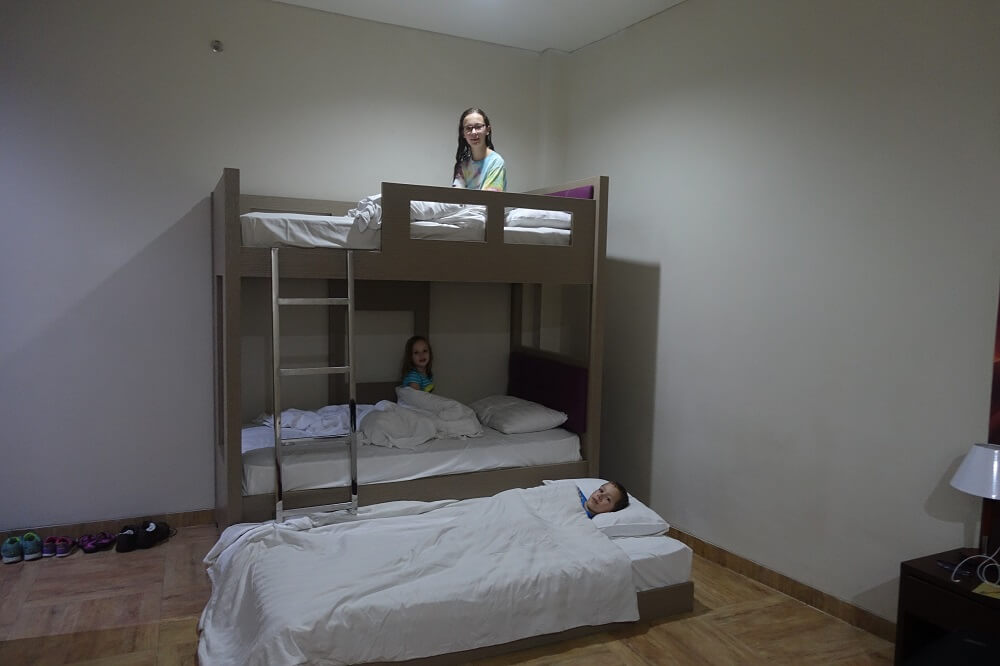 Day 2
We started the day with the Ridge Walk while the air was still cool and enjoyed the views of Mt. Agung and other scenery.
Then our kids had some downtime with a movie in our room while we parents took a walk into town. We wandered around Ubud and scoped out a place for dinner then returned to our kids with bread and cheese from a local bakery and fresh fruit from a roadside shop for our lunch.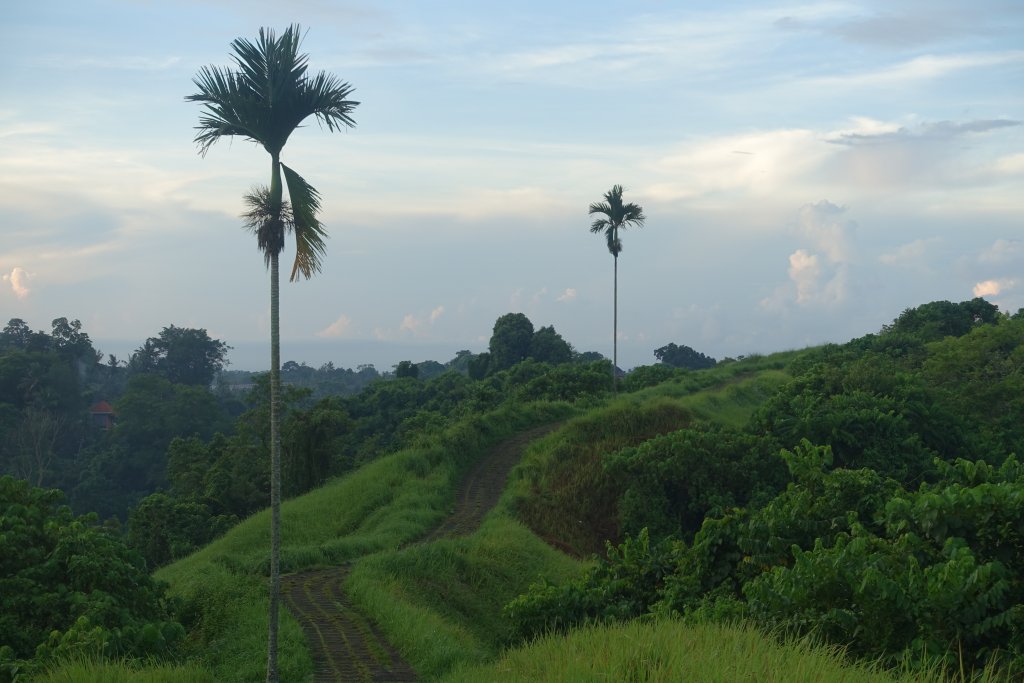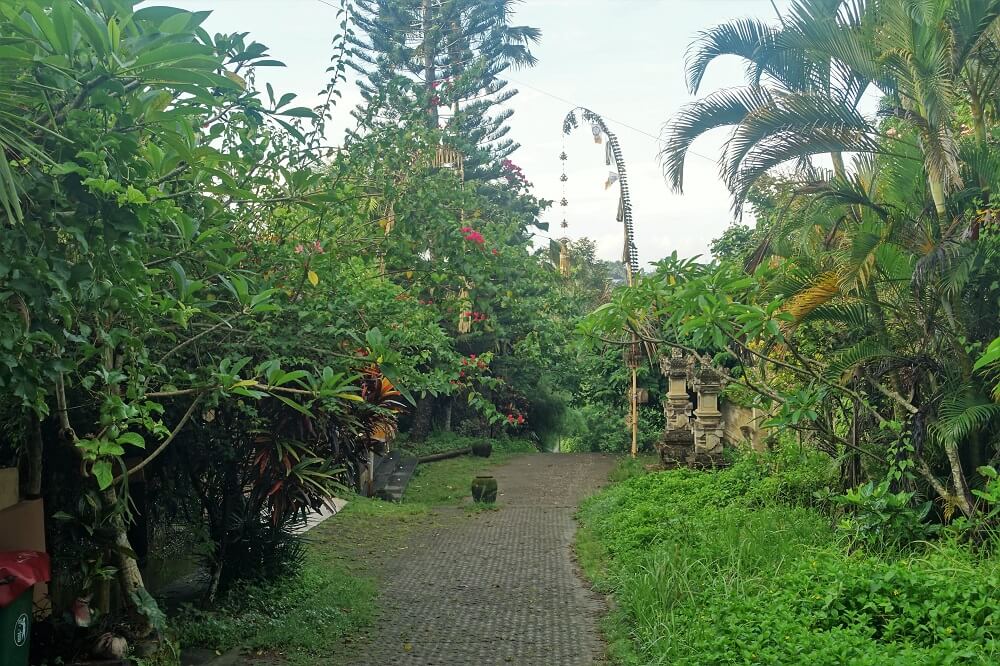 Our kids joined us on the walk to Ubud in the afternoon; we enjoyed dinner and watched the rain pour in, turning the streets into a river and the stairs down to our open-air restaurant into a waterfall!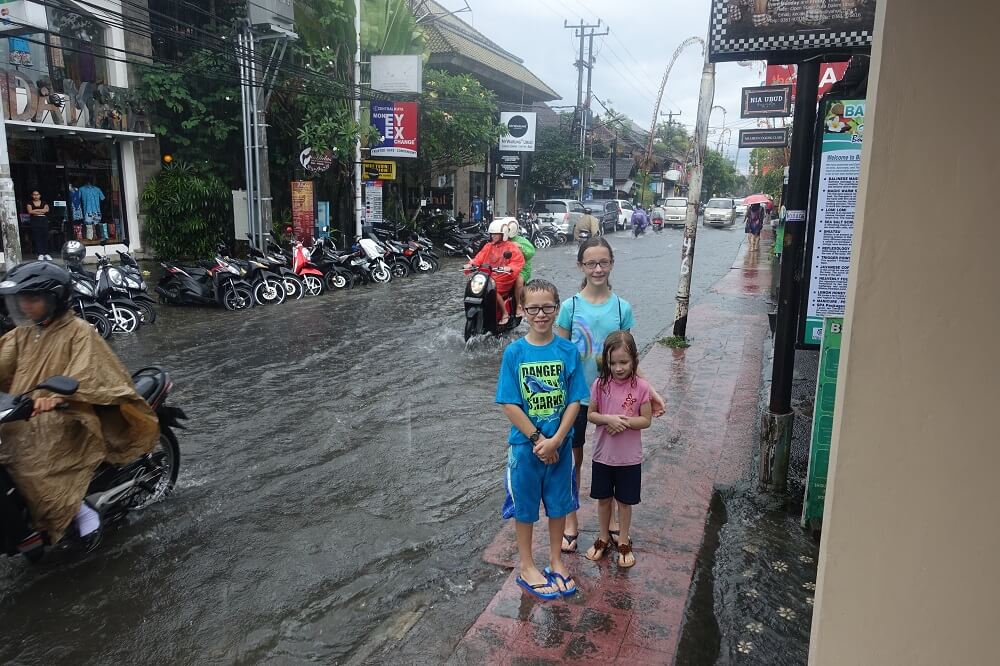 Then we spent the rest of the afternoon shopping for sarongs and sashes so we could see inside a temple on our way back to our room for the night.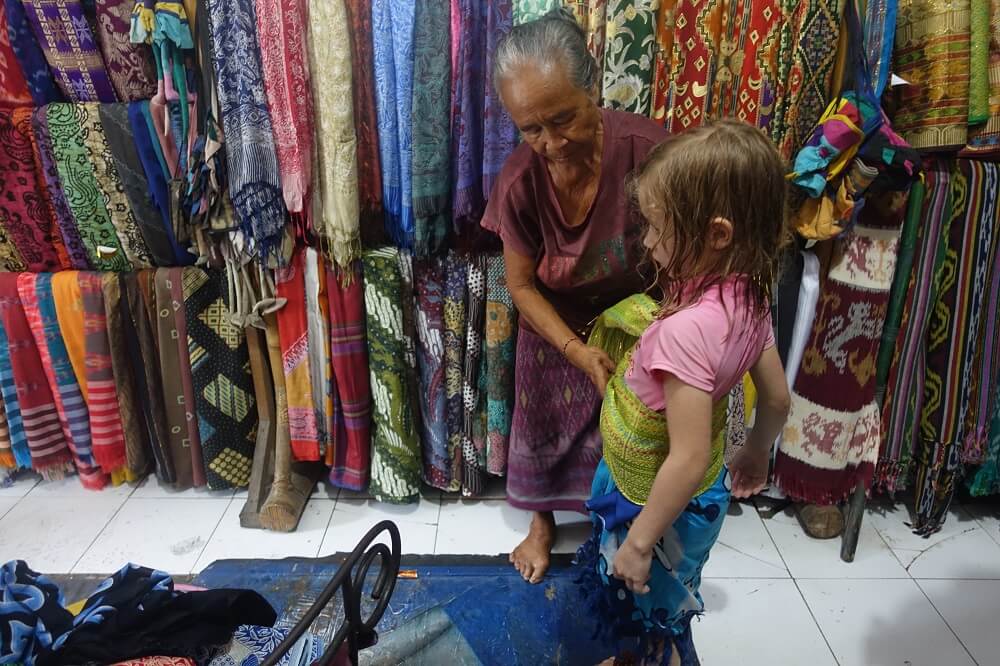 Day 3
We arranged for a taxi to pick us up first thing Tuesday morning for the drive to some nearby rice terraces. We enjoyed our trek through the terraces, including ice cream at a little shop at the top, then met our driver and visited a nearby water temple.
Then we headed back to Ubud to check out of Ani's Villas and catch a ride to the Champlung Sari Hotel. We were content to swim in the pool and watch the monkeys all around the grounds for the evening, with a quick walk down the road for some dinner before bed.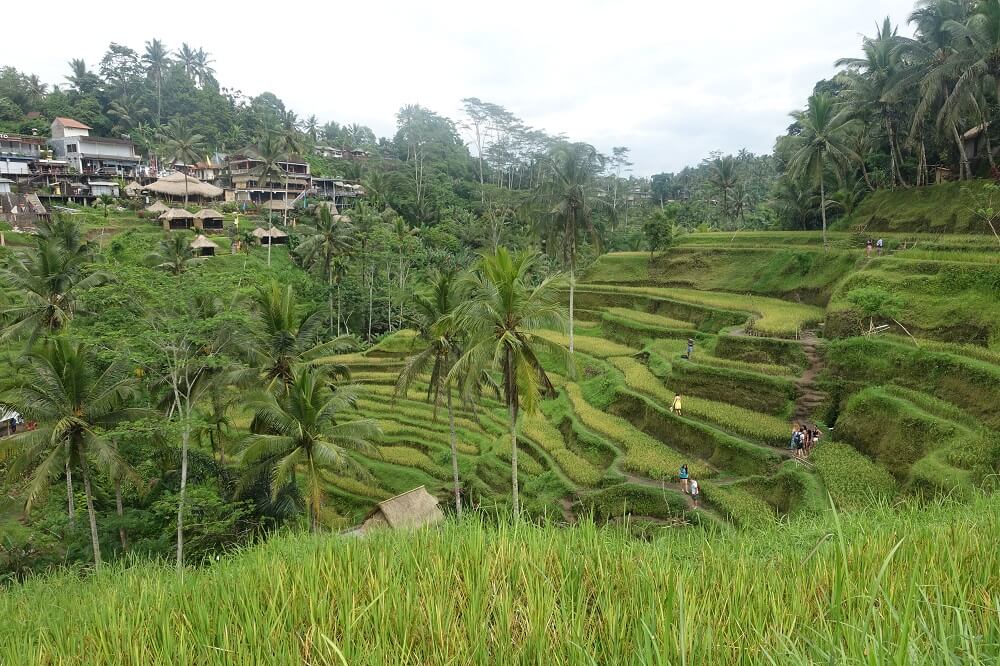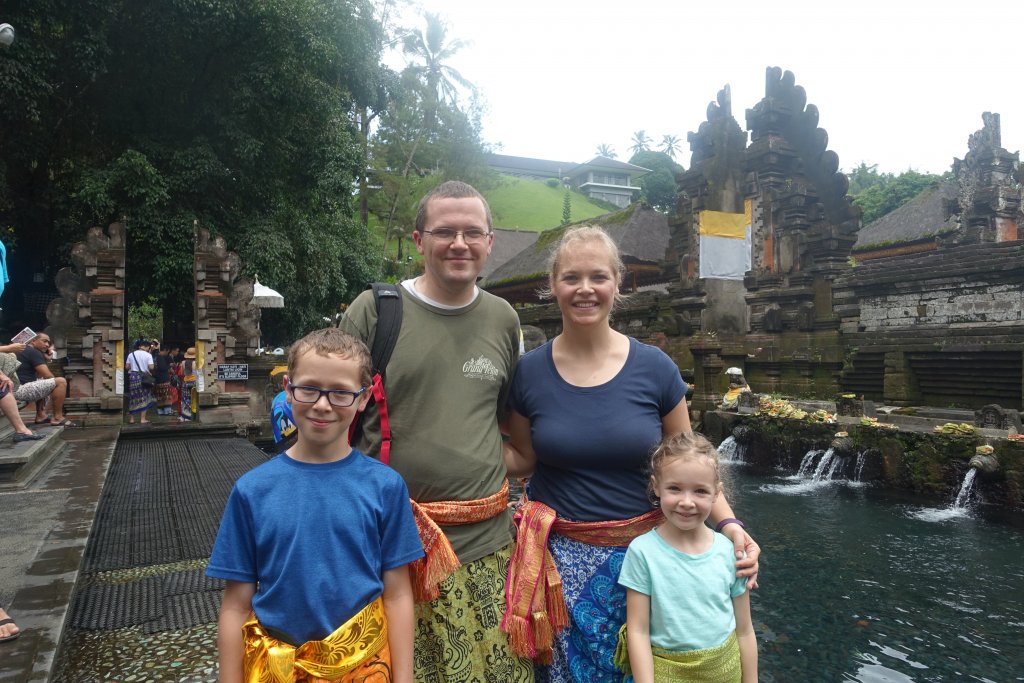 Day 4
The main event today was a much-anticipated trip to The Ubud Monkey Forest. We had already seen how aggressive the monkeys could be at our hotel so we were a little wary, but it was incredible to see so many wild monkeys as we wandered around the sanctuary.
The workers were sometimes willing to share handfuls of dried corn and all we had to do was hold out our hand with corn in it and monkeys would climb right up! We also purchased some bananas from a worker and the monkeys swarmed us. It was very different from our first encounter with wild monkeys in Costa Rica, where the monkeys were much more reserved and sneaky.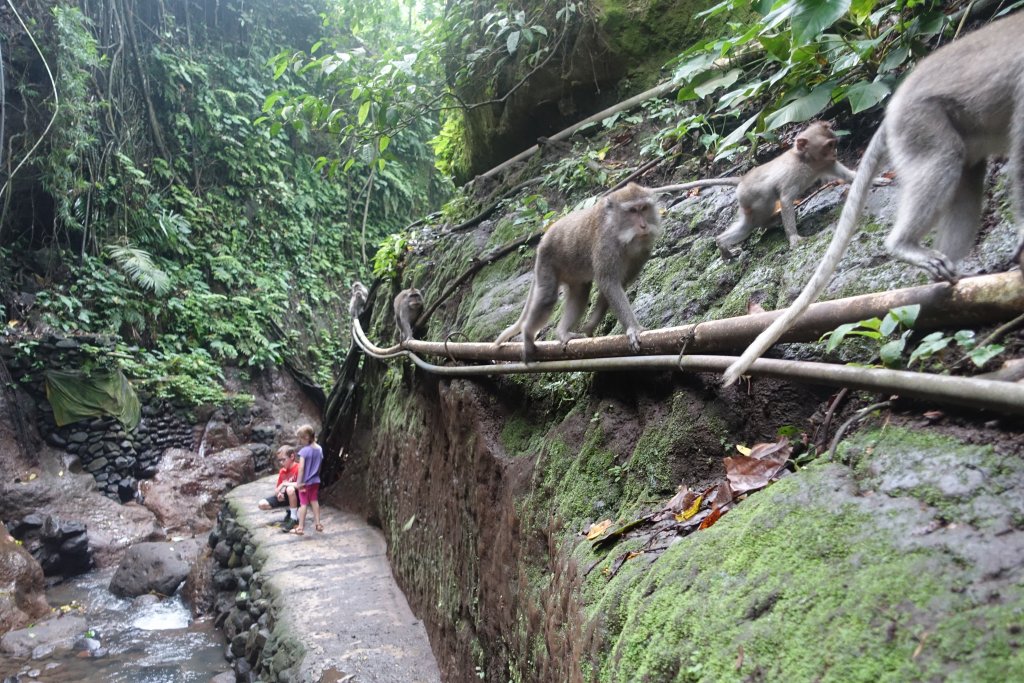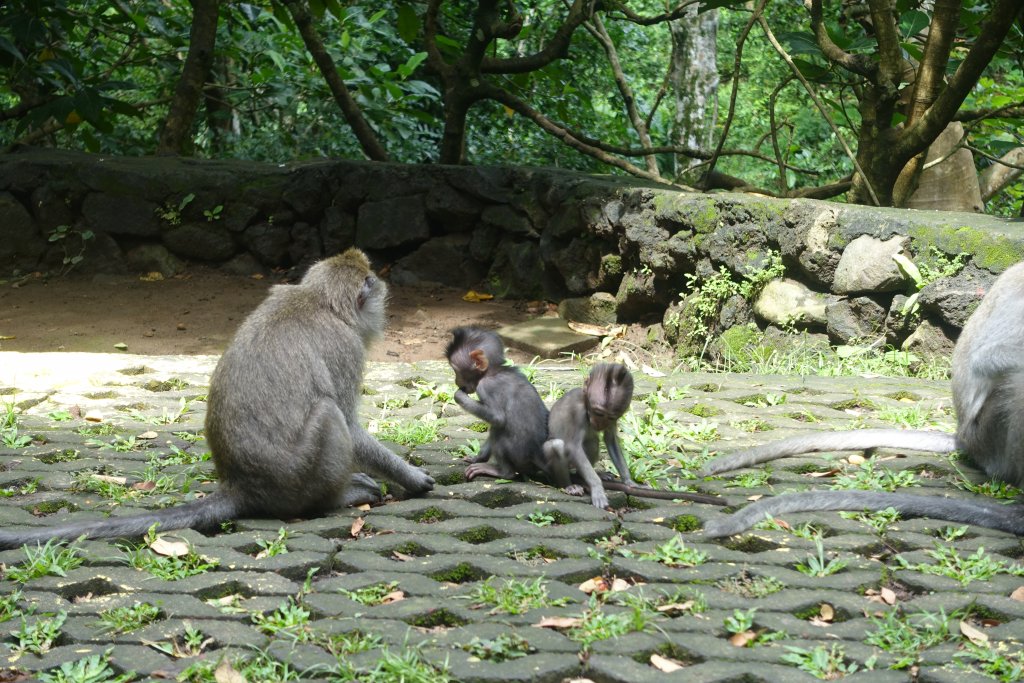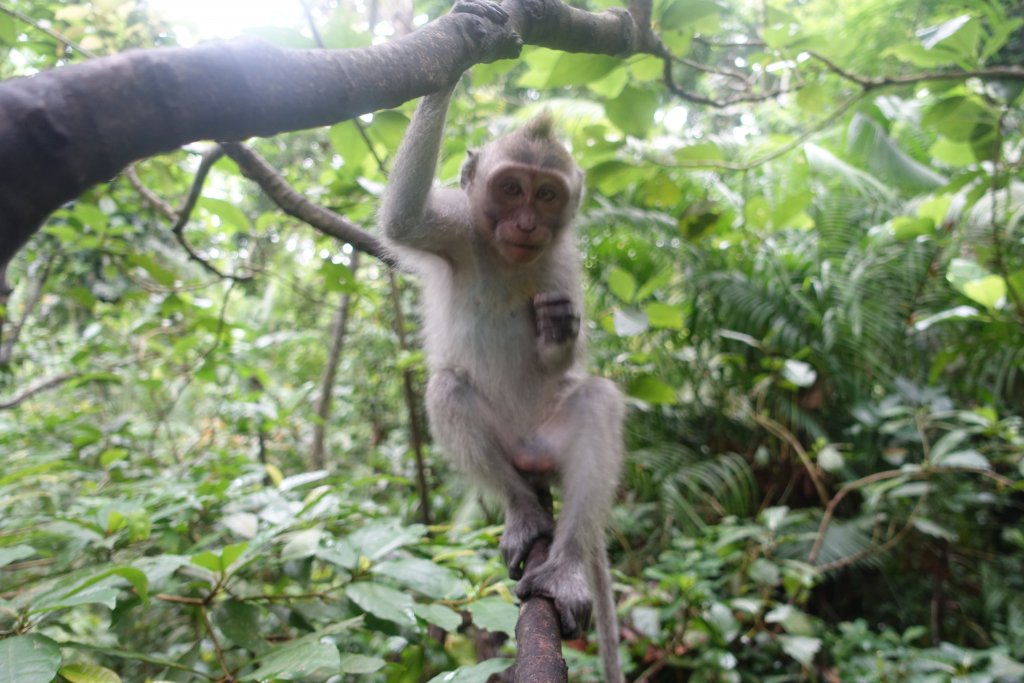 You must use caution here, because the monkeys will bite. I experienced this when I got too close trying to take a picture of a baby monkey, even though it was behind a fence, and the mother launched at my arm and bit through my shirt. I was fine, just bruised and a little shaken. The signs warning you not to carry food, not look the monkeys in the eye, and to stay far away from the baby monkeys are serious!
But don't worry, if you are cautious and smart then you will be just fine, and it's a great adventure to walk among the monkeys.
Day 5
Thursday we left Ubud and headed to the Bali Zoo first thing in the morning. We really enjoyed the zoo, especially feeding and touching the elephants. Then our taxi driver brought us to a local Warung for lunch before bringing us to Kuta for our last night in the country. We walked along the ocean and enjoyed the pool and dinner at the Holiday Inn Resort Baruna Bali.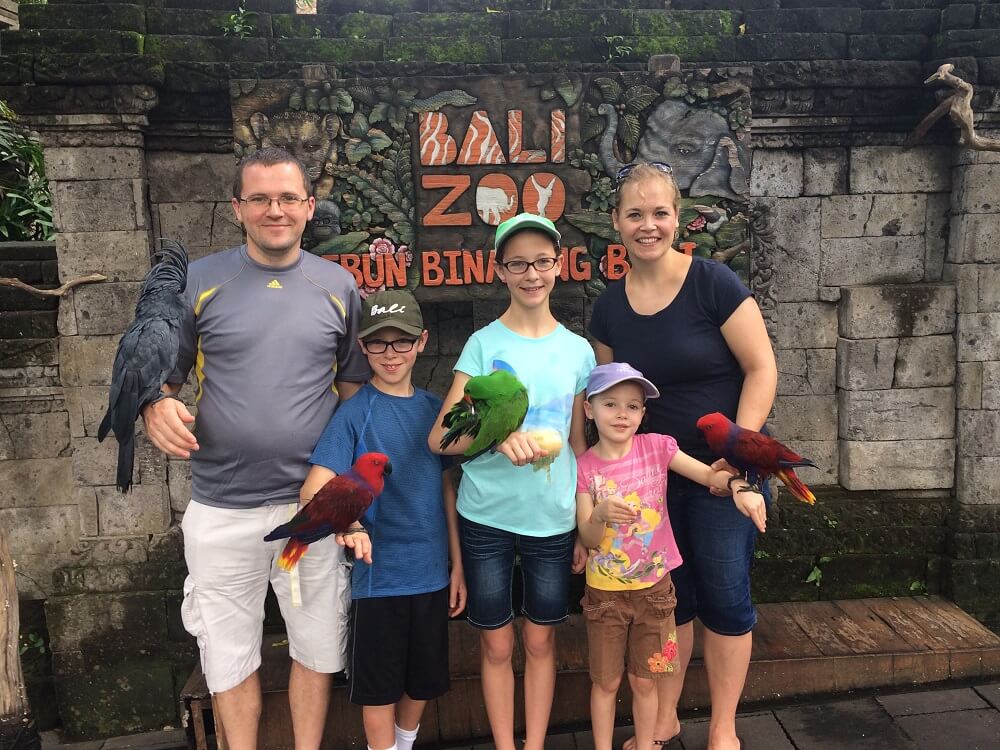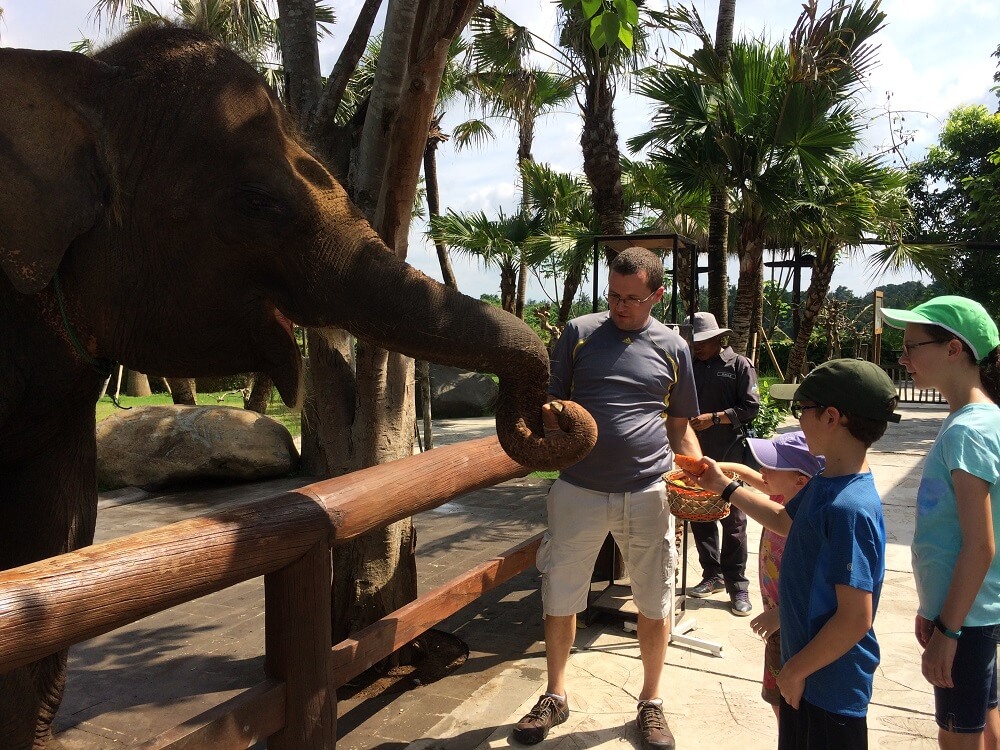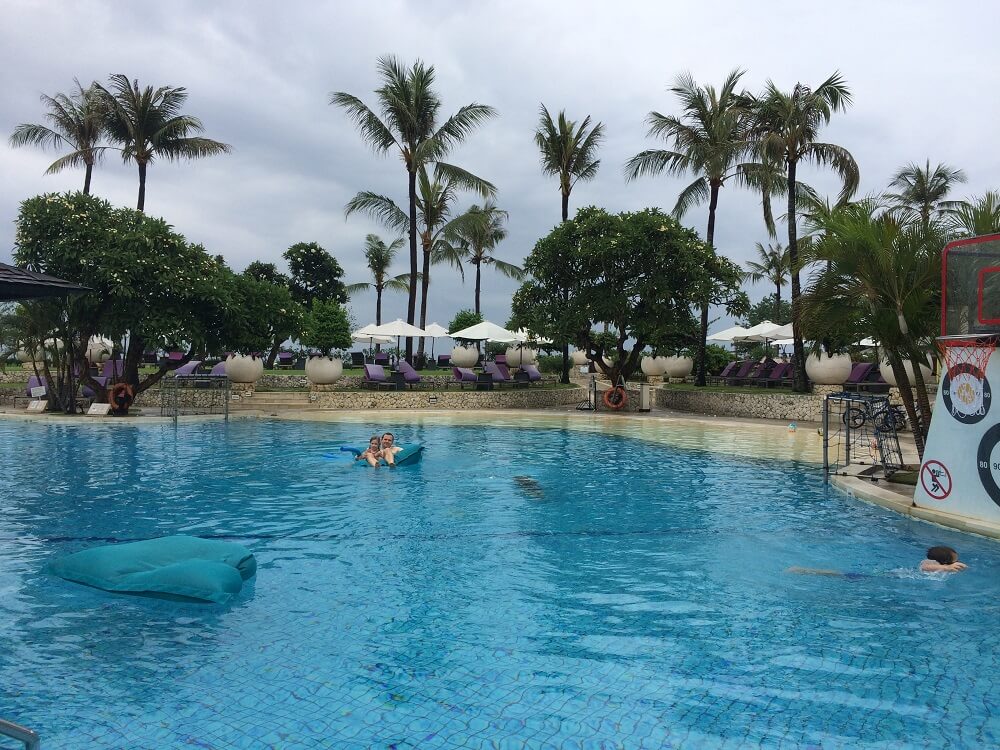 Day 6
On our last day we enjoyed the activities and surroundings at the resort including the free bikes, the pool, and the kid's club. Then after some much-needed showers we headed to the airport for the long trek home!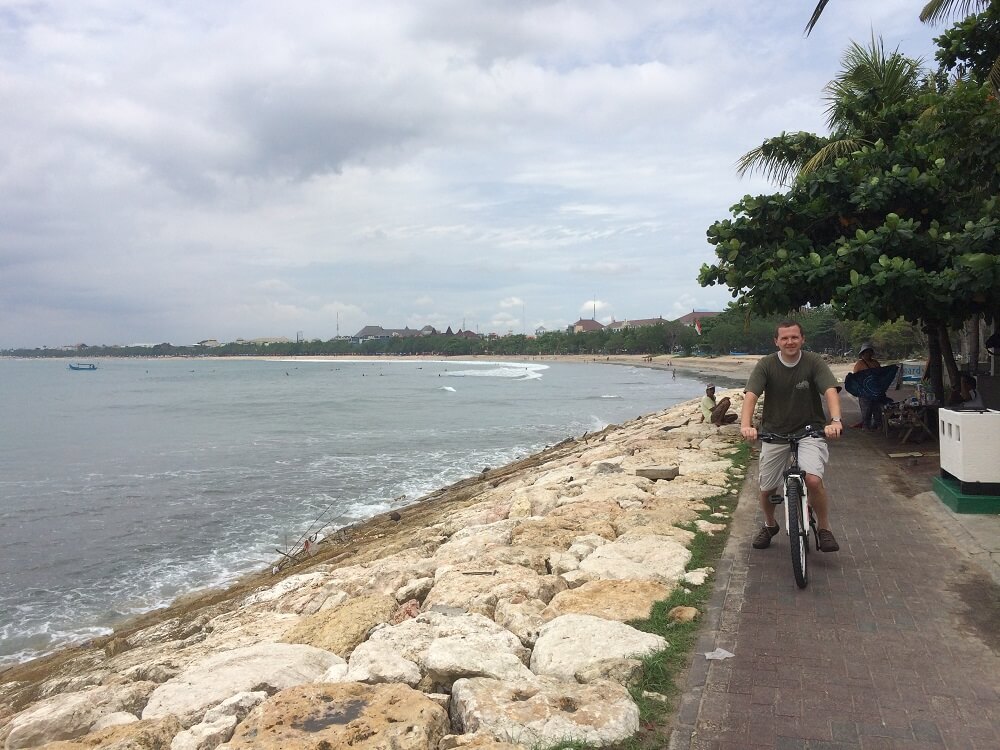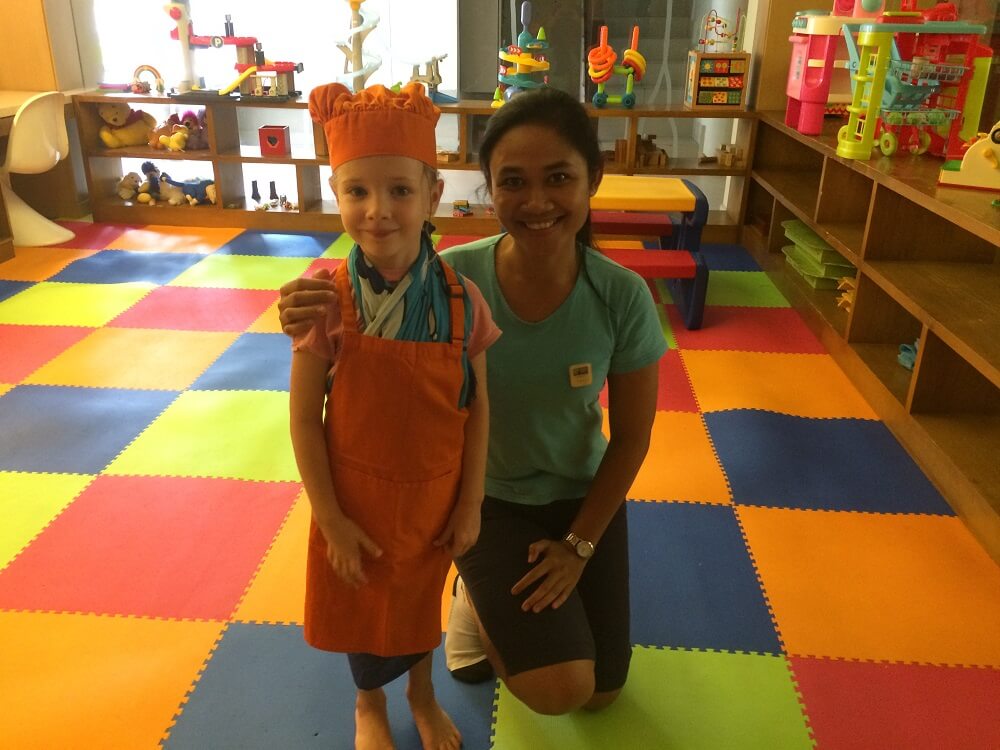 Lodging
We stayed at the Kuta Central Park Hotel, Ani's Villas, Champlung Sari Hotel, and the Holiday Inn Resort Baruna Bali.
Ani's Villas
We loved the open-air living space at Ani's Villas and the workers who were so helpful and kind. They had a fun pool and a great breakfast area with books to read and a relaxing view. The walk to town was short and it was a great location for the Ridge Walk.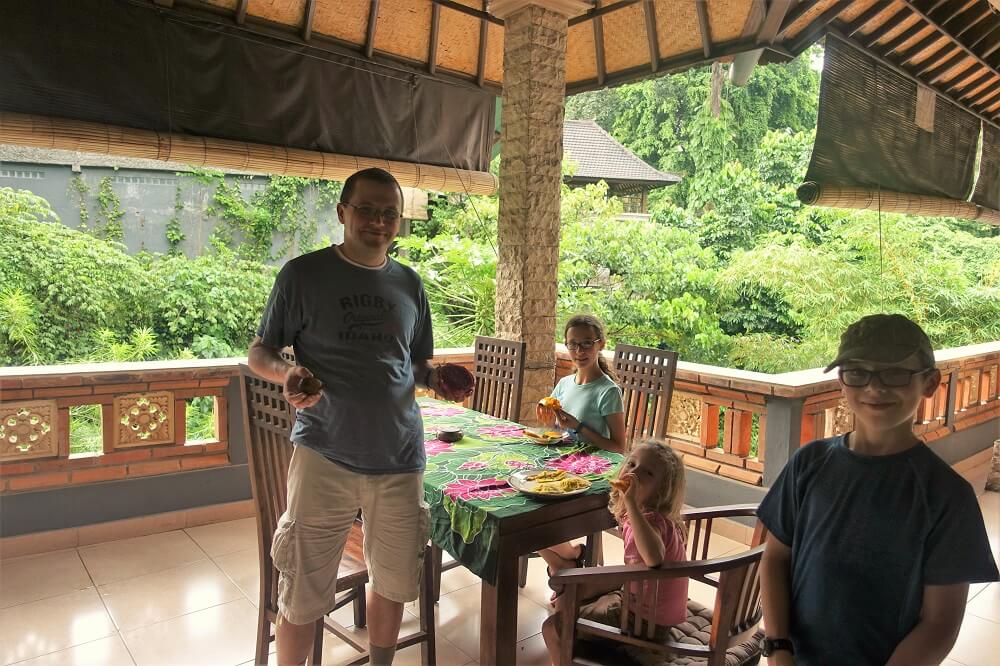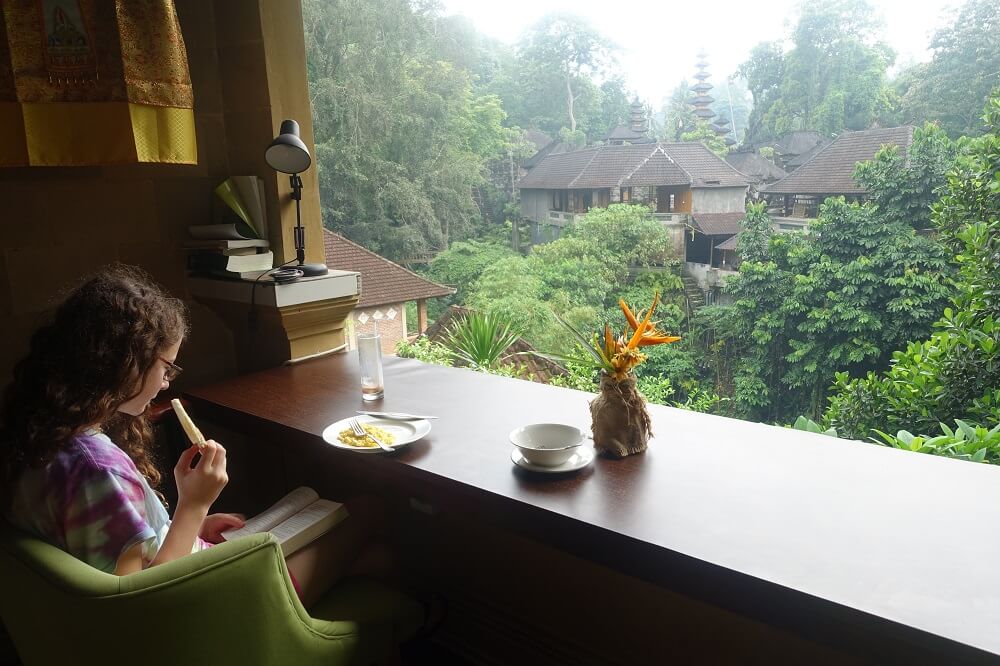 Champlung Sari Hotel
The Champlung Sari Hotel is just down the road from the Sacred Monkey Forest, so it's a great location if you want to see wild monkeys. They are all around the hotel grounds; in fact, there are employees who have the job of monkey patrol to shoo them away from the pool and other areas where they may bother guests.
The Champlung Sari Hotel is also a great location from which to explore more of Ubud, with souvenir and other shopping right next door.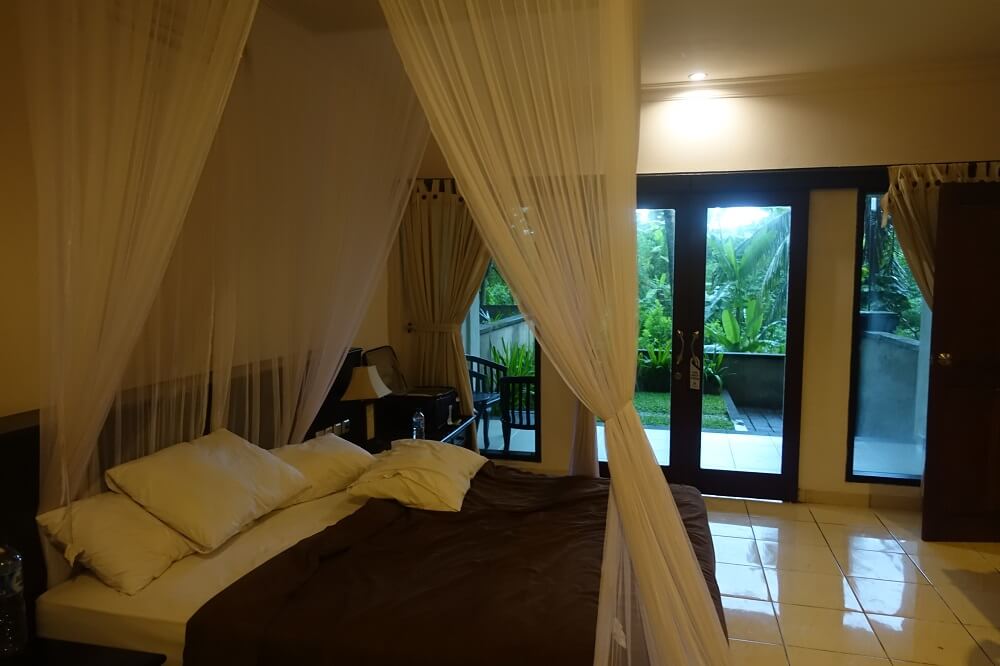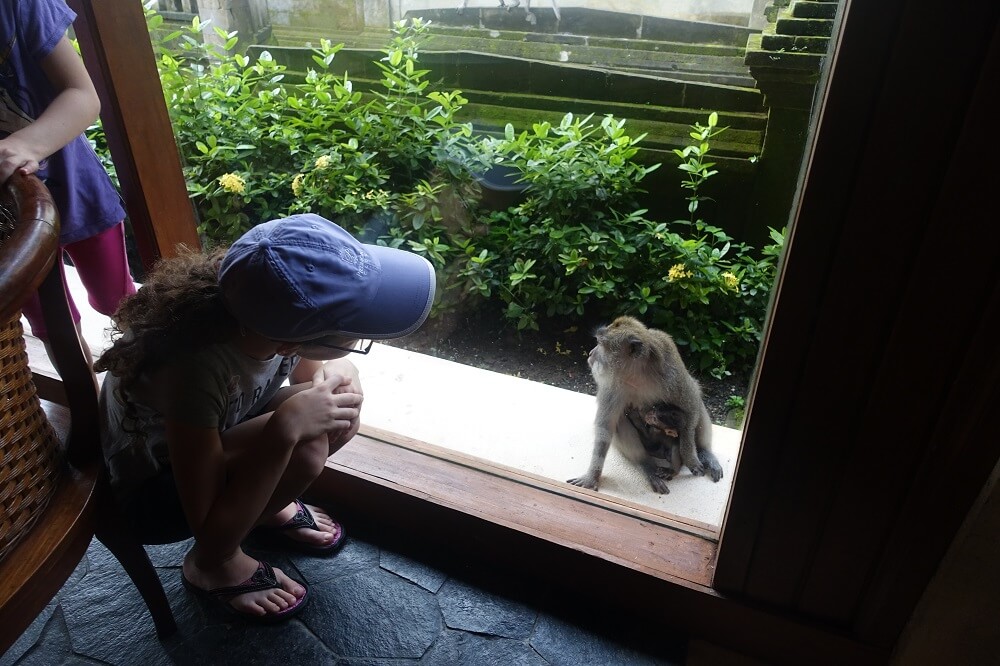 Holiday Inn Resort Baruna Bali
The Holiday Inn was a special splurge for our last night since we had a full day after checkout before our flight home and we needed somewhere to stay that day. They allowed us full use of their facilities, including storing our bags at the front desk, during that time. So the price was well worth it.
They even let us reserve a shower that evening so we could enjoy the pool and more during the day and still be fresh for our flight home. It was the perfect place to stay at the end of our trip.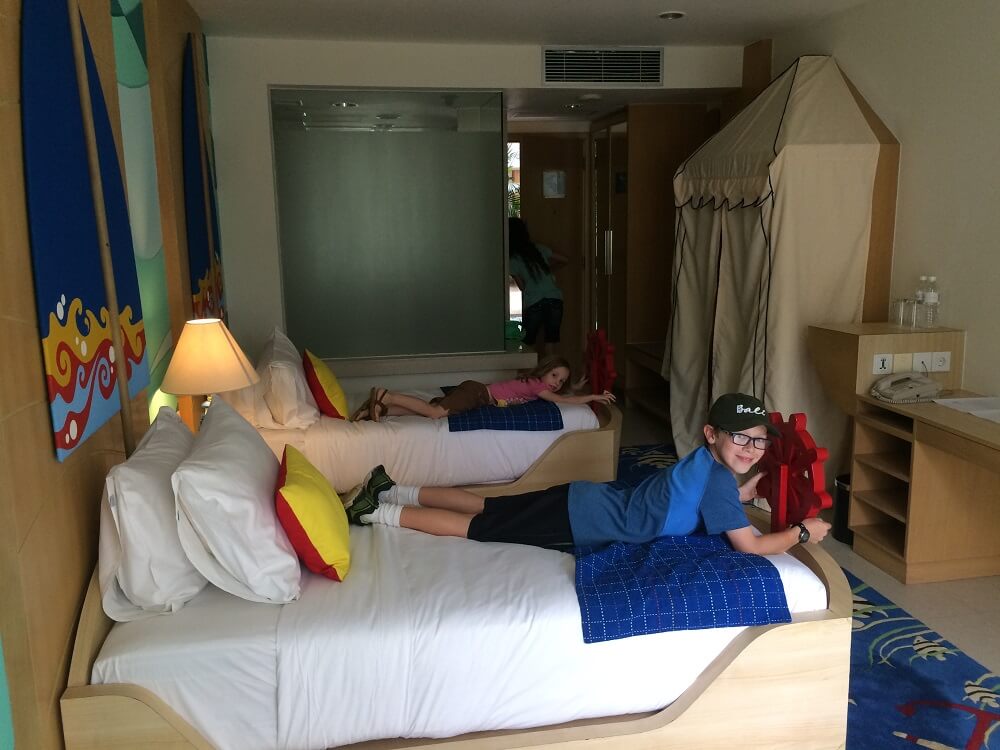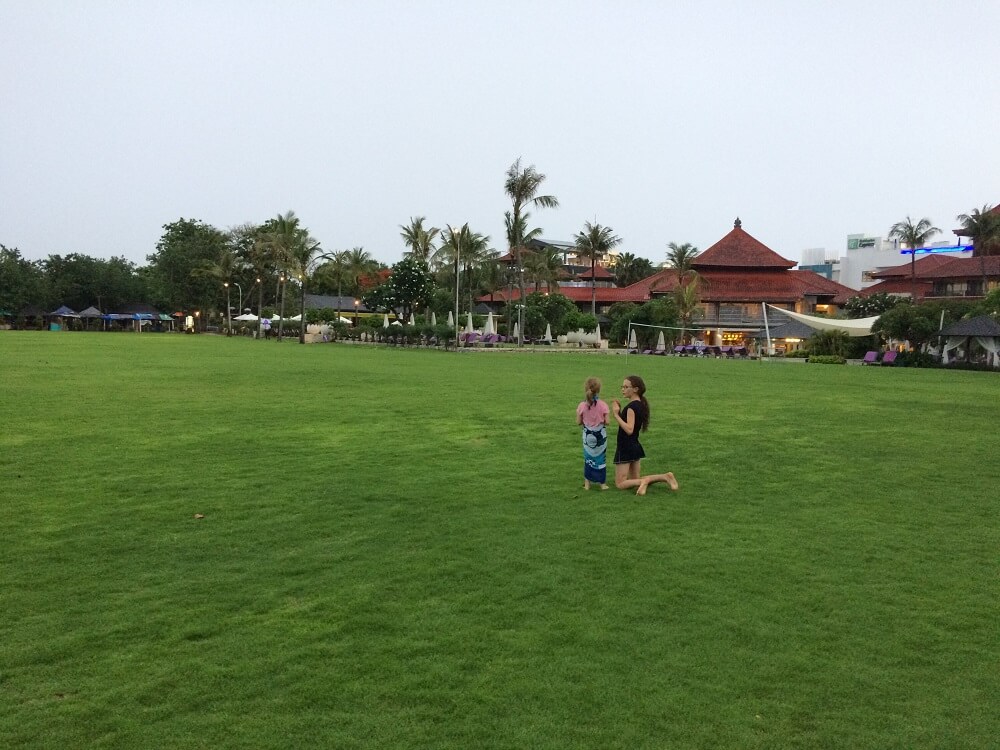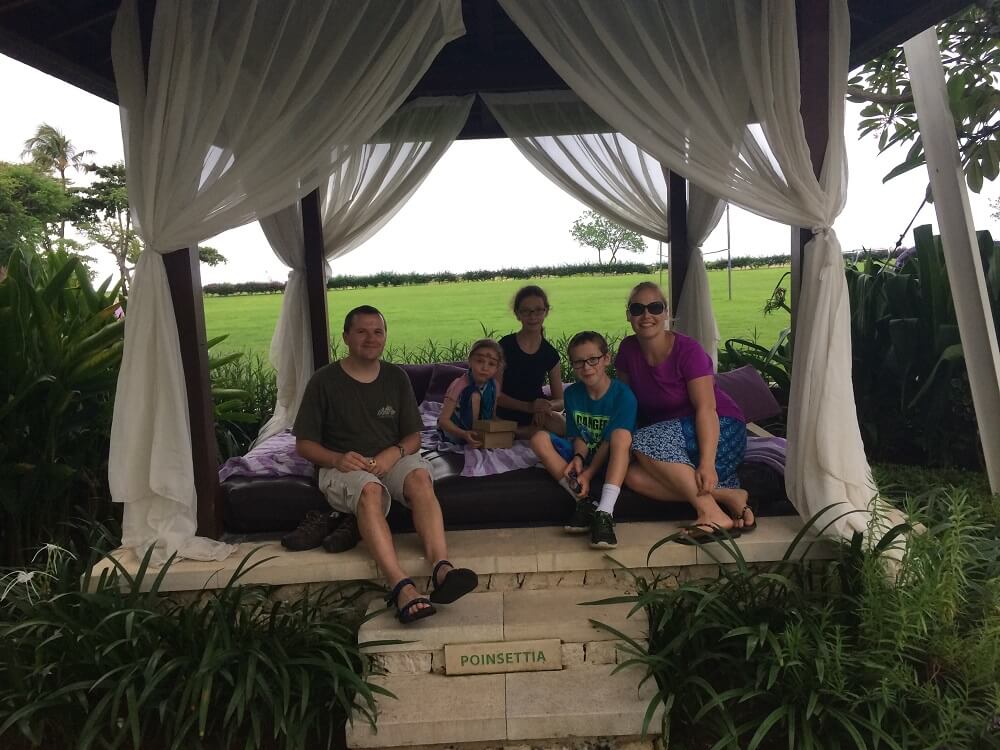 Transportation
We walked a lot if we only had a mile or so to go, but we also took a good share of taxis. It is incredibly easy to find a taxi driver to take you anywhere you want to go, whether it's 5 minutes away or 2 hours. Taxis were also very inexpensive.
Food
Food was very affordable in Bali in November. We were able to easily feed our whole family at a restaurant for under $20. This made for a special vacation for us, because we usually eat mostly from grocery stores with only occasional visits to restaurants.
In Bali we ate out for almost every meal every day and our budget didn't suffer for it. We also enjoyed browsing the open market for fresh fruit and novel snacks on a couple different mornings–go early for the best selection and to see the locals stocking up for the day!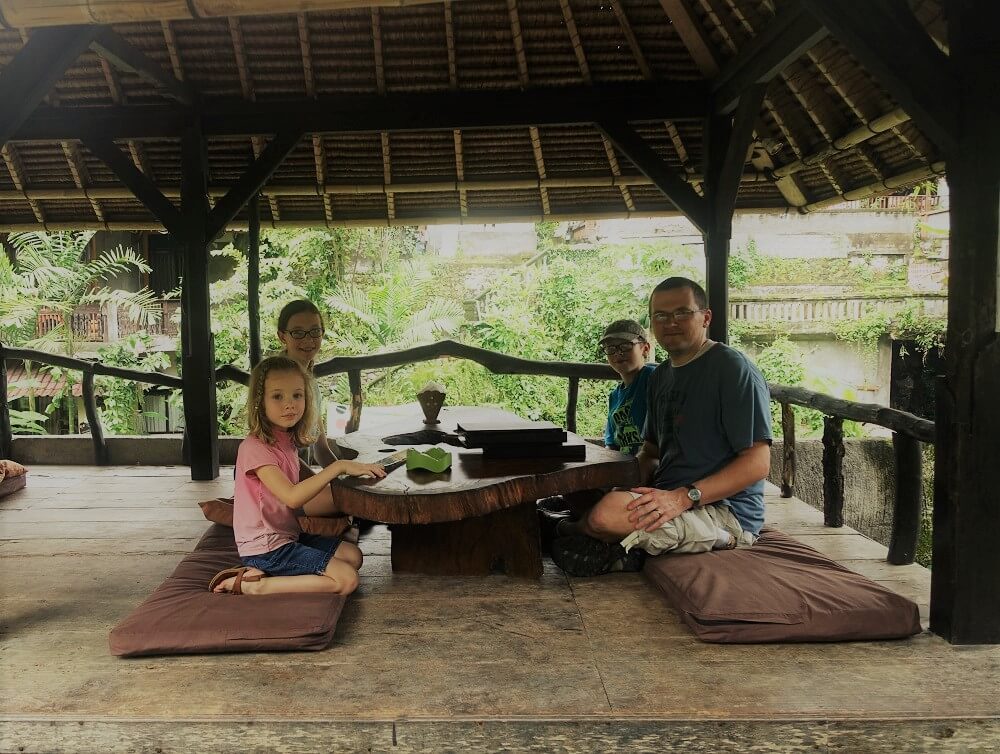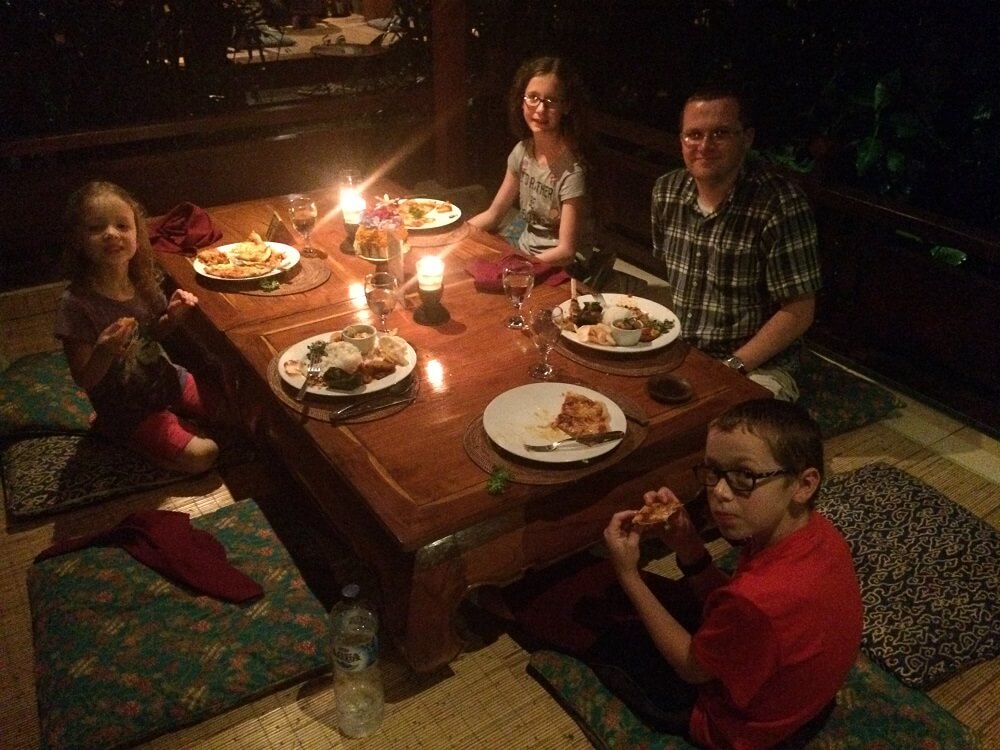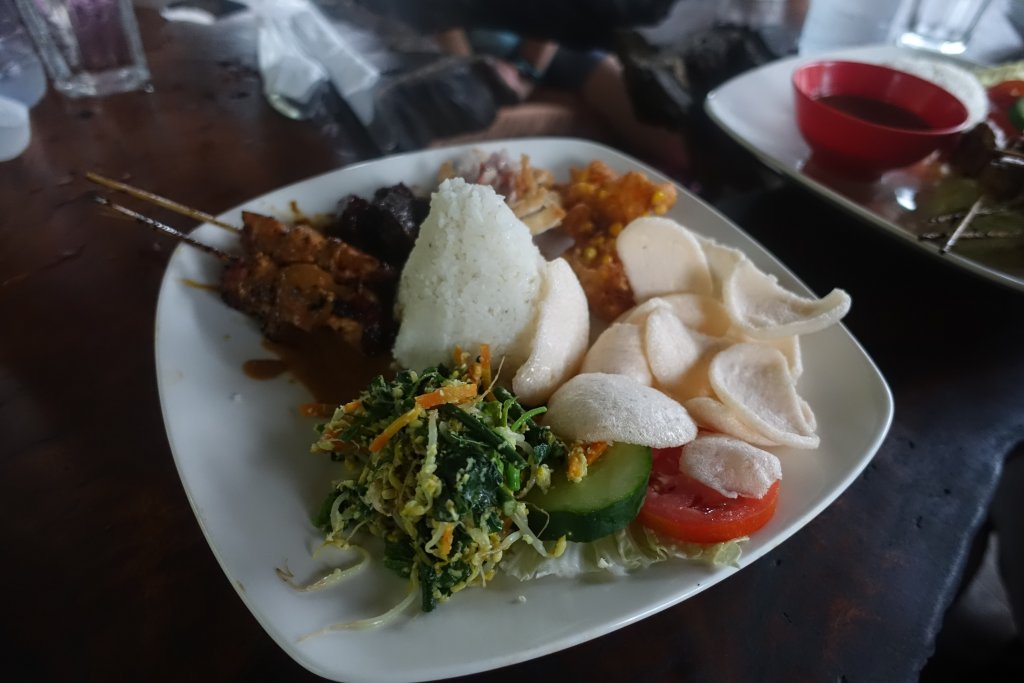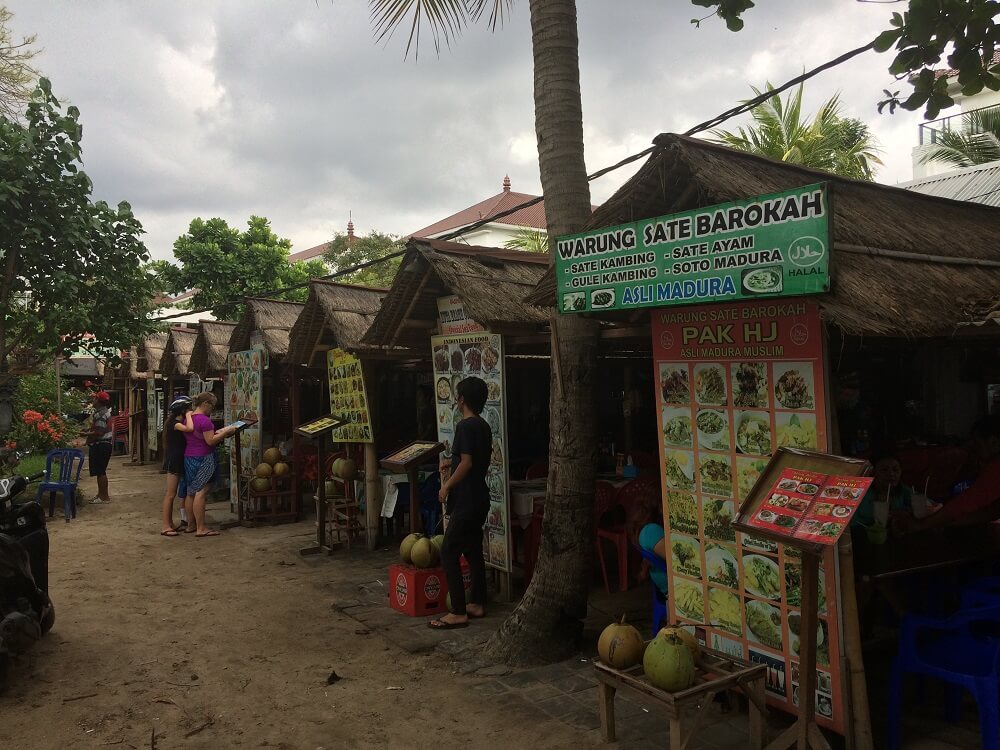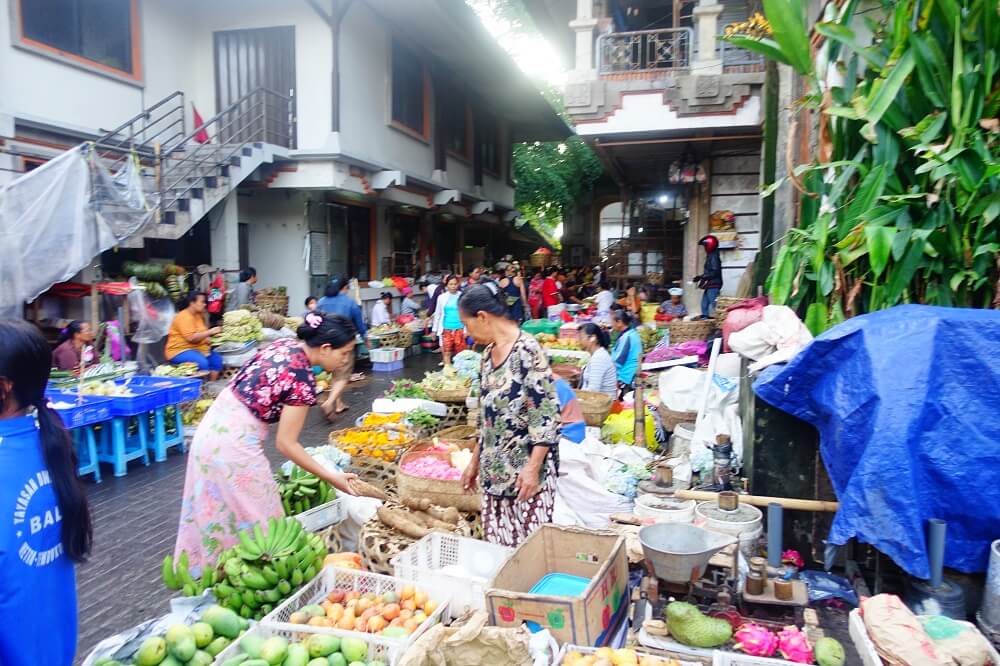 Lessons Learned on This Trip
My experience on this trip made me determined to plan on future trips to allow myself a relaxing day or two to recover from jet lag after long flights, especially ones into opposite time zones. I've never really struggled with jet lag and was always fine after one good night's sleep, but this trip was more extreme and I was exhausted much of the time since I didn't give myself time to rest and adjust at the beginning.
I realized on this trip that the best part of any vacation for me is usually interacting with locals and experiencing normal life as much as possible. I loved walking to town, shopping at the open-air market, and breathing the flower and incense-scented air.
In the future I will be extra careful to heed all signs and warnings when interacting with wild animals!
---
Have you been to Bali? What were your favorite experiences there? And what are your tips for overcoming jet lag? Tell us in the comments!
We took this trip in November of 2017.